The Scariest Chart About Seafood You'll See This Year
A graphic from an authoritative new report on global aquaculture highlights just how dangerous Chinese fish has become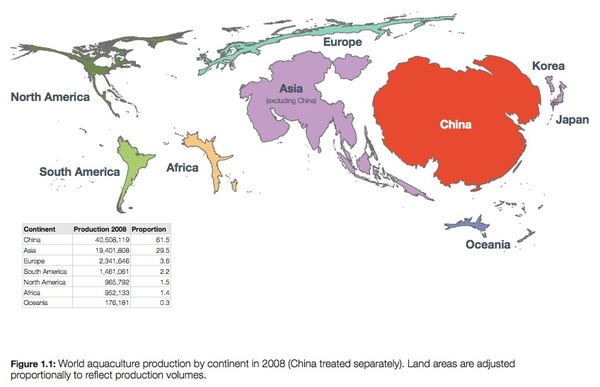 Earlier today, the WorldFish Center and Conservation International released what these organizations are calling "the most comprehensive analysis of global aquaculture ever undertaken":
"Blue Frontiers: Managing the environmental costs of aquaculture."
The report is packed with fascinating information—for example, from 1970 to 2006, the global per capita supply of farmed fish grew by more than a factor of 10, from 0.7 kg to 7.8 kg. But the thing that stood out most was the chart above.
Why? First the obvious: It's visually striking. When the continents are adjusted to reflect their proportional contributions to global aquaculture production, that fat red China—treated as a de facto continent of its own—looks like Santa Claus among minnows. But more important is what the visuals actually mean: China accounted for 61.5 percent of global aquaculture in 2008, a fact that has profound implications for the rest of the world in terms of food safety. When we deal with fish from China, we can't be sure the fish is free of a host of risky antibiotics and other chemicals—and in the U.S., at least, the government isn't adequately prepared to check.
China is now the single largest exporter of seafood to the United States, and the country is a particularly important supplier of shrimp and catfish, which have historically been two of the 10 most consumed seafood products in the U.S. In 2008, Don Kraemer, then deputy director at the Office of Food Safety of the Food and Drug Administration's Center for Food Safety and Applied Nutrition, testified before the U.S. and China Economic and Security Review Commission, with the goal of assessing "the health impact of imported Chinese seafood." As Kraemer put it:
In the course of an increased sampling program of imported Chinese aquacultured seafood which ran from October 1, 2006, through May 31, 2007, FDA continued to find residue of unapproved drugs in fish species including catfish, basa, shrimp, dace and eel. Because the problems were seen in product from many different companies located in various parts of China, FDA imposed a countrywide Import Alert (IA #16-131) on all farm-raised catfish, basa, shrimp, dace and eel from China.
The Import Alert he mentions gives the U.S. government authority to "detain, without physical examination, all shipments of aquacultured catfish, Basa (Pangasius sp), shrimp, dace, and eel from the People's Republic of China," with the exception of shipments from seafood firms that the FDA examines and approves. As Kraemer added, "Approximately 26 Chinese firms have requested their removal from Import Alert 16-131. To date, none have fully met FDA's expectations for removal."
On top of these safety concerns, there's the fact that the FDA is woefully underfunded and inspects a shockingly small amount of imported seafood and seafood facilities abroad. This April, the Government Accountability Office released a report titled "Seafood Safety: FDA Needs to Improve Oversight of Imported Seafood and Better Leverage Limited Resources." The GAO notes that in fiscal year 2009, the FDA tested roughly 0.1 percent of all imported seafood for drug residues, and it emphasizes that "Better leveraging available resources is critical, especially in places like China, where FDA has inspected 1.5 percent of Chinese seafood processing facilities in the last 6 years."
It all makes that fat red Santa look like a fat red warning sign.
Image: Courtesy of the WorldFish Center and Conservation International