The Real Founder of Today's Gardening Trend: Uncle Sam?
The National Archives connects the dots between red, white, and blue and local foods—and modern industrial agriculture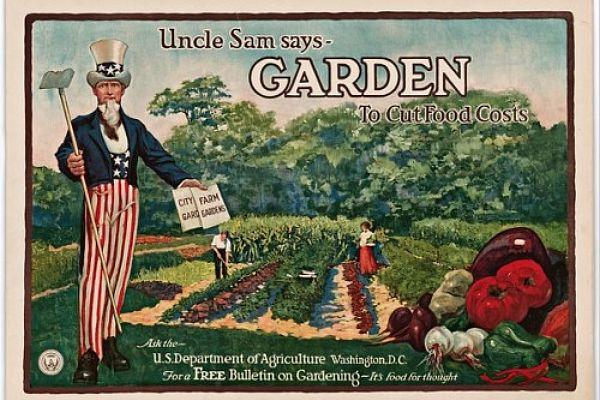 An AP story that
ran
in yesterday's
Boston Globe
and
Washington Post
, among other places, brings the heartening news that people who started looking to grow their own food as part of the recession are keeping it up, as a measure of security in an uncertain world. The study cites a sharp increase in both plans to grow food and seed sales:
Forty-three million American households planned to grow at least some of their own food in 2009, a 19 percent increase from the estimated 36 million who did the year before, said the National Gardening Association, citing the most recent figures available....Seed supplier W. Atlee Burpee & Co. said its sales of vegetables seeds and starter plants have jumped substantially in the past several years, with 30 percent growth in 2009, 15 percent to 20 percent growth last year and another bump in March.
You can credit the locavore movement, or Barbara Kingsolver's Animal, Vegetable, Miracle, which I reviewed here (and for which I will always feel burning shame that I called it "Animal, Vegetable, Mineral" and the error made it into the printed version). You can credit Michelle Obama and Sam Kass (though he won't take credit) for planting a garden on the White House lawn to which they have invited educators, schoolchidren, and chefs from all over the country, as Michel Nischan wrote about for us here. You can credit, though that might not be the best word, the continuingly frightening economy that my esteemed colleague Don Peck wrote about too lucidly for comfort in our cover story last year.
Or you can credit ... Uncle Sam. The pre-bailout, workbooted Uncle Sam, the one who called for planting vegetable gardens "to cut food costs" in a colorful 1925 poster at the opening of the new National Archives exhibition "What's Cooking, Uncle Sam?" that I got to visit on opening day, and had the privilege of being shown around by the curator, Alice Kamps. The real, if unspoken, narrative of the exhibition is the progression from a primarily rural and agricultural economy to an urban, industrialized one in which people no longer raised their own food, and industries pressured the government to buy what the food industry produced. The show takes note of the passage in 1933 of the Agricultural Adjustment Act, which first instituted government farm subsidies, but says little about the controversy that has never abated and will be such a lightning rod that some people are already predicting long delays for the next Farm Bill
The flashier parts of the exhibition have gotten the most attention: the Indiana Jones-like Frank Meyer, who in the early 1900s went on tiger-defying plant-research trips and introduced many new varieties of grains and fruits, including the lemon named for him, which only recently became a darling of food-lovers; the adulteration disasters that led to Upton Sinclair's The Jungle and the 1906 passage of the Pure Food and Drugs Act; Harvey W. Wiley's "poison squad," which enrolled volunteers from 1902-1906 who in exchange for three meals a day were guinea pigs for various adulterants and possible poisons ("They knew what they were signing up for," Kamps said, "and Wiley never lacked for volunteers—they got fed"). The section on various food-group and dietary schemes is where Marion Nestle will have the most fun, tracing the clear links between government and industry—which are apparent early in the show, when a seed-group successfully lobbies the government in the early 1920s to stop distributing free seeds to encourage people to grow their own food.
The show is well worth seeing, and the catalog, with text written by Kamps, well worth ordering. And, as a bonus, you can look at the hour-long talk I had on opening night with José Andrés, who's really been digging into U.S. food history for the America Eats Tavern, a pop-up restaurant he'll be opening on the Fourth of July for the show in his former Cafe Atlantico, just a few blocks from the back entrance of the Archives.
I got to taste a couple of the dishes he plans to make just before our talk, which put me, at least, in a very good mood: particularly a jambalaya with actual Carolina rice and fat, flavor-packed Gulf shrimp, sauteed in beautifully fragrant olive oil. He plans to make his jambalaya to order—just one of many corrections he's going to make to the heritage of America food, which as he says in our talk is the heritage of many nationalities coming together to accomodate their own tastes to the larger group.
One of the many things that's great about Andrés is his utter lack of cynicism, and his enthusiastic interest in learning the history of his newfound home--pawpaws! he says, talking about his daughter's taking him pawpaw-foraging one weekend. (And in researching Chinese noodles, which really got my attention at his new China Poblano, in Las Vetas.) He's one more admirable definition of what it means to be American and care about food. Go to the Archives to have a look at the many who have come before him.
Image: National Archives