Some people call this plant dinner, and others call it carcinogenic. A close look at a dangerous but widespread food.
I ate a known carcinogen this week. But then again, chances are, so did you.
Few wild plants are as polarizing as bracken fern, pteridium aquilinum. It is a global species, living everywhere but the harshest deserts and the coldest tundra. Here in California, it is ubiquitous. I find its fiddleheads—odd looking fiddleheads, like an eagle's clenched talon—in Point Reyes as early as late February. Last weekend, Holly and I found them in the high Sierra, at about 6,000 feet.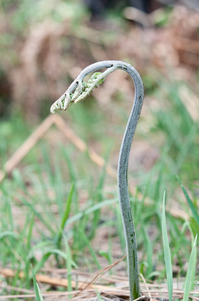 That means if you wanted, you could eat bracken fern fiddleheads for four straight months here in California. You could, but you shouldn't.
Bracken fern does indeed contains carcinogens, that much is clear. I've been spending a lot of time in the past week reading scientific papers with names like "Induction of Tumors in ACI Rats Given a Diet Containing Ptalquiloside, a Bracken Carcinogen." Breezy reading, this. But the slog has been worth it, if only because I refuse to trust the internet and my fellow foraging writers outright. Bracken is so controversial you will see them writing statements ranging from "eat it as much as you want, it's fine," to "never, ever, ever eat bracken, raw or cooked."