Burgers, Beer, and Breakfast: An American Food Road Trip
Driving from Washington, D.C., to San Jose, a writer discovers some of the best regional specialties the country has to offer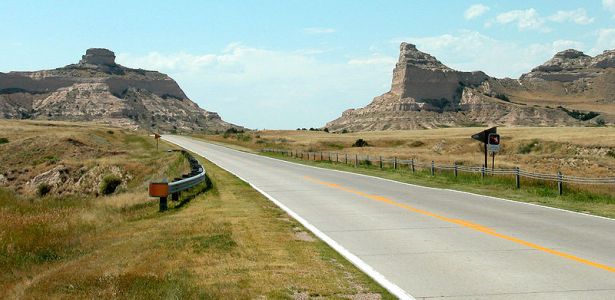 I recently drove across America for a new job and had the privilege of tasting some of the best of what America has to offer. I ate crab cakes in Baltimore, brats in Sheboygan, and fish tacos in San Jose. I enjoyed Mexican food in Virginia, Cornish pasties in Nevada, and Italian beef in Chicago. I crushed fully loaded Five Guys burgers, "Animal Style" In-N-Out burgers, and Culver's ButterBurgers with Wisconsin cheddar and bacon. 
Before I get into the details of the trip, I have to add the disclaimer that my road trip did not take me through Dixie, the Southwest, or Philly/Jersey/New York* (see footnote below). A discussion about the best food in America without including those regions is like talking about the best pitchers of all time and omitting Greg Maddux, Nolan Ryan, and Roger Clemens. It's just not accurate.  
But I could visit only so many places on my food adventure. In the course of two weeks, I drove my 4Runner from the Chesapeake Bay to the San Francisco Bay, taking numerous pit stops and mini-vacations along the way to eat with my family, friends, and girlfriend. We dined at dives and four-star restaurants and ate healthy and junk. I surely missed some legendary spots along the way, but as with any good survey, I think I took a pretty solid sample. 
Industrial Heartland
(Baltimore, Pittsburgh, Chicago)
I began in Baltimore with crab cakes at
Ryleigh's Oysters
. I'd usually choose to pick my crabs—preferably #1's from
T.L. Morris
in Trappe, Maryland, with a cold Bud—but Ryleigh's was good. If you want the best crab cakes in the Mid-Atlantic, your best bet is
Faidley's Market
in Baltimore or
Kinkead's
in D.C.
My next stop was Pittsburgh, where I hit
Primanti Brothers
for the
Almost Famous Pitts-Burger
cheesesteak. It's really a burger patty (not a Philly-style steak), topped with provolone**, tomato, and slaw, and stuffed with fries. Legend has it that founder Joe Primanti, who started the business from a cart in downtown Pittsburgh during the Great Depression, put fries on the sandwiches so that steelworkers and truckers could eat a full meal on the job with one hand. 
Fifteen miles northwest of Steel City is Aliquippa, a classic ethnic, gritty, western Pennsylvania mill town. Jones and Laughlin Steel Corp., which once ran a seven-mile-long mill here on the banks of the Ohio River, owned the town and partitioned it into "plans" for the different groups—the Greeks, Polish, Serbians, Sicilians, blacks, and so on. It was here that Gust Avrakatos gained the worldview that helped him become a legendary CIA agent during the Cold War, and here that Mike Ditka starred for the Aliquippa High Fighting Quips.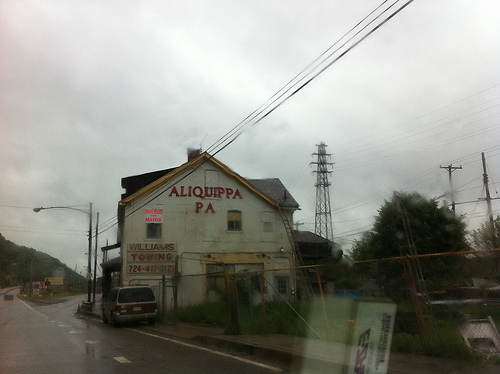 According to a must-read
SI piece
about the town's fabled football program, "The Aliquippa Works pumped out record tonnages of armor plate, shell forgings, bombs, landing craft, bullets and mortar tubing, proudly shaping the weapons to beat back Hitler and Tojo." I didn't stop to eat in Aliquippa, but with those ethnic traditions, it's certain to have some gems. With Bruce Springsteen on the soundtrack
singing about
"the mills that built the tanks and bombs that won this country's wars," I cruised across the rest of America's industrial heartland. 
I ended up in Chicago in front of what was perhaps the best sandwich of my trip. The
Big Al 
contains slices of roast beef soaked in seasoned juices with sweet and hot peppers (giardiniera), served on an Italian hoagie roll dipped back in the juice. It's unreal. Chicagoans have fiercely debated the best Italian beef in town but my money's on
Al's
.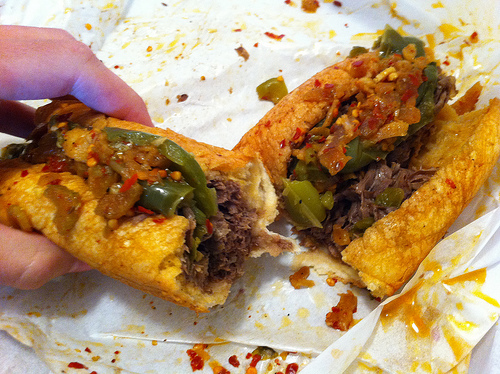 Another point of pride in the Windy City is the Chicago dog—"served with mustard, relish, freshly chopped onions, sliced red ripe tomatoes, kosher pickle and short peppers piled onto a perfectly steamed poppy seed bun." I'll personally take a New York dog, but
Portillo's
does a pretty good version of Chicago style. I ate three
Portillo's
dogs and drank two Miller Lites as my grandma and I watched the Cubs commit four errors and blow a 6-2 lead. Just another day in Chicago.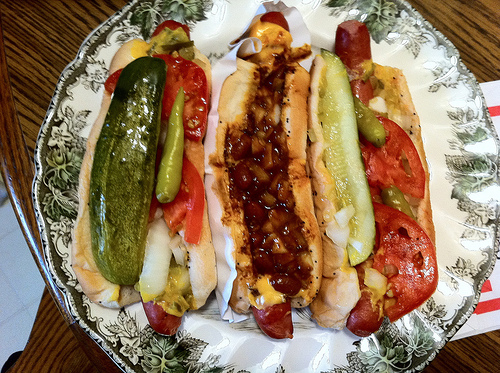 I put Chicago's skyscrapers in my rear-view and headed out on the Illinois prairie, where the skyline is interrupted only occasionally by grain elevators, water towers, and Presbyterian church steeples. I stopped to visit President Reagan's boyhood home in Dixon and President Grant's home in Galena. It's here on the Illinois prairie that the Industrial Heartland fades into America's Breadbasket and Dairyland.
America's Breadbasket and Dairyland
(Wisconsin, Iowa, Nebraska)
"I'd been warned by students of authentic North American eats that I was in for a treat when I came to the Breadbasket," former
Washington Post 
reporter
Joel Garreau
wrote when he coined the term for this region. "This was the land, I'd been told, for which the 1957 Chevrolet and warm summer nights were invented. Nowhere, my tutors has assured me, could one indulge in a ten-course meal-on-the-move as on the Plains."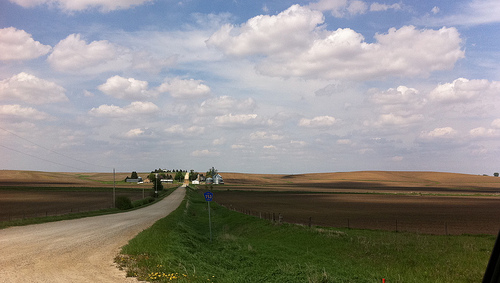 Two hours north of Chicago is Sheboygan, a town on the shores of Lake Michigan, known worldwide for bratwurst. Within 15 minutes of Sheboygan is Oostburg, a Dutch-American village where my great-grandparents settled, and
Johnsonville
, namesake of the brats you find in the supermarket. On the outskirts of Sheboygan is
Gosse's Northwestern House
. They know how to do brats here—grilled and soaked in beer/butter, served with onion, pickle, and mustard on a Kaiser roll so that the grease, mustard, and butter mix.
Culinary and political heritages still run deep in Wisconsin. Counties such as Sheboygan, which were settled by Germans, are
overwhelming Republican
, while those settled by, say, Norwegians, vote very Democratic. What they have in common is a great appreciation for the Holy Trinity of sausage, beer, and
Aaron Rodgers
.
Moving west, Iowa is all about corn, but boy they do a good burger.  I stopped in Waterloo at
Culver's
for a
ButterBurger
with cheddar and bacon, "served atop the lightly buttered, toasted bun that Culver's made famous," accompanied with wavy fries on the side. After stopping at the Iowa Cubs' ballpark in Des Moines to pay tribute to the AAA farm team, it was a straight shot to Omaha.
The Missouri River separates the rolling Iowa prairie flush with corn fields and hog farms, from the flatter Nebraska plains, where wheat and cattle reign. Geographically about halfway across America,
Leo's Diner
in Omaha is home to the nation's best breakfast sandwich.
The Benson
contains fried egg, American cheese, Swiss cheese, hash browns, and your choice of bacon, sausage, or ham. I went with bacon and sausage on thick-cut wheat bread.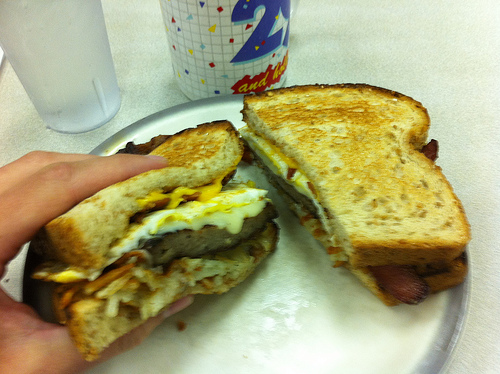 With a full belly, I again turned west and followed the Platte River and the Union Pacific line across the plains. I pitted in North Platte, a rail yard town, and rolled past depressing-looking joints like the Hub Bar and Rodeo Bar. Alan Jackson played on the stereo and served as a
perfect soundtrack
for those emptying towns on the High Plains. "Boarded up like they never existed, Or renovated and called historic districts."
Powder and Petroleum
(Aspen, Park City, Elko)
Colorado is a schizophrenic state, home to towns as wildly different as liberal Boulder and conservative Colorado Springs. In two hours, you can go from a sunny day in big sky country to a white-out on Fremont Pass to a red, dry desert with bighorn sheep roaming the hills. The mountains are forbidding, and "except for mining and skiing, few would have followed the Ute Indians and settled there."  The
Almanac
notes that "The miners who tracked gold and silver and lead ores also built Victorian towns with opera houses and gingerbread storefronts in Aspen and Telluride." 
Aspen hosts a wealth of great food, but
L'Hostaria
and
Jimmy's
stand out. L'Hostaria is an Italian restaurant with a great
Saltimbocca alla Romana
and a mean wine list; Jimmy's is the kind of restaurant a foodie would love with creations such as mac-n-cheese with bacon and jalapeno. But Aspen's real gem is the
Main Street Bakery
, which serves
Eggs Alaska
, a Benedict with Norwegian salmon, grilled tomato, and dill hollandaise.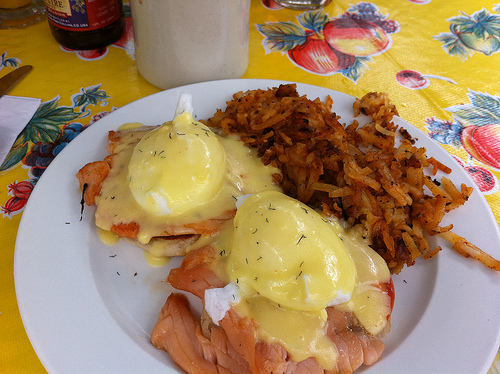 My next destination after Aspen was Park City, but between these powder havens is petroleum country. Colorado's Picceane Basin and Utah's Uinta Basin are home to some of America's most productive oil and gas wells. The U.S. Geological Survey estimates that the Picceane Basin holds 1.525 trillion barrels of oil shale resources; by comparison, Saudi Arabia has 260 billion of crude. Driving through towns like Rifle, Rangely, or Roosevelt, it is not uncommon to see mud-caked F-150's emblazoned with Halliburton logos on their doors.
Park City got its start as a mining town, and locals will tell you that skiers in the 1960s would ride a rail car down a shaft to the heart of the mountain and then take a mining elevator to the summit. Today, Park City is a winter resort and home of the
No Worries Café
. This restaurant near the top of Parley's Summit serves the
Dante's Inferno
—"Sirloin tips, hot Italian sausage, tomatoes, spinach, two cheeses and fresh garlic tossed in a green pepper sauce, served frittata style and topped with savory Hollandaise and Cajun dust."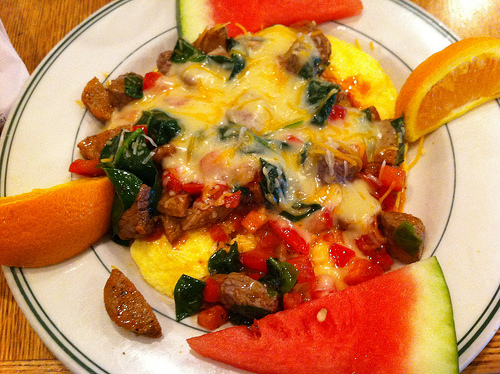 I descended into Salt Lake and across the State of Deseret. I let the horses sing on the straightaways of the Bonneville Salt Flats and great basins of Nevada. In Elko, I listened to one of the most colorful libertarian rants I'd ever heard, as the proprietor of
B.J. Bulls
told me stories about the "pig cops" in my native Virginia enforcing the speed limit. This is Ron Paul Country. B.J. Bulls serves Cornish pasties and sells them by the hundreds to the miners. I had a beef/potato/onion pastie and took a chicken/rice for the road.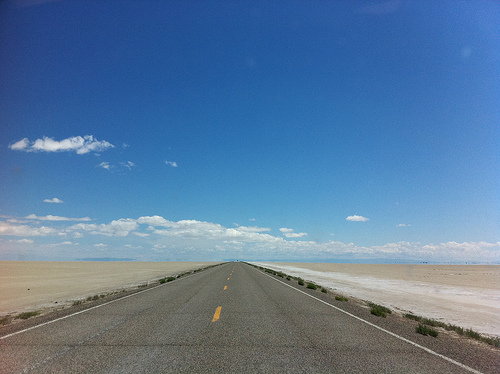 Towns in Nevada were built to serve the Central Pacific Railroad and sprung up almost perfectly every 60 miles. Today, I-80 follows the same route carved by the railroad in the 1860s and connects the same towns: 59 miles between Elko and Argenta; 68 miles to Winnemucca; 60 miles to Oreano; 75 miles to Wadsworth. I rode with
Waylon
and
Willie
, listening to songs about mama, trucks, trains, prison, and getting drunk***. I crossed the border near Reno and spent the night in the railroad town of Truckee in the High Sierra.
California
(San Francisco, Half Moon Bay, Mountain View, San Jose)
One of the many absurd aspects of California is that restaurants are required by state law to put calories on every menu item. Still, the Golden State has some great food traditions. One of the most popular practices in California is to put avocado on an otherwise ordinary dish and call it the "California" version.
Burger King
offers the "
California Whopper
" (a Whopper with guacamole) and a wings joint called
Smoke Eaters
in Santa Clara offers the "Californian" (buffalo chicken with guacamole).
But to be honest, an otherwise boring sausage, eggs, and hash browns at a place like
Sam's Café
in Half Moon Bay tastes a lot better with slices of avocado and pico de gallo. Thanks to the fertile Central Valley, avocados and other fresh produce are abundant. Although the state has become the freeway-clogged, Hollywood-saturated, fiscally bankrupt funny farm that it is today, it's still home to some of America's most productive and fertile farmland.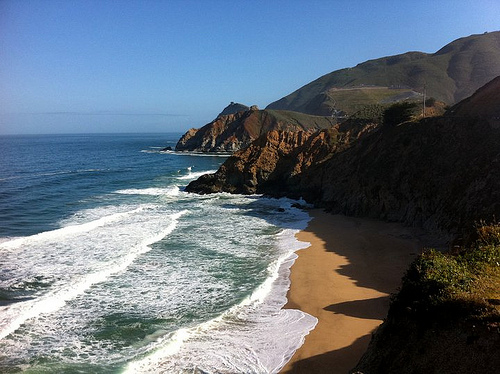 The Bay Area's Mediterranean climate lends itself to world-class vineyards in the cooler valleys to the north and productive orchards in the more arid valleys to the south. Silicon Valley was once "a landscape of orchards supplying half of the world's dried prunes," according to
National Geographic
. "Even through the [1960s], it bloomed with plums, pears, apricots, and cherries, one of the nation's most bountiful agricultural regions."
Today, the Central Valley accounts for less than 1 percent of the nation's farmland by acre, but yields over 8 percent of its agricultural output. But while San Francisco liberals enjoy the valley's bounty and praise "buying local," they also support policies that squeeze the farmer dry. Environmentalists recently turned off the irrigation taps for San Joaquin Valley farmers to protect baitfish upstream, devastating the Valley economy and leading to Detroit-level unemployment in these mostly Hispanic towns.
Mexicans have been a part of life in California since the land was a province of the Viceroyalty of New Spain, and thankfully, taquerias are everywhere. I tried many of these taco shacks, but my favorite was
Taqueria La Bamba
in Mountain View. This dimly lit joint was packed with Mexicans and gringos alike eating at stand-up counters. I had a carnitas taco and fish taco, both with pico, onions, cilantro, and jalapeno, and chased them with a cold Modelo.
I also found a Caribbean place that seems like it was lifted out of Queens or South Florida.  
Back-a-Yard
serves the best jerk I've ever tasted and is operated by a chef whose culinary adventures have taken him from Jamaica to Antwerp to Menlo Park. I loved the jerk chicken/pork combo, grilled with a "fiery mixture of spices, including Scotch bonnet pepper, pimento, nutmeg, and thyme," and served with fried plantains, rice, and beans.
California is maybe the most international state in the Union, but it also prides itself in maintaining some American traditions like baseball and burgers. In my first night in the Bay Area, I caught a Giants game (unfortunately, it was
the Buster Posey demolition game
). I was impressed by what seemed like a playoff atmosphere on a Tuesday night, but more impressed with the
signature garlic fries
. AT&T Park has some of the best food in the bigs, but I'll still take a
Ben's half-smoke "all the way"
at Nationals Park.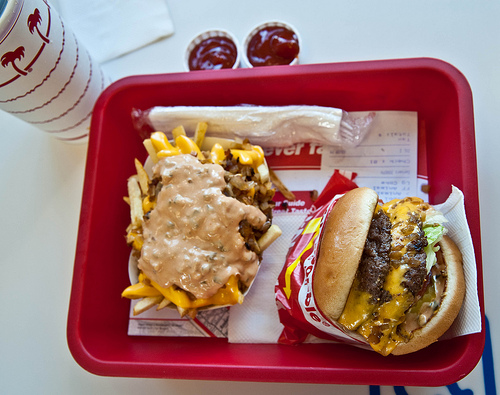 (In-n-Out picture compliments of Marshall Alsup)
I also made a pilgrimage to the famous
In-N-Out Burger
, where I got a Double-Double, Animal Style; Animal-Style fries; and a chocolate shake. "Animal Style" for you Easterners is "A mustard-cooked beef patty with additional pickles, cheese, spread and grilled onions diced up and mixed together on the grill." In-N-Out burgers are excellent, but I'm sorry, Californians, it takes the silver to
Five Guys
's gold. It just can't measure up to Five Guys's toppings and fries.
New England
(Nantucket)
After traveling over 3,500 miles, I made the next logical move and caught a red-eye from SFO to BOS. I spent Memorial Day with my family in Massachusetts, where we had our traditional Figawi dinner: Lobster, chowdah, corn-on-the-cob, and
Whales Tale Pale Ale
on our porch. I could write another 2,000 words about clambakes, rawbars, keepers, blues, and shineboxes, but I'll save that for the next chapter of my food adventures. 
In August, I'll be driving back from California to Virginia, but this time will take the southern route and travel through such food meccas as Sante Fe and Memphis. If you have any suggestions, or gripes with my previous recommendations, please let 'er rip in the comment section.
---
* To make up for this omission, I ordered a New Haven pizza from Pete's New Haven Style Apizza in D.C.—"white pizza, local Chesapeake clams, garlic, extra virgin olive oil, Pecorino Romano, oregano"—and I found a cheesesteak joint called Amato's in San Jose run by Philly expats, where I got a 12" wit' whiz.
** The first Pitts-Burger I ever ate was at the
Winter Classic
with whiz.
*** David Allen Coe says the perfect country and Western song must say something about "mama, or trains, or trucks, or prison, or gettin' drunk." He wrote what might be the perfect verse: "Well, I was drunk the day my Mom got outta prison / And I went down to pick her up in the rain / But, before I could get to the station in my pickup truck / She got runned over by a damned old train."
Images: Patrick Ottenhoff, Wikimedia Commons