It's not about the celebrities. Striking art, good writing, and a deep dive into a single topic (ramen) make the publication shine.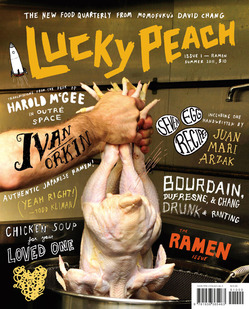 I didn't want to like Lucky Peach, which had its official launch party on Wednesday in San Francisco—and which, as the first issue's cover declares at the very top, is "the new food quarterly from Momofuku's David Chang." The publication screams branded. It's as if the only thing to do once you've opened five of Manhattan's most successful restaurants, done a couple of cameos on Treme, started selling dollar-an-ounce sauces at Williams-Sonoma, and managed to use variations on the word "fuck" 24 times when you're profiled in The New Yorker is to team up with McSweeney's to be "editor" of a magazine and related iPad app featuring a bunch of your food-world friends and, of course, your name. (Disclaimer: Even after three attempts at counting, that 24 figure is approximate.)
But here's the thing. Lucky Peach is good. It's so good that if I hadn't received a free press subscription, I would immediately pay the $28 annual rate to receive four issues of maybe the most original and best new food magazine that will debut this year.
I write this knowing that praising a publication so full of certified New York Food Celebrities is a bit like rooting for the Yankees. Food world titans Anthony Bourdain and Ruth Reichl flank Chang in the table of contents, which also includes less buzzed-about but equally good (and in fact probably better) writers such as John T. Edge and Todd Kliman. If anything, the star power is a distraction. Bourdain's essay—which begins with the words "When examining the life, career, and culinary influences of David Chang"—is tough to get through, and a three-way dialogue in which Chang, Bourdain, and wd-50 chef Wylie Dufresne bluster on about food and mediocrity (really, it's called "Mediocrity: A Conversation") is redeemed primarily by the fact that their disembodied, speech-bubbled faces make the whole thing seem like a joke about talking heads. Reichl's "brand-by-brand instant ramen taste test" was a tease: It begins with the goddess of Good Living admitting that 10 years ago she used to serve her son and his friends ramen all the time—but then she adds that "before serving the soup, I always whipped in a few free-range eggs from our next-door neighbor's Araucana chickens. (The boys were entranced by their turquoise shells and marigold yolks.)" Her first "general conclusion" from the ramen tasting? "Throw out the packaged soup mix"—a tip for instant ramen that inhabits some sort of parallel-universe Planet of the Artisans.
And still there is much to love. Here are five highlights from issue one of Lucky Peach, which is devoted almost entirely to ramen (the real stuff, not Cup Noodles, although Cup Noodles make a shining appearance).

1. Everything You Ever Wanted to Know About Ramen
Making issue one the Ramen Issue was a good decision: Lucky Peach shows just how much can be accomplished when a talented group of writers tackle a single theme. The narrowness of scope has yielded what might be called a 174-page ramencyclopedia, which mostly avoids fluff in favor of the kind of fact-packed food writing I've come to expect from some of the best publications there are (think food features from The New Yorker or borderline academic food publications like Gastronomica). Here are some favorite ramen facts from the issue:
2. Timeline of Ramen Development

As one might expect from a McSweeney's publication, Lucky Peach is beautiful—printed on heavy, nice-to-hold paper, advertising-free, and incorporating plenty of lush illustrations. As one might also expect, it often seems to be as much about the design as it is about the text, as with the "Timeline of Ramen Development," a linear tangle of noodles (shown above) that spills across five pages, telling the story of ramen via a food cart, a television, and other icons ensnared by the looping pasta. An especially fun date: 1992, when James brown appeared in Japanese TV commercials for Cup Noodles, singing alternate lyrics to "Sex Machine." Instead of "Get up!" Brown said "Misoppa!" ("Miso up!")
3. Ivan Orkin, New York Jewry's Ramen All-Star
"Only Ivan Orkin," Lucky Peach notes, "knows what it's like to operate one of Japan's finest ramen restaurants while being a white Jewish New Yorker who sneaks rye flour into his noodle dough." Orkin makes a lot of appearances in the magazine, from his own essay about his unlikely success to a Q & A to a full-page woodcut print on page 28. I'm happy about this not because his story is unusual (although that does make it fun) but because he's a great writer. He begins by describing his neighborhood: He works in a perfect little hamlet outside Tokyo on the same street as a tobacconist, a butcher, three other restaurants, a tofu shop, and a barber—a place where "most little shops are run by people over sixty." Then, in loving detail, he spends more than a page describing how he makes a single bowl of ramen. It all gives the impression of someone doing exactly what he wants to do exactly where he wants to do it.

4. Really Bad Macho Food Writing
Sensitive-soul Orkin is counterbalanced by a lot of writing that is more or less the prose equivalent of Anthony Bourdain's No Reservations:
DAVE: Oh my God, taste the fucking broth. Just taste the broth. (watching me reach for a spoon) You don't need a spoon. That is (slurp)—that is insane. (slurp) These noodles are insane. This broth is insane.

ME: This is some next-level shit. (slurp. Assume these continue throughout.)

DAVE: The noodles are insanely good.

ME: Totally chewy. And this broth is like...

DAVE: It's crack.

ME: Dude, I would wait in line...

DAVE: I've never actually tried crack, but this has to be as good as that. Or crystal meth.
That's an excerpt of a 15-page travelogue by Chang's co-editor (and co-author of the Momofuku cookbook), Peter Meehan. One gets the impression that these guys threw a few pieces in here just for kicks. This one, titled "Things Were Eaten," is bad. It's also entertaining.

5. Tokyo Ramen Gods
Remember those great illustrations? Mike Houston of Brooklyn's Cannonball Press ("Brooklyn's Ringmasters of Monochrome Woodcut Follies") has used hand-carved woodcuts and vintage wood and lead type to create five images, printed in full in the journal, of some of the biggest names in ramen. You can order his reasonably priced 18-by-24-inch prints online. Here are three of the five. But for the portrait of Ivan Orkin, you'll have to pay.

Images: Courtesy of McSweeney's
We want to hear what you think about this article. Submit a letter to the editor or write to letters@theatlantic.com.
Daniel Fromson
, a former associate editor at
The Atlantic
, is a writer based in Washington, D.C. He writes regularly for
The Washington Post
. His work has also appeared in
Harper's Magazine
,
New York
,
and
Slate
.