The Most Frightening Cigarette Packages Ever
If you want a pack of cigarettes in Australia, don't expect to see fancy logos—but do brace yourself for gruesome teeth
If you want a pack of cigarettes in Australia, don't expect to see fancy logos—but do brace yourself for gruesome teeth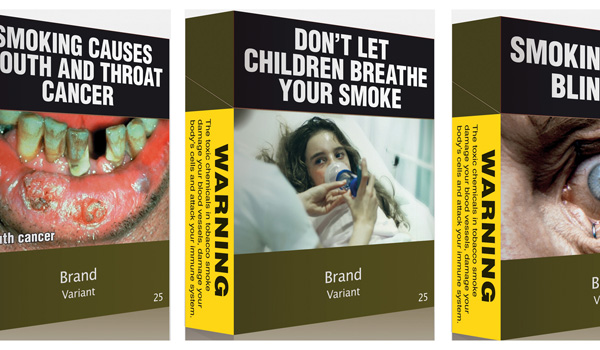 SYDNEY — The Australian government is considering a radical step to reduce smoking by requiring that cigarettes be sold in plain packages. Under the most far-reaching anti-smoking legislation proposed by any country, all colors and company logos will be banned. Brand names may still appear on the package but only in a font no larger than necessary to be read from one meter (roughly three feet). [Editor's note: For more information on Australia's packaging, see
this post
by James Fallows.]
The packages will be olive green in color. The government does not resort to euphemisms, or political "spin," to disguise why that color has been chosen.
"We've done a lot of research to ensure that we make the cigarette packs as unattractive as possible," said Nicola Roxon, minister for health and aging, when the new legislation was announced by the Labor government last month. "Apparently dark olive is the least attractive color for any smokers and in particular for young people."
She was even more frontal when writing for the snappy website www.thepunch.com.au, which seeks to stir debate on the issues of the day: "Kids say olive brown is the color of sick. And that's what smoking will make you—in fact it will actually kill you," she wrote.
The packages won't exactly be "plain." Seventy-five percent of the front of the cigarette pack and 90 percent of the back will contain health warnings and graphic pictures of the health hazards from smoking, as part of what appears to be a more radical version of what several other countries, including Canada, have already implemented.
One proposed package with have the bold letters, "SMOKING CAUSES MOUTH AND THROAT CANCER." Beneath is a lurid picture of rotting teeth and gums.
Another: "DON'T LET CHILDREN BREATHE YOUR SMOKE," above a picture of a young girl with long, dark, curly hair, lying in a hospital bed with an oxygen mask held to her face to enable her to breathe.
Smokers have, over time, become largely impervious to the neatly printed "warning" on cigarette packages, reading right past them. It is hard to imagine ignoring these pictures.
The Labor government's packaging legislation, which has the support of the Greens Party, will be sent to parliament in June. The center-right Liberal Party (the major opposition party) has not endorsed the legislation, and several senior members have indicated their opposition. Roxon, the health minister, has accused the Liberals of being "in the pocket of big Tobacco."
Tobacco companies have vowed to fight the legislation, including in the courts. Generally speaking they claim that there is no evidence that plain packaging will reduce smoking, and that it would be in violation of international trademark and intellectual property laws.
"The government could end up wasting millions of taxpayers' dollars in legal fees trying to defend their decision, let alone the potential to pay billions to the tobacco industry for taking away our international property," said Scott McIntyre, a spokesman for British American Tobacco Australia.
"What company would stand for having its brands, which are worth billions, taken away from them," he asked rhetorically. "A large brewing company or fast-food chain certainly wouldn't, and we're no different."
In a country where fitness at times appears to be the national religion, smoking has declined markedly. Nearly one out three Australians over the age of 14 smoked 25 years ago, according to the health minister. Now it is about one in six, or roughly 16 percent of the smoking age population; the current government wants to reduce it to 10 percent by 2018.
Australia's packaging restrictions follow guidelines from the World Health Organization, which adopted a treaty aimed what was described as a smoking "epidemic" in 2005. It has been ratified by some 170 countries, including the United States. At a subsequent meeting, the convention signers urged governments to consider packaging as part of an overall ban on tobacco advertising.
"Australia is the first signatory and the first country in the world to commit to implementing these recommendations on plain packaging and we're proud of it," Roxon said. This plain packaging legislation "sends a clear message that the glamour is gone," she said. "Cigarette packs will now only show the death and disease that can come from smoking."
Image: Ho New/Reuters