The Food World's Oscars: Fun and Wisdom at the Beard Awards
The gastronomy might have been glitzy, but food politics is anything but, and this year's awards celebrated both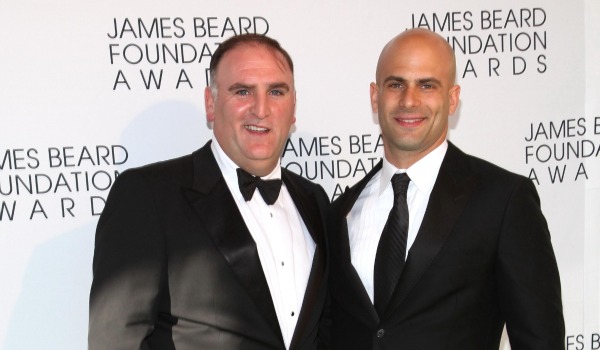 I'm just back to (gray, chilly) Boston from (sparkling, perfect-spring-day) New York, where I began the annual James Beard Awards weekend Friday night at the Book, Broadcast, and Journalism Awards to cheer on the Life channel's
Joe Fassler
, whose
superb series
on last summer's Salmonella scandal was nominated in a very competitive category, Health and Nutrition. Our esteemed colleagues at EatingWell won, but it was a great honor and great to see him there.
And I was particularly pleased and proud for our own Barry Estabrook, whose regular dispatches are a mainstay of the channel, and have been since the day we began as the Food channel. Barry won for the unimaginably crowded category of Individual Food Blog for his Politics of the Plate, where he instantly posted a typically gracious acknowledgment of the channel and our ace Dan Fromson. (The complete list of Beard winners is here, in PDF form.) And he's already written a typically terrific post on the Life channel today, on a new study that chips away at the myth that farmers' markets are more expensive than supermarkets.
An aside that's to my mind anything but: Barry's piece this morning is one part of the why-have-we-waited-so-long strikeback at the myth that sustainability-minded foodies are elitist. We began a strong-minded debate based on the (I think) misguided and misjudged piece in the magazine by B.R. Myers, with Nicolette Hahn Niman's excellent defense of social responsibility in eating choices, and the choices she and her husband, Bill, make in raising animals for meat. That was followed by James McWilliam's own skepticism that raising animals to eat them can ever be defended, a position that puts him at loggerheads with Niman though both share many core values—but that's the value of debate!
And valiant blows in the fight against the "elitist" slur we've taken for too long were struck recently at The Atlantic Food Summit, in Alice Waters's tweets and her own stirring, beautifully spoken speech suggesting universal free school lunch and, later that week by Eric Schlosser's op-ed in The Washington Post, "Why Being a Foodie Isn't 'Elitist'"—a piece that you need to read right now if you missed it, because it sets the terms of the food and social justice debate for the next few years.
The Beard Awards came to their glittery conclusion last night at the gala at Lincoln Center, where the literal climax and for me most important moment was the award to José Andrés as Outstanding Chef. Andrés has been growing in stature and creativity, applying his exuberant passion to matters everyone at the Food Summit—where he was the most passionate speaker in a group of people who know and speak their own minds—cared about. At Friday's awards, the sense that this would be Andrés's year began to build when a "60 Minutes" piece on Andrés, produced by Bill Owens and Kara Vaccaro, won for best television segment.
In accepting his award, Andrés echoed points he made here in a piece last September on the importance of public funding to feed children well, Waters's subject at the Summit. In his ecstatic, and long, acceptance speech he said, "Food is the most powerful thing we have in our hands. Not only chefs, but everyone in the food community. The right use of food can end hunger." He said something very close to a group assembled for The Atlantic last week at a pre-White House Correspondent's Dinner evening, and with similar fire. And I'm very taken with Andrés's food—not just the fantastically luxurious jamon Ibérico and caviar he served at the gala last night but also more I'm writing about for our next issue of our magazine.
Food, of course, is what many of the awards-goers pay the steep, steep ticket price ($600) to eat, and aside from the jamon and caviar there was plenty of it. As there was at the after-parties, three of them given by supreme professionals: Thomas Keller and Laura Cunningham, who won this year's Outstanding Service award for Per Se, where they welcomed friends; and Danny Meyer at Eleven Madison Park, which won for both Anegla Pinkerton's work as Outstanding Pastry Chef and as Outstanding Restaurant. Meyers's journey was chronicled in Roger Sherman's absorbing documentary on the creation and then re-creation of Eleven Madison Park, The Restaurateur, which I wrote about after seeing a screening last winter and which is now available on DVD. The near-halving of the number of seats in the restaurant and doubling of the kitchen staff brought the results Meyer cared about: four stars in The New York Times and now the grand Beard prize. And Daniel Humm, the chef Meyer brought in for the restaurant's re-invention, showed his own reaction by inviting everybody at the awards ceremony to the party—and, when they listened and turned up, danced on the bar to very, very loud yells in a pretty incredible scene of one of the most reverent and beautiful rooms in New York turned into a light-flashing, music-pounding disco.
My own favorite party was characteristic: just across the street from Lincoln Center, at Daniel Boulud's new Epicerie Boulud and Boulud Sud, which officially opened today after a soft weekend opening. Boulud Sud, his new brasserie, was too jammed even to pass through, but the adjoining storefront grocery-gourmet shop-cafe was just passable, and my esteemed pal Adam Sachs and I managed to pass straight to the pastry case, where we reached in behind and raided dulce de leche eclairs. (It doesn't really matter what we raided—isn't that what everyone wants to do at a pastry shop?) They were so good, so creamy and refreshing and smooth and deeply caramelly, that we had to split a second one. By which time the pastry chef and Boulud himself expressed some alarm not only that the display was being decimated but that they'd been made that morning. Not fresh enough! they fretted. They needn't fret. Those were the best eclairs I've had maybe in this country, and Epicerie Boulud is now a fixed point on my Manhattan compass.
The last line should go to Tony Maws, who after a long wait as a perennial finalist won the Best Chef: Northeast award for his marvelous Craigie On Main in Cambridge. Succinctly stating what I see many times a week when I pass the restaurant and back door on my way to and from Gus Rancatore's Toscanini's, and whenever I eat there, at his acceptance speech Maws lifted his award and said: "This won't cook dinner. I'll be back on the line tomorrow night." Along with his, Andrés's, and many of the other chefs' commitments to sustainability and fair treatment of suppliers and workers, that's the dedication and the spirit the Beard awards exist to honor.
Image: Will Ragozzino/Patrick McMullan