The End of Candy: How Health Food Threatens Our Sweets
A visit to the Sweets and Snacks Expo—formerly the All Candy Expo—suggests that our beloved pure-sugar treats are dying a slow death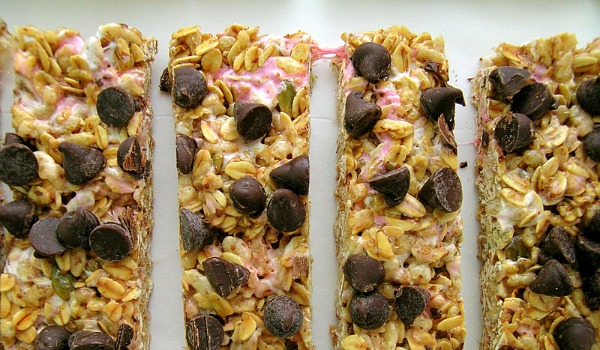 The Sweets and Snacks Expo blasted into Chicago this week, with three acres of show space, 14,000 attendees, 550 exhibitors, and the debut of more than 2,000 new products. Sponsored by the National Confectioners Association, this is the major U.S. trade show for ... um, I was going to say candy, but in fact that is less and less true. The show used to be called the "All Candy Expo," but last year they changed to the more embracing, and vague, "sweets and snacks." At the time, I mourned the demise of candy (see my post here http://candyprofessor.com /2010/05/24/the-end-of-candy/), and what I've seen at the show doesn't change my impression that candy is risking quite a bit in hitching its star to the "snacks" wagon. There are more and more non-candy items on display, and for someone who comes with candy on the brain, it's a bit disorienting.
You'll find every stripe and color of candy and chocolate here, along with a mind-boggling array of cookies, chips, nuts, popcorns, dried meat, cheese spread, and, ahem, "other." All the familiar names are here, but the real energy at the Expo can be found in the newest products, trends, and innovations. The biggest story of this year's Expo will come as no surprise to anyone following the food scene: snacking is trending "healthy."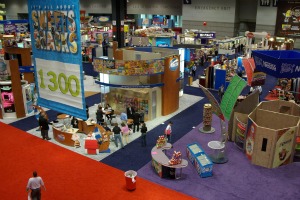 Many of the newest products featured here tilt heavily toward the sort of stuff you used to see only in health food stores. Lots of new bars and clusters are heavy on seeds and honey and dried fruits. I sampled one such product, Simple Squares Rosemary Nut and Honey Confection, and found it intriguing and sophisticated. Kimberly Dobbins developed the product because she loved desserts, and she couldn't find anything satisfying that adhered to her dietary restrictions. I agree; it isn't fair that allergies or other food avoidances should mean you only get to eat crummy stuff. Simple Squares promises "wheat, gluten, dairy and soy-free, unfired, no refined sugar, kosher." This is a trend, too: A lot of products seem to focus more on what is
not
in the package—no artificial colors, no GMO, no gelatin.
It is a sort of purging of food-sin. Whatever is left after all the badness has been purged must be good. These whatever-free products radiate an aura of superiority for everyone, not just those with specific food needs. And once they are nestled on the store shelf, such confections are so busy boasting of their virtues that they have little patience for the word "candy." Goody Good Stuffs (a line of gummy candies that determinedly avoids the word "candy" anywhere on the package or marketing material) promises that it is "free" of no fewer than 16 baddies, from fat to lactose to casein. When I come to the Grape Pop Rocks at the next booth at the show, I feel a wave of shame. So fired, so refined, artificial everything up the kazoo. What is the opposite of virtue? When moms can choose "Funky Monkey: Fruit that Crunches! (100% Real Fruit, 100% Fat Free, No Sugar Added, Gluten Free" or American Bounty Foods's "Berries and Cherries Crunch Fiber Enriched (Gluten Free, GMO Free, Vegan)," who would dare offer precious Junior a goodie bag with Super Mario Snerdles or the Face Twisters Ginormous Sour Tower of Taffy?
So candy sits uneasily among the virtuous sweets. Meanwhile, an emphasis on wholesome snacking also leaves real, bad-for-you candy on the sidelines. Such goods as lentil chips and protein bars insist that if you must snack, your snack of choice should be food (or, let's say, food-ish). Check out two of the new products featured in my media sample bag: Crispy Natural brand Crunchy Apple Chips, and Simply brand Hummus Chips. If you can get avowedly wholesome foods like hummus and apples in chip form for snacking, snacking doesn't seem so much snacking as eating your fruits and veggies on the go. Funky Monkey Fruit that Crunches says it right on the package: "1 serving of fruit in this bag!" How does that new Peanut Squared Snickers square up against the Live Smart Chocolate Flax Bar? Snickers, we are forced to conclude, is not living so smart. And the Focus Food Protein EnerGI Bar in "Chocolate Fudge Brownie" flavor is no match for, well, a chocolate fudge brownie. At the end of the day, these so-called healthy snacks are actually arguments against eating any candy at all.
There is only so much you can do to candy to make it "healthy" before it doesn't really work as candy any more. Which leads to a lot of product innovation, but also a lot of bad-faith marketing, wherein increasingly dubious health claims and ingredient supplements are meant to transform candy into something else, at least in the consumer's mind. So we have products like Gimbals Sour Lovers Made with Real Fruit Juice High in Antioxidant Vitamin C and Black Forest Fruit Snacks promoted as "a 'good-for-you' single-serving treat." I doubt that Gimme Chocolates are really the "World's First Nutritionally Enhanced Candy" as the company claims; the line up of functional chocolate spiked with Vitamin D, or Omega 3's, or probiotics, or calcium, is beginning to look extremely familiar. My favorite innovation in this area is what we might call the sleeper hit of the new product showcase: Slumberland Snacks Chocolatey Sleep Squares, The Bedtime Delight that Helps You Sleep Through the Night. It's melatonin and a lot of vitamins, but looks and tastes like a chocolate candy. (Not to be confused with the laxative in your medicine cabinet that also looks and tastes like a chocolate candy.)
The candy industry has for many years insisted that candy can be part of a healthy diet and lifestyle "in moderation." When the candy trade show admits these other "healthy" items and promotes them with equal enthusiasm, a delicate situation ensues wherein one side of the mouth says "there's nothing unhealthy about candy" and the other side says "look, here are some healthy candies (and please don't ask about those others)." But such contradictions are the essence of commerce. The Expo is not a truth show, after all, but a trade show.
Defenders of candy, unite! Let us disavow the slippery logic of "nutritional snacking," which justifies the expansion of the processed food market with the tools and rhetoric of nutrition (or the faux-nutrition known as "nutritionism"). Let us insist that the non-nutritive pleasures of candy be preserved as such: non-nutritive, and pleasure. That is what is special, and fun, and unique about candy.
Images (top to bottom): jamieanne/flickr, Candy USA/flickr