My Favorite Chef in Italy: A Lesson From One of the Greats
A crazy, pork-liver-filled, spur-of-the-moment dinner reminds a New York restaurateur of the value of cooking with restraint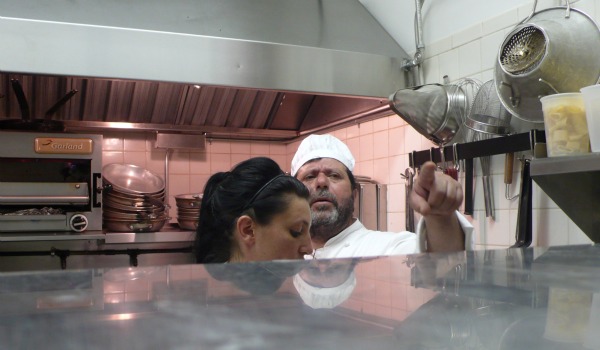 Salvatore Dennaro is my favorite chef in Italy. When he lost his restaurant last summer (because he is the worst businessman I know), I was really sad.
Salvatore owned a little trattoria-style place in Foligno, Umbria, called il Baco Felice, and I loved it because of its simplicity and reliance on quality ingredients, many of them produced by Salvatore himself. In simple low-key places in Italy, that reverence for la materia prima (quality ingredients) is harder and harder to find. He has wound up working for a friend of his, an esteemed winemaker in Montefalco called Marco Caprai, cooking meals and teaching cooking classes at the winery. Recently they came to the U.S. to put on a series of wine dinners in New York and Chicago, and Salvatore insisted on coming and cooking with me at Porsena.
As soon as he landed, he hightailed it over and decided he should make a lentil soup. Fortunately we had prized Umbrian Casteluccio lentils hanging around in the dry storage left over from New Year's Eve. He hustled into the kitchen and started chopping away at the vegetables (celery, onions, garlic) for the base of the soup. As he bustled about asking for things, I discovered my Spanish-speaking prep cook speaks pretty good Italian. I also discovered that while I speak great Italian and pretty good Spanish, I cannot speak the two simultaneously.
Salvatore is a character and very jolly. He kept up a running commentary on the world as he sees it as he cooked, chatting about leftist politics and what makes a good wine all at the same time. He decided that we should cook dinner together the following Sunday and that we should make sausages. I don't have a meat cutter or a sausage stuffer, I said. That's fine, he said, I can call this guy he met at Eataly and have him cut my meat for me. Problem solved.
I encouraged him to make fegatelli, my favorite dish, pig's liver wrapped in caul fat and seasoned with bay leaf and wild fennel pollen. He proposed chick pea soup with pasta and lentil and salt cod salad. Over the next few days, my chef Sebastian and I decided that this was actually the perfect opportunity to go buy ourselves a meat cutter and sausage stuffer, and we ran around gathering equipment and ingredients in preparation for the big night. Salvatore popped in and out, coming for dinner when he could, praising me for things he thinks I do right and chastising me for the things he thinks I could do better. He said my spaghetti vongole needed a big splash of color from some red chili pepper, which made Sebastian laugh, as he and I had argued about this very issue in the beginning. I'd wanted to use tiny dried hot Sicilian chilies for the flavor, but Sebastian thought the jarred Calabrese were better and prettier.
Salvatore thought the lamb sausage pasta was great, but the greens, he wondered, shouldn't they be cooked more? Italians like their vegetables really cooked and it's one of those things I forget because I actually have never been able to decide what I prefer. For me its one of those things that really sets Italian and French food apart—the degree of doneness on the vegetables.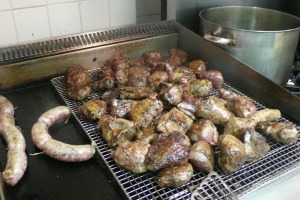 Marco decided he would send us his wines for the evening, and so it came together. An Umbrian dinner with Salvatore and Marco. I started to tell people about it and everyone wanted to come. Our maître was pulling her hair out trying to fit it all in. It seemed glorious and chaotic and fun and madly Italian but also kind of stressful because I didn't want it all to be a disaster. What if the wines didn't come and we didn't get the food prepped in time and too many people tried to come and nobody was happy?
The big day came and we spent the day happily prepping away as the phone rang off the hook. My cooks were happy to have this change from the daily routine and they recognized that it's a great opportunity to watch a chef like Salvatore up close. Sausages were made and fegatelli got wrapped. As always when watching an Italian cook up close, the restraint that went into everything was amazing. For 20 pounds of sausage meat, Salvatore used only four cloves of garlic, and when we tasted the sausage it was perfect. I think of myself as a restrained cook, but I would have put 10 cloves of garlic in and probably two more herbs. But the recipe didn't need it.
The chick pea soup, everyone agreed, was amazing, and what resonated was the purity of the chick pea flavor. Again, it's shockingly simple: Umbrian dried chickpeas, a little garlic and rosemary sweated out in olive oil, the chick peas cooked slowly with just water. Some canned tomato, then half the chick peas pureed to thicken. At the last minute before service began, we added a package of tiny tubetti pasta, which much to my amazement never disintegrated throughout the evening as we doled it out drizzled with Teverina olive oil and crushed black pepper. It was a reminder to me and a reaffirmation that sometimes what you don't put into a dish is as important as what you do.
The room filled with friends of mine and friends of Salvatore and just ordinary customers. Some had the special meal and some had our regular menu. Marco ran around pouring wine for everyone, the pride in his product glowing on his face. We put out the first round of dishes, we put out another table, and suddenly were in it and the flow was smooth and the dinning room was filled with the hum of contented diners. It felt very warm, emotionally, and I knew it was going to be okay. We were going to have a wonderful night, and we did.
Images: Courtesy of Sara Jenkins