Foodies vs. Darwin: How Meat Eaters Ignore Science
Cooking and savoring animals used to be acceptable—but then came evolution, genetics, and the study of non-human thought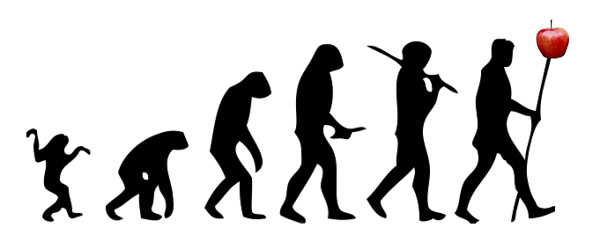 "No age has ever been more solicitous to animals, more curious and caring," writes Matthew Scully in
Dominion: The Power of Man, the Suffering of Animals, and the Call to Mercy
. "Yet no age," he continues, "has ever inflicted upon animals such massive punishments with such complete disregard."
Scully highlights one of the more troubling paradoxes at the core of modern life. Humanity proves its love for animals on a daily basis. We lavish an abundance of affection on companion animals, work tirelessly to protect endangered species, and donate generously to shelters and welfare organizations.
At the same time, we treat animals with unfathomable disdain. We wear them, experiment upon them, hunt them, render them into cosmetics, and, most notably, eat them. Making matters even more disturbing, we rationalize all this behavior as perfectly normal. It's just the way of the world, red in tooth and claw.
Humans are the only animals capable of untangling this paradox. To be sure, non-human animals possess innumerable skills that we lack, but—as far as we know—they don't have the cognitive gifts to think abstractly about relationships among species. For us to ignore this challenge would be a grave failure. Unfortunately, the most influential voices in the so-called "food movement," concerned as they are with both taste and sustainability, disagree, even though they are in a position to push this paradox to the center of public debate. They view the ethics of slaughter as an issue best to avoid.
What, after all, is to be gained by questioning one of humanity's most habitual acts? What benefit is there in alienating one's loyal base of omnivore followers? Why muddy the waters when you can win friends and influence palates with the latest brisket rub? With few exceptions, popular explorations of meat production and consumption studiously skirt the essential concerns underscoring our ingrained habit of killing animals to satisfy our tastes.
Sure, food writers trip all over each other to express their righteous outrage over the many evils of factory farming. Wonderful. But not a single one has decided to take a shot at reconciling their outrage—an outrage that ipso facto acknowledges that an animal has inherent worth—with their promotion of heirloom birds, grass-fed beef, and fried pork bellies cut to perfection by "artisanal" butchers.
The fact is, what's being butchered here is logic. Thinking, talking, and writing about meat almost necessarily evokes a wildly emotional response (just read the comments on my posts). But what's required right now isn't emotion, but reason. The food movement has taught us to doggedly investigate every facet of our food system. This noble imperative has led to an admirable increase in public awareness about the source and quality of everything we eat. But our collective effort to vet the food system of any and all abuse ironically slams on the brakes when reason get too close to the brink of animal rights.
Nonetheless, I wonder what we might discover if, somehow or other, we careened over the edge and seriously explored, in the popular press, the ethics of animal exploitation. What if we discussed the moral and legal rights of animals with the same level of detail we bring to discussion about where to find the best prosciutto?
Perhaps the most intellectually jarring conclusion we might reach is that our current philosophical justification for dominating the non-human world is embarrassingly antiquated. In fact, it's rooted in ancient ideas that ignore both Darwin and the science of genetics.
As Paul Waldau reminds us in Animal Rights: What Everyone Needs to Know, it was Aristotle who, more than 2,000 years ago, codified a rigid typology of life based on a fundamental distinction between humans and animals. His typology was with the book of Genesis. In the Aristotelian worldview, humans transcended an atomized sub-human world in which every species served a distinct role in the service of humankind. Under Aristotle and the Old Testament, using animals was more than okay; it was our cosmological duty. "Nature," Aristotle wrote in Politics, "has made all animals for the sake of man." For Christians, of course, that role belonged to God.
But Darwin and Mendel, with their theories of evolution and genetics, put an end to this self-serving fantasy of dominion. They did so not only by scientifically situating humans in the same category as non-humans (animals), but by undermining the assumption that humans, as Waldau puts it, are "the pinnacle of and reason for creation." Today, enlightened neo-Darwinists embrace the idea that shared genetic heritage—and often profoundly similar genetic structure—between humans and non-human species confirms the interrelatedness and continuum of all animal life. And this, as I see it, changes everything.
When humans and non-human animals are part of a continuum, rather than qualitatively distinct forms of life, human meat-eaters confront a serious quandary. It becomes incumbent upon us to forge a contemporary justification for carnivorous behavior. Aristotle and Genesis will no longer do. By undermining the long-held basis of inherent human superiority over non-human animals, the science of evolution obliterated the framework within which thoughtful carnivores long justified their behavior. As it now stands, human meat-eaters, unless they reject modern science, support the killing of non-human animals without the slightest intellectual or ethical grounding.
Embedded within this Darwinian turn is a closely related development. Whereas humans have historically assumed their superiority over non-human animals on the basis of our supposedly unique ability to think and feel, the field of cognitive ethology—the study of non-human animal minds—is making it virtually impossible to maintain this stance. As the evolutionary biologist Marc Bekoff says in The Animal Manifesto: Six Reasons for Expanding our Compassion Footprint, we "consistently underestimate what animals know, do, think, and feel."
Examples of animal intelligence, consciousness, and thoughtfulness abound. When cognitive ethologists discover that (to name only a few cases) Caledonian crows are better tool-makers than chimpanzees, or that monkeys teach their children to floss, or that magpies can recognize themselves in a mirror, we can no longer blithely dismiss animals as driven by "pure instinct." To the contrary, we have an obligation to contemplate the fact that non-human animals (especially higher ones) make conscious choices, experience genuine emotion, and might even (as in the case of elephants) have the mental and emotional wherewithal to seek revenge. In short, they have interests. To reject these findings—findings that have been fully established with relatively little investigation—would be, as Terry Tempest Williams puts it, "the ultimate act of solipsism." Humans would be the ones following instinct—the deep-down instinct that says we're inherently superior.
Admittedly, a systemic analysis of animal rights can be an extremely disorientating experience. Questioning the basis of animal exploitation bears directly on virtually every aspect of our lives: what we wear, eat, apply to our skin and hair, and so on. To duck these issues—to steer clear of any confrontation with Darwin, Mendel, or the field of cognitive ethology—is not only intellectually disingenuous. It denies to the billions of animals we kill every year a fair assessment of why we treat them as we do.
Image: The Atlantic, via Wikimedia Commons