Baked Good: One Man's 24-Hour, All-Cookie Marathon
A baker's grandson stays up overnight to make his special mandel bread—and tells his family's story in the process
ACT I: The Prelude
In November 1941, Samuel Miller, my grandfather, took over control of a small bakery on South Washington Street in the Flats section of Scranton, Pennsylvania. The price was $500, which he did not have at the time and which he had to borrow from an in-law. Until that point, he and his wife, Evelyn, my grandmother, had endured the Depression in Passaic, New Jersey. There, each working day, Sam, a bakery worker, would haul 100-pound bags of flour up a flight of stairs from a storeroom to a huge mixer. When the Millers finally got their own store, they called it the New Modern Bakery, although no one still alive 70 years later remembers anything new or modern about it.
More about the Millers and their bakery later. Let's quickly skip ahead a few generations. This holiday weekend, instead of getting away for a few days, this proud grandson of a baker spent 24 straight hours, from 6 p.m. on Friday until 6. p.m. on Saturday, mixing batter and baking cookies*. One batch after the other. Hour after hour. In my kitchen. I didn't do it for anyone special. I did it because it's been too long since I committed a random act of kindness. I did it because it's Memorial Day weekend. I did it for charity (okay, and because I like the smell of cinnamon in my house).
* Just so we are clear on terms, my family calls the cookies I bake "mandel bread"—think Jewish biscotti—but they are very different from the old school mandel bread (literal translation: almond bread) that your grandparents may have eaten. My mother changed her mother's recipe by adding cinnamon to the mix (and making sure there were no nuts involved). And I changed my mother's recipe to include loads of chocolate chips, which means I am baking chocolate-y, cinnamon-y slabs of love. My friends have been emjoying them for years. I call it evolution. But please, all you mandel bread purists out there, consider this my humble concession: I am no traditonalist and don't want to be.
The deal was this: Willing friends and family members pledged to make a donation to the charity of their choice and in turn I pledged to send them each a fresh batch of cookies. I suggested a modest donation but I encouraged folks to give as much as they felt comfortable giving for a box of cookies. I know that more than a few of my friends donated much more to wonderful charities, including many, like Cradles to Crayons, that I had never heard of before. Lots of folks gave to the American Red Cross and other charities that are helping the victims, like those in Joplin, Missouri, impacted by terrible weather.
The event was by any measure a success. No one was harmed during the marathon baking session. There was no evident damage to my kitchen or my home. I responsibly disposed of all of the garbage I generated—the egg crates were repurposed, the flour bags recycled. Neither my son (one cookie) nor my dog Trot (no cookies) got sick. And with all that extra time on my hands while the cookies were in the oven I kept good records, too. Below is my story. But first here are the results:
Number of cookies made: 799
Pounds of flour used: 30
Eggs cracked: 126
Pounds of sugar sprinkled: 15
Ounces of cinnamon mixed: 8
Ounces of chocolate chips dumped: 160
Oil/shortening poured: plenty
ACT II: The Preparation:
"Whatcha baking?" said the check-out lady at the King Soopers where I shop. She was scanning the first of my three cartloads of ingredients I reckoned I would need to make the cookies. I could tell immediately that she hadn't paid attention to her question and didn't really care about my answer. I mean, there I was, at 9 a.m. on a Wednesday, buying flour, sugar, baking powder, and chocolate chips; not exactly C-4 fertilizer and blasting caps for a truck bomb, right? I told her I was trying to bake the world's largest chocolate chip cookie. She was delighted. Then I told her the truth. She said: "Why don't you just buy the slice-and-bake type?" Practical, my check-out lady.
The next time I went to Kings, on Thursday morning, I bought seven 18-egg packages (I bought more on Friday). Memo to societal experts who study such things: Put a hidden camera on a guy in a supermarket with 126 eggs in his basket, chocolate chips, and cans of Pam, and see how the other store customers look at him. Classic. To be fair, I also stocked up on other essentials for my kitchen marathon: cool, refreshing Fresca, Mike and Ikes, and rawhide bones (just in case the dog wanted to stay up all night with me). "Want help out to the car?" asked the bagger. I'm good, I said. "Be careful with those eggs," another check-out lady warned.
In my house, I cleared a few things off the kitchen counters—mostly the plugs and cords that juice all the handheld devices we use. I commandeered the air-hockey table downstairs to serve as the staging area for the ingredients. I went to my friendly neighborhood shipping store and bought 25 boxes from the nice lady who gives me discounts because I bake her cranberry pie each Thanksgiving. I put the laptop on the kitchen counter. And I put the eggs in the garage, in the small fridge that normally houses only juice boxes, bottles of water, and terribly stale beer.
ACT III: The Baking
5:48 p.m. Right on schedule, the first batch of cookies goes into the oven. Because I do not have a huge oven, it usually takes me about an hour or so to bake the two trays (four loaves) that make up each batch. And then I slice the loaves of cookie into biscotti shape, which makes them perfect for dunking into coffee or milk. I hope to make 20 to 22 such batches before I am through tomorrow evening, which should be good enough for about 30 boxes worth of pure deliciousness—and at least 30 donations.
Back to the Millers. Sam and Evelyn were just getting settled in to the bakery when the Japanese bombed Pearl Harbor. Eight months later, my mom recounts, Sam dutifully reported for induction at the Army base at Fort Indiantown Gap, Pennsylvania. Mom says that her father was sent home to continue baking for the Northeast Pennsylvania coal miners whose brutal work (and, I guess, carbohydrates) were so important to the war effort. It became a family joke—that Sam's baking was essential to the war effort—but he was patriotic in the line of duty on the home front during the war.
9:13 p.m. Am now four batches in and going strong. Speaking of batches, you should know that I am not even the best mandel-bread baker in my family. So says everyone else. My mother and I have a healthy rivalry over the years about the respective strengths and weaknesses of our individual mandel bread recipes. I find hers too small and brittle. She finds mine too laden with chocolate and too crumbly. My brother-in-law now has gotten into the act as well—he makes his own. Can't we all just get along? For the record, my son says he likes his grandma's mandel bread best.

The first site of the New Modern Bakery in Scranton was a primitive sort of affair, with an old-fashioned central hearth stove instead of a newfangled oven (which we would now of course consider archaic). And its clientele reflected the reach of the state's coal mining region. My grandfather baked Paska bread for the more recent Polish immigrants (he had come over decades earlier, at age five, from a town on the Polish-Czech border that evidently is no longer on the map). And he baked Kolache bread for the miners who had come from Czechoslovakia to find their fortune in America. He baked what people wanted him to bake, what people would eat, no matter where they were from. Practical man, Sam.
12:10 a.m. At the quarter pole now, with the overnight quarter yet to come, and I'm getting into a solid rhythm of mixing and then shaping the cookie dough into the loaf shapes that go into the oven. Trot the dog is sprawled out in the other room. I can hear him snoring in the quiet stretches of the bad Will Ferrell movie I am watching. Lucky dog. Too bad I'm not watching the very end of As Good As It Gets, when Jack Nicholson and Helen Hunt decide to get some hot, fresh rolls. And please let's not forget Enzo the Baker (not that any of you would).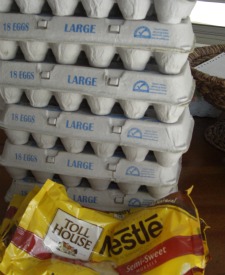 The next big event in Miller family baking history came in 1946, after the war, when Sam's family connections tipped him off to a business upgrade: an opportunity to move to Scranton's south side. An old baker had died, and his widow owned a row house with a bakery beneath and to the back of it. The price was $38,000 lock, stock, and barrel—four apartments, the bakery, and all the baking equipment. Sam immediately said yes, and both the New Modern Bakery and the Miller family moved to Prospect Avenue. The venue was suitably placed directly across the narrow street from Scranton's enormous Sacred Heart complex, a Catholic school, convent, and church, the bells of which chimed with stern regularity. And the Millers ran the bakery there, in good times and in bad ones, until shortly before Sam's death in April 1975.
3:17 a.m. Inasmuch as I am now officially observering "baker's hours," let's all together say an Amen for this proud guy—remember him? Time to make the doughnuts. I say that almost every morning when I get out of bed even though I have never made a doughnut in my entire life. I wonder why. It almost makes me want to go out and buy William G. Panschar's earnest (but I'm guessing under-read) two-volume set: "Baking in America." Remember, I said "almost."  
When the coal miners came to Sam Miller's bakery, especially the old and the sick ones ailing from silicosis, and when they didn't have any money to pay for their bread, Sam made them a deal. My mom remembers her dad giving them food and then writing their "credit"  into little notebooks he would keep. When the men invariably came to pay Sam a little bit on what they owed, he would take a nickel or so from them and forgive the rest of the debt. It was bread. The staff of life. He did this for years. My mom has told me that story for years and it still makes me happy every time I hear it.
6:04 a.m. With the sun rising, and the sliver of moon still in the sky, I promise to never whine again after writing what I consider a "hard" column. I am still going great,  halfway through the marathon but my back is starting to kill me from having to stand for such long stretches. And I'm standing in a well-ventilated kitchen, with great music playing (thanks Lyle Lovett), and the ability to sit down from time to time. I can't imagine what it was like for bakery workers a century ago. Actually, I can imagine. In one of the most famous (and dubious) Supreme Court cases of all time, Lochner v. New York, the court struck down a maximum-hours law for bakers in New York State.
At the "height" of the operations of the New Modern Bakery, my mom says, Sam and Evelyn Miller employed no more than eight workers inside the bakery and several more men who delivered the warm breads, cakes, and pastries all over the region. The bakery served large supermarkets and restaurants and accepted walk-in business. And anyone who came for a social visit to the Millers also came to visit the bakery as well. There was no escaping it. Once you set foot inside that house at the front door on Prospect, you might as well have been first in line at the back downstairs counter asking for a doughnut—the sweet smell was so overwhelming. Like the pickle man from Crossing Delancy only in reverse, it took away the world's bad smell.
9:07 a.m. So it turns out I grossly overestimated the amount of sugar and flour I needed. I could probably bake cookies until Monday morning. But I won't. Part of the deal here, with myself anyway, was that I would donate leftover ingredients to a local group that focuses on helping the families of our armed service members. It is Memorial Day weekend, after all. That's going to happen on Monday.  
My mother tells great stories about the bakery—and about the people who worked there. She remembers being sent by her father to round up the delivery men when, for one epic reason or another, they didn't show up to work on time. On more than one occasion she would find one of the men at dawn at the local house of ill repute. She also remembers driving the delivery truck herself—imagine that 60 years ago—when she couldn't find the drivers or when there were too many orders and too few men to get the bread to where it needed to be. To her, the New Modern was home.
12:09 p.m. The three-quarter mark! 18 hours in, only six hours left. With the end now in sight, I hope I haven't given anyone the impression that I am a baking impressario. I am not. I don't claim the "baking gene." I cannot whip up a flan and I do not remotely care about a tart. In fact, I bake two things and two things only—this mandel bread and a sort of cranberry shortbread pie (which is killer). Otherwise, I'm just not much of a doughnut, jelly-roll, eclair sort of fellow and never have been. The cranberry pie season is in the fall of course. Perhaps by then I will want to see another bowl full of batter.
I don't have many vivid memories of the bakery. But my older sister does and so do my older cousins, Arthur and Marge, because they lived in Scranton during the New Modern Bakery's heyday (I did not). Allow me to let cousin Arthur speak first:
I still complain every time I see a fancy/costly birthday cake that pales in comparison to the elaborate cakes I used to have at my birthdays. I'd give anything for a New Modern Bakery

lafayette

which was white cake with raspberry jelly, coconut flakes and white icing (in case you forgot). The sheer number of them eaten by me from 1960-1976 is probably the main reason I am now Type 2 diabetic. What a way to go, though.
My cousin Marge remembers going to the bakery through a trap "hiding underneath a table where the icing tubs were kept and dipping my fingers in the icing" (paging
OSHA
). She remembers getting to the bakery through a trap-door in Grandma Evelyn's "sewing room"  (think
Hogan's Heroes
but with Queen Anne furniture). "Everytime I went down to the bakery," Marge wrote to me recently, "I would see Grandpa sitting in the desk chair and as I would go by he would remind me, in his thick accent, to stay away from the bread machine." (Okay, OSHA, you can stand down.) Now, there's good advice that transcends generations: Stay way from the bread machine, kids!
3:11 p.m.: In which this fatigued baker offers you
only
the greatest single bakery scene in American movie history
.  
What little I remember of the New Modern Bakery, and my grandfather, is out of a Damon Runyon script. Or maybe a Billy Crystal movie. Upstairs in the apartment when we would visit, Sam's brothers, Harold and Dave, lifelong bachelors both, would play cards, chew on unlit cigars, and crack jokes. I remember watching the great Secretariat win the Belmont Stakes there in Scranton in June 1973. Downstairs, down that huge trap door, were row upon row, stack upon stack, of the sweetest things man could make. Incidentally, my father in the late 1950s once took a job with Sam, his father-in-law. It didn't last long. My father was putting too much jelly in the jelly donuts, causing the bottoms to drop out of them. Practical man, Sam; my father quickly found another line of work.
6:03 p.m.: Done! Well, done in the sense that I won't be cracking any more eggs anytime soon (although I have more left than I thought I would. Anyone up for an 18-egg omelet?). I still have more cutting and sorting to do. But at least now I can begin to clean some of the rubble out of the kitchen. When the last cookie is packed, which shouldn't be too long now, I'm going to leave the kitchen for good for the rest of the weekend. And, for the record, I didn't eat a single piece of mandel bread; not even a crumb. Familiarity, truly, breeds contempt. Good night.
I promised the last word on the New Modern to my mother:
When I would walk down the stairs to the bakery through the trap door, to my left I saw huge motors working away giving heat to huge hearth ovens. I would see huge mixing machines and "proof boxes"—wooden boxes where the bread would be placed before baking so that the dough would rise. I saw wood-covered benches, tables really, and there were old-fashioned scales. One man would take the dough from the machine and put it onto the table and cut out and then weigh a portion of the bread to be baked. The scale had to be balanced. And then, when the bread was the proper size and shape and mixture, the men would put the loaves into the proof boxes which were lined with corn meal.

And then the loaves would go into the oven with the use of a baking peel. It took a lot of skill to do this to make sure that the loaves would go directly into the oven but allow the peel to be removed. (this was no place for kids. I remember getting hit in the stomach once by an elbow of a baker thrusting out the peel from the oven). Now the bread is in the oven. Then they had to shoot steam into the oven while the bread was baking. And then the baker would remove the loaves from the oven and place them on a nearby table, again using the peel. When the bread came out, the bread would be coated with sugar-water, to make it shine.
ACT IV: The Aftermath
I don't know how much money this stunt generated for all of those good charities. I know that people who are dear to me gave this weekend when they otherwise might not have given and that's a very good thing. And I know that on Memorial Day weekend, especially, it's good to remember what has come before. I will never know exactly what it would have been like to have been a baker at the New Modern Bakery in Scranton. Or what daily motivations swirled through Sam Miller's head when he was down there. But I feel closer to my family—the long dead and the very much alive—than I did before I started this project. And a lot of people who could use some help got some. And, really, what are holidays for, after all?
Images: Andrew Cohen