Artisanal Food Fight: London's Farmers' Market Showdown
A clash between a top British market and several of its vendors highlights the sometimes-bitter phenomenon of locavore infighting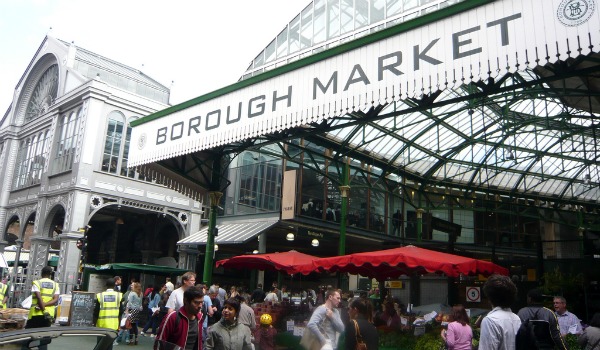 Borough Market, southeast London's teeming retail and wholesale food market, is well into its third century of operation. A decade ago, the character of the market was revamped, transforming it into a model of institutionalized, mainly locavore shopping. Thursday through Saturday, dozens of vendors set up their stalls to sell produce, meats, cheeses, prepared foods, and other products to crowds of thousands—Londoners and tourists alike.
But in recent years, Borough Market's vendors have expressed concerns over a lack of proper storage areas and production spaces, unreasonable rents, and inadequate parking. Crowding and a decline in the overall quality of products sold at the market alienated locals.
Enter another player, Maltby Street—and a clash between two markets that illuminates just how complicated the politics of the artisanal food movement can get.
Not a market in the true sense of the word (unlike Borough, it is not an official entity), Maltby Street is a community of food artisans who make, mature, and store their products beneath the railway arches in Bermondsey, one train stop or a 20-minute walk from Borough Market. (For more on Maltby Street, read my recent travel piece.) The arches at Maltby Street are open for business only five hours a week, from 9 a.m. to 2 p.m. on Saturdays. In the two years that Maltby Street has been developing, it has earned a reputation for its superior quality products and has stolen Borough's title as the most quality-driven market in southeast London.
Some vendors trade at both markets. But this has stoked tensions between the artisans and the Borough Market Trust, which oversees Borough Market—tensions that erupted during the weekend of May 1, when Glenis Reagon, director of the BMT, told seven of its top quality traders that they would be definitively evicted on Saturday, May 7. The Borough Cheese Co., The Ham and Cheese Co., Hophurst Farm/Rennet and Press, Kappacasein, Kaseswisss, and Mons and Topolski all trade at Maltby Street, which the BMT sites as the reason for eviction.
Borough Market chairman Peter Wilkinson spoke with The Independent (U.K.) about his opposition to vendors trading at both locations. "Maltby Street is right on the doorstep of Borough," he said. "If they set up there as well, it is damaging to the other stall holders. They can trade there if they want but not while they receive subsidies from us, thank you very much."
Vendors see the BMT's decisions as unjust. "Having failed to address a number of key issues affecting traders over the years (storage, wholesale distribution, transport logistics, parking, congestion of the market, tourists who don't buy produce), they have taken offense by a small group of traders addressing these issues themselves," said a vendor, speaking under the protection of anonymity. "The management of the market have refused invitations to come and see for themselves what we are doing. They seem threatened by these tiny businesses and have been treating us like traitors. They forget who their real opposition is: massive conglomerates who control food production, distribution, and retail in this country."
The eviction of these vendors has brought considerable backlash by locals, voiced on Twitter and in Internet forums. Public opinion is overwhelmingly in favor of the evicted artisans, who have dubbed themselves "the Bermondsey Seven." Some commenters have pledged to boycott Borough.
The backlash can only hurt the BMT, if not the market itself. Having spent a great deal of time in London researching its food markets, I share the widely held opinion that Maltby Street offers a superior standard of quality—one might even say guaranteed quality—compared to that of Borough. Unless one knows which vendors to frequent, shopping and dining at Borough Market can be a disappointment. Now that some of Borough's best vendors have been expelled, it's difficult to see how the Trust will fulfill its promise to Londoners to enrich their quality of life and that of the local community.
One vendor, who wished to remain anonymous, expressed frustrations. "It has been a deeply anxious time for many of the traders. People have lost their regular employment, and livelihoods are at stake—and these are all people who could not be more passionate about what they do, have enormous integrity and commitment to quality, their staff."
In spite of the circumstances, Borough Cheese Company's Dom Coyte seemed positive: "We plan to stay focused on how to produce things, and on the good energy and commitment we have."
I tried to reach Glenis Reagon and the Borough Market Trust for clarification, but my email and telephone inquires remain unanswered. The direction that Borough Market will take and the future of its evicted traders now hang in the balance.
Image: WordRidden/flickr