A Trip to the World's Largest Wine Fair: Vinitaly and More
A food and wine expert navigates wine fair season in northern Italy, including an event with nearly 5,000 producers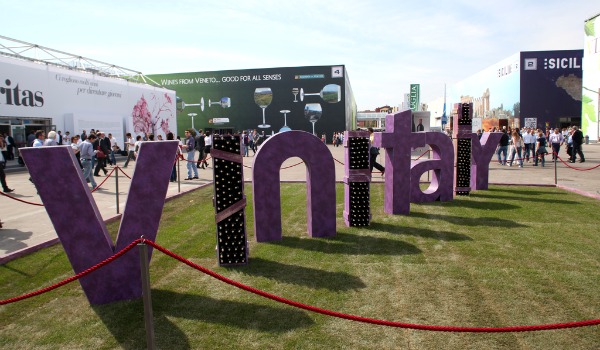 What could be better for a trade fair junkie and out-of-the-cellar wine nerd like me? Three wine fairs, two featuring natural wines held before and after the mammoth
Vinitaly
. The Italian wine world mirrors the confusion of Italian politics. There are many different factions—mainstream Vinitaly (lots of visiting Italian, regional, provincial delegation, and chamber of commerce types) in suits, two rival, somewhat self-righteous, natural wine expositions in jeans, with wineries getting kicked out or switching allegiance due to fundamentalist back-stabbing.
I started at VinoVinoVino in Cerea, arriving in time for a late lunch. Indefatigable navigator Vito Santoro dropped off a refrigerator truck full of food for a restaurateur from the Mesali group at Vinitaly's Campania pavilion, and then met me. I got an open bottle of Paradiso di Manfredi Brunello 2003 and headed for the cafeteria. Last year the food was miserable, but I connected the fair's organizers with Dario Cecchini, who catered, ensuring something great to eat, a rarity at wine events. Dario's preparations—pappa al pomodoro, Cosimino meat loaf, Chianti "tuna," Chianti "sushi," beans and extra virgin cake, were perfect with the Brunello.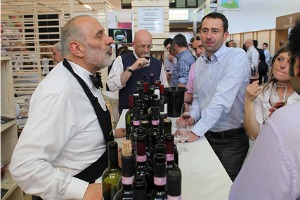 I headed back to the fair and bumped into Venetian restaurateurs
Cesare
,
Luca
,
Gigi
, and
Albino
, who'd been tasting all morning. They introduced me to some of their favorites—murky, old-style Prosecco from
Costadila
; well-priced, easy-drinking sparkling Malvasia and astounding ice wine from
Croci
; Dolcetto and Barbaresco from Serafino Rivella; Barbera from
Reginin
; Nebbiolo and Barolo from Giuseppe Rinaldi. I took a break, and visited with Manfredi and
Francesco Guccione
,
Benjamin Zidarich
, and
Arianna Occhipinti
. And concluded with a Sicilian tasting—
Baracco
Grillo,
Bonavita
Faro, and Salvo Foti's group
I Vignieri
and their Etna Rosso. No more
Il Cantante
—owner Mick Hucknall (Simply Red) pulled the plug.
I checked into the comfortable, reasonably priced Hotel Villa Bartolomea and had dinner at Antica Trattoria Bellinazzo (no website)—lovely salumi, baccalà and polenta, bigoli with donkey ragu (translated as "ass sauce" on the menu). The room was packed with wine makers who shared their wines with us—we drank Dario Princic, Zidarich, and Podere Le Boncie.
It always rains during Vinitaly, which makes hikes between pavilions a pain, but this year was the exception, with hot summery weather. I met hotelier friends Leonardo and Luciano (Hotel Shalai, which you'll read about in my upcoming Sicilian series--stay tuned!) at the Sicilian pavilion, tasted Etna Reds from Graci and Girolamo Russo, said ciao to the Tasca and Planeta clans, and met new friend journalist Fabrizio Carrera, who shepherded me to Porta del Vento and Caravaglio. The rest of Italy beckoned and I was thirsty, so we went to Cavicchioli for some Lambrusco on the rocks and an Ivan sighting. He introduced me Emanuele from Pizzavacca, insisted that I sample fruit juice (delicious) and then cotecchino with Emanuele's green sauce, also delicious. Fortified, we cut through a mixed pavilion to meet Piermario Cavallari, who was very excited about his new wines from Elba, Vermentino, dry Agliatico rosé, and a fruity young red, all worth purchasing.
I had to take the Sicilians to the Tuscan pavilion to taste Brunello and greet my pals from the Brunello Consorzio—we sampled at Maroneto, Collemattoni, and Mastrojanni. Completing the Tuscan experience we chatted with Giovanni Manetti from Fontodi and tasted Chianti Classico and Flaccianello. I searched for Bettina Rogosky's Caberlot and recognized Renato de Bartoli nearby, son of Marco, who put modern Marsala on the map (he died last month). We had to taste, and toast his father.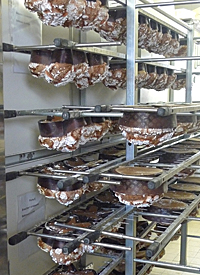 In the Friuli pavilion we encountered
Valter Sgarbolo
, who directed us to his friend Joe
Bastianich
's stand, where we ran into
Lidia Bastianich
. We tasted at
Lis Neris
, said hi to Brigitte and Silvano at
Le Vigne di Zamo
, then went to
Livio Felluga
for a glass of Friulano with Maurizio, Elda, and Andrea Felluga. Vito always has time for a grappa from
Domenis
. Was this why he was able to avoid most of the heavy traffic leaving the fair? We went back to the Cerea fair for dinner. I'm always suspicious about any meal billed as "gala," but Dario was presiding, cooking a whole-cow dinner, showing the same kind of respect for the animal that the winemakers have for their grapes and territory. Service was family-style, enlivened by lots of wine-toting table hoppers. Everyone had a fantastic time.
Giusto Occhipinti told me that Villa Favorita would open unofficially in the afternoon. We arrived early, admired the beautiful villa, wandered the frescoed rooms, tasted at random. Camillo Donati, Franco Terpin, Gaspare Buscemi, Frank Cornelissen, Pacina, Angiolino Maule, Le Cinciole. Enough!
I checked into the Hotel Maccaroni and hosted a dinner at Il Calandrino for winemaker friends Arianna Occhipinti, Elena Pantaleoni, Giusto Occhipinti, Benjamin and Nevenka Zidarich, Alberto Graci, Giuseppe Russo, and Vito. They all brought magnums. We encountered Sicilian extra virgin producer Pierluigi Crescimano and some of his friends, and they joined us at our table. It was one of the greatest meals I've ever had at Il Calandrino, company and wines elevating the cuisine to another level. After two perfect breakfasts the next morning—exquisitely crafted cornetto and cappuccino in the hotel breakfast room, followed by an flaky extra virgin pastry with apricot preserves and a macchiato at the bar, and a visit to the pastry laboratory where they were making Easter colomba, I was ready to go home, with a deck of business cards, catalogs, brochures, future contacts.
Images (top to bottom): br1dotcom/flickr, br1dotcom/flickr, Faith Willinger