A case for avoiding search engines and embracing well-loved, sauce-stained, taped-together, fall-open-to-someone's-favorite-dish recipe collections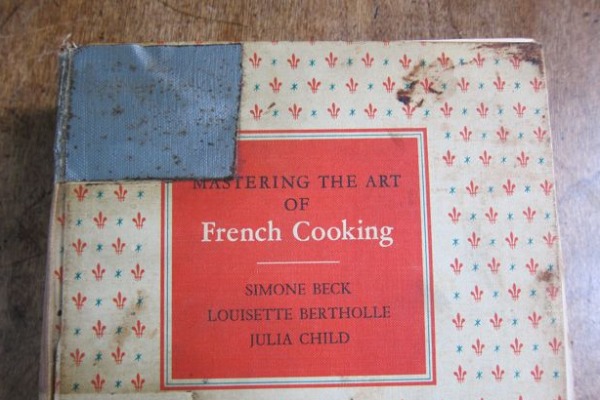 If you're reading this, then you're obviously not reading a book. Do you care? Does it matter that up until recently you'd have been reading either a book or a magazine or a newspaper to get your daily fix of food writing? Or any sort of writing for that matter.
I think about it a lot. I write books, and still continue to write for magazines—although a lot less than I used to. But like you, I'm going to words on paper a lot less than I used to for all sorts of stuff.
Which is ironic, since words on paper are what got me to Italy in the first place. I came to Florence to read 16th-century scribbles in the Medici archives, while researching my dissertation on gardens. Lists of construction materials, shopping lists, household accounts. Words on paper.
But here I am, years later, and I realized that even if I still turn to paper when reading novels, in my daily life I am more likely to turn on my laptop, iPad, or iPhone to get inspiration for dinner or find out which foreign country is bursting into flames.
The last few days I've been thinking a lot about how I've abandoned many of my cookbooks, and this made me sad. I especially got to thinking of my favorite ones, after we went to dinner the other night at my friend Sienna's. Sienna is a fabulous cook (and runs culinary tours here in Rome) and is completely capable of inventing her own recipes. But she is just as likely to turn to books—rather than a recipe search engine—for inspiration.
Sienna doesn't have a huge collection of cookbooks. But the ones she does have speak out from some of the people who taught her most about cooking. She was very lucky to inherit her uncle's cookbooks, which trace that period of cooking in America when people were just starting to explore what cuisine was all about.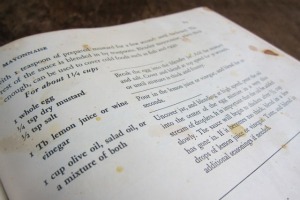 So the other night, in preparation for a dinner party for eight, she turned to Julia Child's
Mastering the Art of French Cooking
. A first edition. But if you're thinking pristine, kept-in-its-original-jacket first edition, think again. This book was loved and used almost to death.
And so Sienna doesn't actually even have to look at the table of contents or the index to know what her uncle would have cooked. The book just naturally falls open to her uncle's favorite recipes. The pages are smeared with butter and egg yolks, meat drippings and oil. The spine is cracked, and held together with tape.
And so we had steamed artichokes with hollandaise sauce. Not the most complicated or fanciest recipe in the book. Very 1966. A recipe that would never have popped off the screen if Sienna had turned to her laptop.
I thought about typing out Julia's recipe for hollandaise here. But, well ... I'm sure you have someone's favorite hollandaise recipe hiding on your own bookshelf.
Images: Elizabeth Helman Minchilli