The 11th Plague? Why People Drink Sweet Wine on Passover
Wines like Manischewitz aren't very good—but we love them anyway. The story of a uniquely American tradition.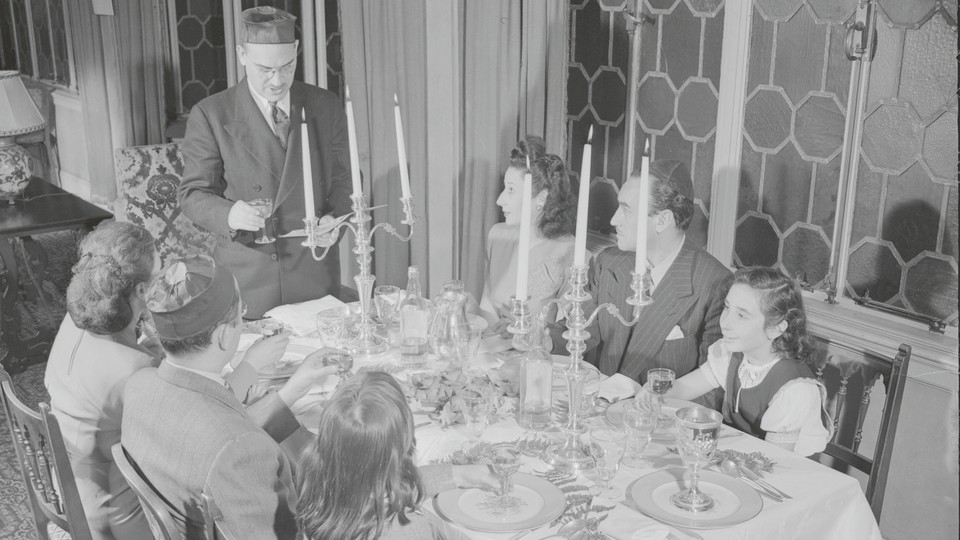 "A seder without sweet Manischewitz," the comedian Jackie Mason once said, "would be like horseradish without tears, like a cantor without a voice, like a shul without a complaint, like a yenta without a big mouth, like Passover without Jews." To the uninitiated, Passover wine is an ethnic curiosity, or a culinary ordeal on a par with lutefisk. Those who grew up drinking it, though, find in Concord grape wine the taste of Jewish tradition. And that's ironic, because there may be no more thoroughly American beverage.
The central ritual of Passover is the seder, a recounting of the Exodus over four cups of wine. Jewish law stipulates that kosher wine be produced and handled only by Jews, a requirement that initially proved difficult to meet in North America. Early cultivars of native grape species were poorly adapted for viticulture, and imported grape vines succumbed to cold, mildew, and fungi. The few who could afford it imported wine from Europe. Others relied on a stipulation that, in exigencies, allowed other premium beverages to be substituted for wine. So Jews filled their seder cups with everything from hard cider to clear Jamaican rum.
The most popular solution, though, was adapted from a common custom of the old country. Immigrants soaked raisins in water and boiled down the liquid, producing an ersatz wine. It was thicker and sweeter than wine from grapes. Most raisin wine was non-alcoholic, either because American Jews mistakenly conflated fermentation with leavening, which was proscribed on Passover, or because this left it exempt from excise taxes. Some made the wine at home, but production also migrated to small shops and basement wineries. By 1890, the six leading vendors in New York alone sold 40,000 gallons of this Passover wine.
Enter the Concord grape. It was developed by an eccentric Yankee named Ephraim Wales Bull, who was determined to breed a grape hardy enough to thrive in New England by planting the seeds of native vines. In 1849, after six years of labor, he plucked a bunch from an early-ripening vine, and declared success. The Concord grape went on sale in 1854, and rapidly spread throughout the country. Horace Greeley named it the best grape for general cultivation in 1866, awarding it a $100 prize and declaring it "the grape for millions." Bull was immensely proud of having developed the leading "native grape."
In that, Bull was only partially correct. The Concord was "probably the result of at least two generations of mixed breeding," one scholar recently concluded. But if, as the hybrid offspring of immigrant and native stock, it failed to meet Bull's goal of national purity, it nevertheless perfectly embodies our more modern understanding of our national character.
The Concord helped create the category of table grape, and proved well-adapted to jellying. In New Jersey, a Methodist dentist named Thomas Welch decided to pasteurize its juice, to produce a non-alcoholic beverage for sacramental use. Churches friendly to the temperance movement soon embraced Dr. Welch's Grape Juice, which was also touted for its health benefits.
Much to the dismay of its early backers, though, the Concord produced disappointing wines. In 1869, one reviewer observed that "some were of incredible nastiness, while others, made from perfectly ripe grapes with the addition of sugar, were comparatively palatable, although by no means of great merit." And that was the verdict of an enthusiast.
But to Jewish immigrants, the Concord grape promised an attractive alternative to Passover raisin wine. It was fairly cheap, abundant, and most important of all, local. Controversy raged over California wines arriving in eastern markets, with some influential rabbis questioning whether they could really be trusted. Concord grapes could be harvested, and turned into wine, under local rabbinical supervision. The wine also had another key advantage: shelf-life. "[W]hen I was a little girl," one former denizen of the Lower East Side recalled, " …  my father used to buy a gallon and have it for a whole year."
It was also unmistakably and thoroughly American. In 1895, Welch's had launched a national campaign touting its Concord grape juice as "The National Drink." The first commercial kosher winery in New York opened just four years later as the California Valley Wine Company, emphasizing its American sophistication. It fermented Concord grapes from upstate New York into a fortified, syrupy, highly alcoholic wine that soon took the name of the proprietors—Schapiro's. Others followed. The Monterey Wine Company in Brooklyn sold Lipschutz Kosher Wine. Chicago had the California Wine Company, which became the Wine Corporation of America. These companies were not marketing tradition--they were offering a new, American way to fulfill an ancient obligation.
Kosher wineries flourished even during Prohibition, using the Volstead Act's exemption for sacramental beverages. Many Jews also took to fermenting batches at home, since the government permitted them 10 gallons each year for religious use. Inevitably, Concord wine flowed into the black market, where it gained a more general audience. The burgeoning popularity of Concord grape juice likewise accustomed American palates to the distinctive flavor of the grape. The repeal of Prohibition brought a boom in kosher wine.
It was in the postwar years, as wineries struggled to hang onto their rapidly assimilating clientele, that the emphasis shifted from novelty to nostalgia. In 1947, the Wine Corporation of America took the name of its leading product, Mogen David, and began to market it as "the wine like Grandma used to make." One rival proclaimed that, "For generations, New Yorkers have preferred Schapiro's."
But vintners also pushed their product into the mainstream American market, following a well-worn path established by other ethnic foods. By 1952, Mogen David was among the most popular wines in the Midwest, selling more than 5 million gallons. "Manischewitz is everybody's wine," a 1958 ad insisted. Two years later, the company hired Sammy Davis Jr. to croon the praises of its Sweet Concord White, reviving its radio-era slogan: "Man-o-Manischewitz." The campaign helped the company gain a loyal following in the African-American community, a segment that continues to account for a large percentage of its sales. The slogan itself became an enduring part of pop culture. (Years later, astronaut Gene Cernan, the last man on the moon, would exclaim "Manischewitz!" in lieu of using profanity while his microphone was on.)
As American consumers developed more sophisticated tastes in the late twentieth century, though, sales slackened. The past few decades have seen the development of a new kosher wine industry, offering wines capable of satisfying even the most demanding wine snobs. (It is, perhaps, a testament to the onetime popularity of Concord wines that the general press feels obliged to reveal this profusion of kosher wines as a new and stunning development each successive spring.) The sweetened wines came to be seen, by many younger Jews, as something of an embarrassment.
But fashions often come full circle. Just a few blocks from the old Schapiro's winery, a modern bistro attracts a trendy crowd with offerings that include the Drunken Pharaoh, a Manischewitz-and-bourbon cocktail. Concord wine, it turns out, has hipster cred. It is also enjoying a boom in exports to Asia, home to the world's fastest-growing wine markets.
And in 2008, on the campaign trail, three low-level staffers improvised a seder, serving Manischewitz to their unexpected guest, Barack Obama. I like to think that this year, at the White House seder that the Times labeled the "least likely of White House traditions," President Obama will again fill his cup with Concord red. The wine was produced from a hybrid grape, mixing European and native stock; popularized by immigrants, Americanizing an ancient ritual; imbued with nostalgia, as their children assimilated; and then embraced by the general public, as ethnic foodways fused. It may not be sophisticated or refined, but it's difficult to imagine a beverage better suited to the White House.