State of the USDA: Big Hopes for Food Policy, Small Budget
At The Atlantic's Food Summit, the Deputy Secretary of Agriculture offers insights into the future of food and farming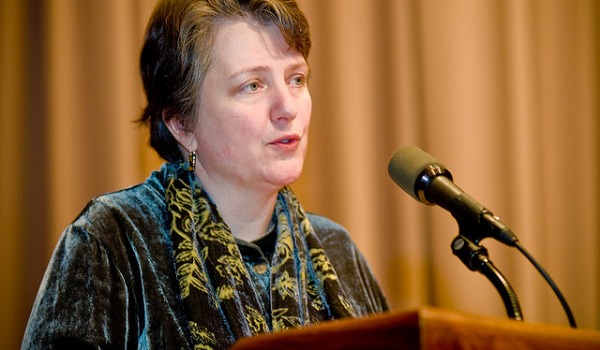 Deputy Secretary of Agriculture Kathleen Merrigan addresses USDA employees. USDA
At cocktail parties, Deputy Secretary of Agriculture Kathleen Merrigan joked this morning, "I used to say I work in agriculture policy, and I would be alone in the corner with my gin and tonic." But during today's keynote address at The Atlantic's Food Summit, Merrigan held the audience's attention as she touched on everything from school food reform to the breeding of advanced perennial grains. It was a speech filled with moments of honesty--particularly regarding the challenges of running the U.S. Department of Agriculture in an era of ubiquitous budget cuts--and also striking for what it did not contain: even a single mention of genetically modified crops. Still, it was illuminating. Here are some major themes.
Nutrition, especially childhood nutrition. A predictable focus, given the Obama administration's focus on the issue, especially through Michelle Obama's Let's Move initiative. "Ensuring that Americans and particularly Americans children eat well and live healthy lives is among the biggest goals at USDA," Merrigan said, noting that healthy eating was even a major theme at yesterday's traditional White House Easter Egg Roll.
"We know there's a lot of work to do," she added. The evidence she presented next, however, to suggest that the USDA is doing real work on this issue, was less than convincing: "We received about 135,000 comments on our proposal to update nutrition standards to include more whole grains and fruits and less sugars and fats." As our contributor Marion Nestle, among others, has repeatedly argued, nutrition standards and dietary guidelines haven't changed much over the decades--and they have a limited impact on what people actually eat. Structural reforms, like changes to industry-friendly agricultural subsidies, would probably have a greater impact.
Budget cuts. "Why couldn't I have been deputy secretary during the good years?" Merrigan joked. The reality, she said, is that a lack of funding has driven the USDA to pursue innovative, low-cost health-related solutions. These include expanding the HealthierUS School Challenge program, which recognizes schools that have created healthier environments by promoting nutrition and physical activity; updating the dietary guidelines; and investing in hoop houses, cheap greenhouses that, she noted, have made more produce available at farmers' markets where the USDA has partnered with the philanthropic community. Merrigan might be right that these solutions are innovative, but it's also hard to imagine that the USDA will be able to change how America eats with a few cheap hoop houses instead of more expensive interventions.
Hunger and food stamps. Merrigan took a strong stance on the federal government's Supplemental Nutrition Assistance Program (SNAP), colloquially known as the food stamps program, criticizing Congress for considering a Republican budget plan that would cut SNAP benefits significantly. Obama's economic recovery plan, she pointed out, boosted participants' SNAP benefits by $80 per month, and the USDA has recently helped develop policies that encourage SNAP enrollment in more than 20 states. Merrigan added that according to a policy report released today by USDA economic research, fewer Americans went without food in 2009 than in 2008--a sign that things have been moving in the right direction.
Sustainability. Sustainable food was a prominent topic, and Merrigan addressed it in terms that echoed those often used by agribusiness--which wasn't surprising given the USDA's role as not only a regulatory body but as the government's agricultural marketing arm. "How do we feed this global population?" she asked. "We'll have to increase food production by 70 percent by 2050." Despite her focus on productivity, Merrigan avoided speaking about genetically modified crops (like alfalfa and sugar beets, which have generated so much recent controversy), talking instead about promising new breeds of selectively bred grains that could reduce erosion and water use, and how new non-food grasses could become a sustainable source of biofuel. To improve sustainability, she said, "mainstream producers" will have to learn about crop rotation and other small-scale organic farming techniques--but "non-mainstream farmers can learn a lot from dialogue with the mainstream."
Public health interventions. Aggressive public health interventions--junk food taxes, prohibitions on using SNAP benefits for soda, and the like--weren't a major focus of Merrigan's speech, but her lone mention of them stood out. "We're looking at behavior, eating habits, and intervention practices," she said--"how access and price variation in healthy or unhealthy foods can affect outcomes." So: What exactly does that mean? It doesn't sound as if the USDA is about to shake things up in the public health sphere anytime soon, but it's nice to know that issues of food access and the influence of price on consumer decisions are on the agency's radar. . Merrigan concluded with a bit of sarcasm: "So those are a few, just, easy challenges that I'm sure a talented group like you all can solve. I'll be looking for the memo." Easy challenges, indeed. Let's hope she gets whatever memos she needs--and the money to follow through on them.
The bottom line