Pesticides: Scarier Than Previous Studies Have Shown
Everyone knows that pesticides can be harmful—but three new studies say it may take only tiny amounts to lower IQ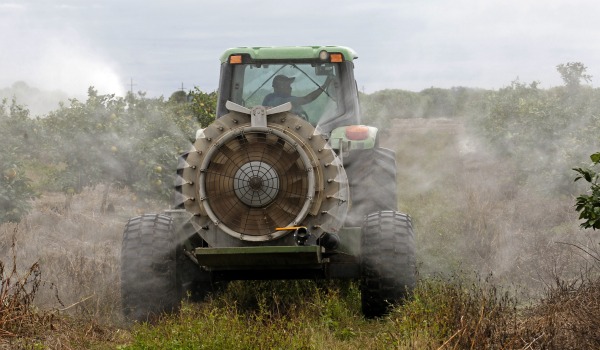 A worker sprays a grove of Florida grapefruit. Joe Skipper/Reuters
The Environmental Working Group announces the publication of three studies finding a correlation between diminished IQ and levels of pesticides in the blood.
The studies were done separately by groups of researchers from the Mt Sinai School of Medicine, University of California-Berkeley's School of Public Health, and Columbia University's Mailman School of Public Health. All were published in Environmental Health Perspectives and are available at that site (although sometimes with a delay and you have to look hard for the PDF of the whole article).
All three studies examined levels of organopesticides in the blood of pregnant women. All looked at one or more measures of IQ taken when the children were one to nine years old.
The Berkeley study, Prenatal Exposure to Organophosphate Pesticides and IQ in 7-Year Old Children, examined Latino farm workers and their children. Researchers found a difference of seven IQ points between children with the highest and lowest levels of organopesticides.
The Mt. Sinai study, Prenatal Exposure to Organophosphates, Paraoxonase 1, and Cognitive Development in Childhood, was done with a prenatal population in New York City.
The Columbia study, 7-Year Neurodevelopmental Scores and Prenatal Exposure to Chlorpyrifos, a Common Agricultural Pesticide, also was done on an inner-city population.
It has been difficult to demonstrate demonstrable harm from agricultural pesticide use except among farm workers exposed to very high doses. These studies mean that lower doses experienced by people who merely eat agricultural products also can cause harm.
The study will undoubtedly be criticized for not adequately controlling for socioeconomic variables that influence IQ--they were all done with low-income populations--and, more importantly, for not explaining precisely how pesticides might influence childhood learning and achievement. And some will surely argue that a seven-point IQ difference is well within experimental error.
But at the very least, pesticides are a marker for poorer cognitive outcome. The fact that three independent groups of investigators arrived at similar conclusions means that the results need to be seriously considered.
Organic vegetables anyone?
And just for the record, here's the Environmental Working Group's list of the foods with highest and lowest levels of pesticides:
Highest levels:
Celery
Peaches
Strawberries
Apples
Blueberries
Nectarines
Bell Peppers
Spinach
Cherries
Kale/Collard Greens
Potatoes
Grapes (imported)
Lowest levels:
Onions
Avocado
Sweet Corn
Pineapple
Mangoes
Sweet Peas
Asparagus
Kiwi
Cabbage
Eggplant
Cantaloupe
Watermelon
---
This post also appears on Food Politics.