How a Country of Fishermen Lost Its Favorite Fish
Turkey's mackerel used to be Turkish—but now they're Norwegian. A case study in the rise of the global seafood economy.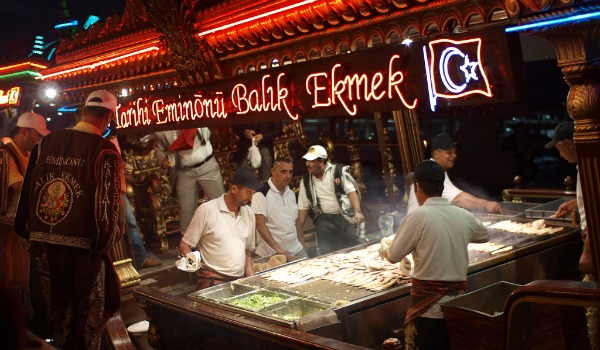 On one side is the Ottoman-era Suleymaniye mosque, on the other the iconic Galata Tower. Waiters in Ottoman costume dart back and forth, handing out cups of sour pickles. The smell of grilled fish wafts through the tent, past the low tables; it is being cooked on the boats nearby. Biting into a
balik ekmek
, a sandwich of oily mackerel filet, chopped onions, and lettuce piled on half a loaf of crusty white bread (the name means "fish bread"), it feels as though there could be no more authentic Istanbul experience than eating this sandwich and watching the boats in the harbor.
Not quite. Although fishing lines dangle over the side of the nearby Galata Bridge, the mackerel arrived in Turkey on a container ship from Norway. Like cod in the Gulf of Maine or tuna off Japan's coasts, the mackerel in the waters of the Black Sea, which borders Turkey to the north, are overfished.
About 15 years ago, local mackerel became too expensive and almost impossible to find, says Mehmet Asik, gesturing toward the blue crates stacked with filets behind him. Asik has been making and selling balik ekmek next to the Galata Bridge for 35 years. Dressed in gold-lace-trimmed Ottoman pants, he stands by the rocking ship from which his team of seven or eight men grills mackerel filets and explains how things have changed during his tenure as a balik ekmek vendor: He has a nicer boat, he switched from a charcoal grill to a gas one (because of Turkey's attempts to meet EU health regulations), and he switched from local to Norwegian mackerel, as did everyone else.
That change in Asik's sourcing habits exemplifies the new reality of the worldwide seafood economy, in which sushi in Tokyo is often made with tuna from the Mediterranean and Maryland crab restaurants serve crustaceans from Alaska. As Sarah Elton noted on this site last year, lamenting the tapas of Indonesian shrimp she found in Barcelona, this challenges the whole idea of food tourism. Regional specialties might feel authentically local, but much of the time they are truly global.
With the Black Sea to the north, the Mediterranean to the south, and the Sea of Marmara just south of Istanbul, Turkey was once famous for its fishing resources. Consequently, Istanbul is a seafood lover's paradise. Fish and mezze restaurants dominate the dining scene and outdoor markets selling turbot and red mullet make for fun shopping and beautiful photo opportunities. But overfishing has drastically reduced stocks in Turkey's water, even as appetites for seafood have remained high.
In 2009, the most recent year for which data is available, the total catch for Turkey fell by 6.14 percent, according to the government-run Turkish Statistical Institute. The Black Sea, where the balik ekmek mackerel used to be abundant, saw the sharpest declines. The total catch in the West Black Sea fell by almost 16 percent, while the East Black Sea saw its catch fall by a whopping 57.8 percent. The decline in caught fish was similar for the previous year. The smaller numbers of fish caught aren't due to restraint on the part of the fishing industry.
Tuna, swordfish, and mackerel have suffered the worst. They barely exist in the Black Sea anymore. Bluefish, another Black Sea staple that migrates to the warmer waters of the Mediterranean via the Bosphorus Strait in early winter, is also vanishing. What are left are mostly small fish, sprats and anchovies. (Turkish anchovies are a delicacy and widely eaten fried, grilled, or in a rice pilaf. But these fish wouldn't make for much of a sandwich.)
Little research has been done on the overfishing, and it may only play one part in the decrease in fish stocks. Underwater oil drilling also plays a role. "Sunlight is no longer able to penetrate the depths of the sea," a Ukrainian marine biologist told the Turkish state news agency in December. And fishing quotas are rarely enforced in Turkish waters. Greenpeace has begun an education campaign in Istanbul under the heading "How many centimeters is your fish?"—urging local fisherman to stop depleting young fish populations.
In the meantime, the only option for those who want to eat balik ekmek—or many other popular Turkish fish recipes—are imports. And Turkey is importing a lot. Ismet Badak, a spokesperson for Baraşan Balikcilik, Turkey's number-one mackerel importer, says that he is in a good business. "We have been importing mackerel since the company was founded in 1968," he says, sitting in an office in an industrial area on the Bosphorus where container ships unload fish from around the world. "But the amount has grown a lot in recent years and it will continue to."
Baraşan brings in 150 containers of mackerel a year, each of which contains almost 600,000 pounds of fish, according to Badak. Each day they sell between 22,000 and 26,000 pounds of Norwegian mackerel to Turkish consumers. Argun Baraşan, the owner of Baraşan Balikcilik, has a lot to gain from Istanbul's fish addiction.
But he still speaks honestly. "They grill it up by the water and you smell it when you walk by," he says. "It makes you hungry." Even if it is from Norway.
Image: tomislavmedak/flickr