Goodbye, Goose Island: The Rise of a New Era in Craft Beer
The sale of a beloved brewery hints at a wave of beer-industry consolidation. So what does this mean for beer lovers?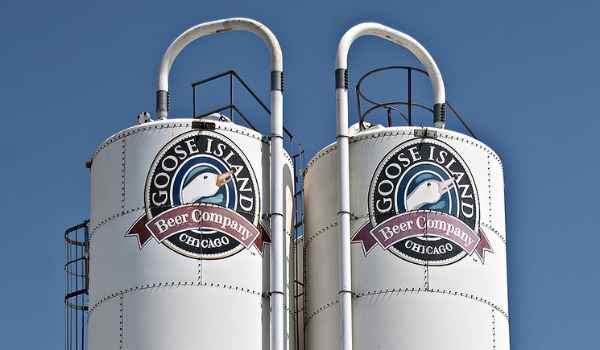 Late last month Anheuser-Busch announced that it had reached a deal to buy Goose Island Beer Co., Chicago's largest and most respected craft brewery, for $38.8 million. Goose Island has grown into a regional powerhouse in recent years, thanks both to its high-volume lines like 312 (a wheat beer) and its well-regarded Belgian ales and limited-edition Bourbon County Stouts.
The news set off waves of worry among commenters on BeerAdvocate.com and other beer enthusiast sites. "This means we FINALLY get a Bourbon County Light Lime," joked one.
But the deal wasn't a total surprise: Goose Island was already tied to Anheuser-Busch through the Craft Brewers Alliance, which had a minority stake in Goose Island and which, in turn, is partly owned by A-B.
Whether the takeover is ultimately good or bad for Goose Island, it likely heralds the beginning of a new, unwelcome but perhaps inevitable phase in the relationship between macro and micro brewers: consolidation, with the likes of Anheuser-Busch and MillerCoors gobbling up the better-known craft outfits. And while some folks will see this as the beginning of the end for the craft-beer renaissance, it's a good bet that it's a welcome development for many microbreweries as well.
The Goose Island/Anheuser-Busch deal is only the latest and most prominent incursion by corporate beer into the craft sector. Recently MillerCoors provided financing to the founders of Athens, Georgia-based Terrapin Beer Co. through its own "craft" subsidiary, Tenth and Blake. And last year North American Brewing, the private-equity-backed maker of Genesee, took control of Magic Hat and Pyramid, two of the country's oldest craft brewers.
There's no secret to why Big Beer is interested in acquiring microbreweries. The craft sector is the lone bright spot in brewing right now, and one of the fastest-growing segments of the alcohol industry. After years of flat or declining sales among the big brewers and mixed success in their efforts to copy the micro approach with "macro-craft" beers like Shock Top and Blue Moon, it only makes sense that the big guys would finally decide it's easier to buy out the likes of Goose Island than beat them at their own game.
But consolidation won't simply be a story of forced takeovers—the larger craft breweries will welcome it as well. As the sector has matured and regional outfits have begun going national, they've run into capacity and distribution problems. Today's tight credit makes it hard to get the money to expand production quickly, while the arcane network of distribution companies means that even breweries with enough beer to meet demand can't always get it into the hands of consumers.
Last month, citing precisely these problems, esteemed craft brewery Dogfish Head announced it was pulling out of four states—Indiana, Rhode Island, Tennessee, and Wisconsin—plus Britain and Canada. True, Sam Calagione could probably get the money to maintain his distribution network if he wanted to. But even Sam would need to spend a good deal of time and effort to get it—resources that he, like most craft brewers, would rather put into making beer.
Goose Island is no different, which, said founder and CEO John Hall, is why the Anheuser-Busch relationship made sense:
Over the past five years our partnerships with Craft Brewers Alliance and Anheuser-Busch have enabled Goose Island to reach a growing number of beer drinkers. This has fueled our growth to the point that demand for our beers has outgrown the capacity of our brewery. Recently, we've even had to limit production of some classic and medal-winning styles. To keep up with growing demand from drinkers we've explored a variety of paths to secure new capital to support our growth.
As part of the takeover, Anheuser-Busch has promised to keep Goose Island's headquarters in Chicago and to give it substantial leeway in production decisions. It will also make a significant investment in upgrading Goose Island's facilities, and its distribution network means that the craft brewer's beers will be available in more places, a plus for would-be fans in Goose Island-deprived states like, say, Oklahoma.
Of course, Faust thought he was getting a good deal, too. Along with control over Goose Island's distribution, Anheuser-Busch will also have a say in which beers it makes with all that fancy equipment, and who knows if those include the likes of Bourbon County Stout. Only time will tell if Anheuser-Busch is Goose Island's guardian angel or a devil in disguise. One thing's for sure, though: Goose Island won't be the last craft brewer to face such a choice.
Image: swanksalot/flickr