Smackaroon! The Switzerland vs. France Cookie Smackdown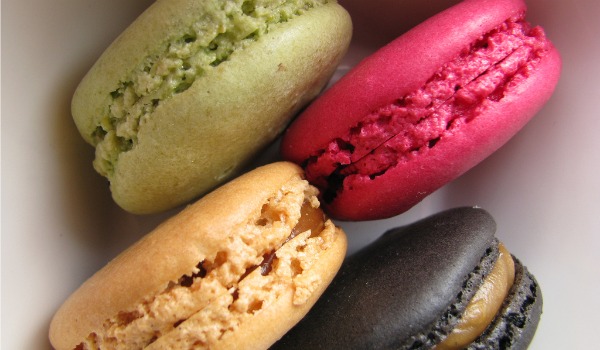 "You know Ladurée has opened down the street from the hotel." I was interested in everything that Mark McClusky, a writer for
Wired
, was telling me, as we sat in the luxury of the two-star
Cheval Blanc
 restaurant in Basel. We were both tagging along with our respective publishing colleagues to the international watch fair
Baselworld
, and enjoying the view of the sun setting over the Rhine outside the two-story arched windows. Liveried waiters and sommeliers hovered beside the white-naperied tables, waiting to bring us fantastically expensive run-of-the-mill updated Continental food and way-marked-up French wine, though I bravely went against the sommelier's recommendation and ordered a Swiss red Cornalin. (It was fine, but the table breathed a collective sigh of relief when I ordered a Cahors as the second bottle.) This stopped me.
It quickly became clear that McClusky, whose writing on
Grant Achatz
 and other technology-minded chefs I've admired, shared more than an interest in food and colleagues we love working with. (When we emailed greetings to Bob Cohn, grand master of
TheAtlantic.com
and a former editor of McClusky's, he fired back one, very precise word: "BOONDOGGLE!") We both love macarons, the buttercream-filled almond-meringue sandwich cookies that have taken over the food world and that grown men can admit to liking, even if a male fondness for cupcakes dare not speak its name (I spoke it in
this video
). Ladurée--the current Pierre Hermé-supervised macaron that is considered the international gold standard--right in the heart of Sprungli
luxemburgli-
land! Luxemburgli are the Swiss version of macarons, and have a place in Swiss hearts almost as high as Sprungli's
truffes du jour
, the fresh truffles that are considered the ne plus ultra of fresh chocolate here, which the Swiss would of course define as the world's best. Sprungli is the historic chocolate-maker, general city luxury caterer, and macaron-baker that holds a place of pride in the city. This called for a taste-off.
So this morning we mounted an expedition to the new branch, which turns out to be one of three in Switzerland; Ladurée is opening
many stores
where rich people live, though so far none, sadly, in the U.S. McClusky ordered a box of 15 to bring back to Oakland, and then chose the four varieties we thought we could compare against Sprungli: pistachio, caramel, and the two varieties of chocolate Ladurée offers, its plain and Madagascar, which it says is 72 percent cocoa liquor, one of those meaningless claims. Then we went to the largest of the many branches of
Sprungli
, which this year is celebrating its 175th anniversary, and ordered the closest equivalent. Sprungli has branches at the airport, and has its macaron packaging down better to avoid crushing: plastic dome-shaped covers protect Sprungli's macarons, which are smaller, rounder, and button-shaped in comparison with the flattened yo-yos that are Laduree's more substantial disks. Laduree sells beautiful and expensive gift boxes in various decorative schemes, but the interiors don't feature the grooved plastic trays in which the macarons are displayed at its shops (and which the central Paris HQ presumably uses for shipping macarons to its various branches). So even if Ladurée macarons are much tougher than the fragile luxemburgli, they're likelier to get jostled while traveling.
McClusky led me down Bahnhofstrasse, the main commercial street where all the buildings are of course impeccably clean, to the lakefront, where we opened the goods. First up, his choice, was pistachio. Sprungli's were greasy and unpleasant. The filling tasted much more of almond extract than pistachio, and had little flavor beyond the slimy texture I generally loathe in buttercream. Laduree's tasted of real pistachios, which also gave saving grit to the buttercream. Though I like the airy, meringue-like puff of the Sprungli shell, which crumbles and disappears when you bite into it, the much chewier, brownie-textured meringue of the Ladurée shell made the pistachio macaron a much better cookie. "Not a fair fight," McClusky remarked.
Sprungli didn't do much better on the caramel: the filling was undercooked and underflavored, whereas Ladurée's had the depth and chew of butterscotch. But we did like the salt on the Sprungli shell. Both bakeries even call their flavor "salted caramel" and offer nothing else, salt with caramel having overtaken the world much like the molten chocolate cake originally created, as a way to fix an senJean-Georges Vongerichten we'd had (uncredited, of course) at the Cheval Blanc. "Sprungli's going down," McClusky said.
But then came the chocolate, which should be the flagship for both houses--and certainly should be for Sprungli. And here the tables turned. Sprungli's chocolate ganache had a lovely, fruity acidity and a complex flavor that grew and lingered--a really fine chocolate encased in a light, cocoa-y shell that set it off without getting in the way of the lingering, changing aftertaste. Ladurée's plain chocolate macaron tasted of almost nothing but salt: every Lauduree macaron, in fact, left a noticeable, and sometimes unpleasant, aftertaste of salt. Neither the shell nor the ganache had any strength or distinction of flavor. The Madagascar was better, but only marginally: it did taste of chocolate, but was completely unremarkable, and again too salty. These were disks of inferior brownie.
The Swiss, saved by chocolate again! The strange of apparition of Heidi--who appears in a lurid technicolor cartoon-like series of illuminated color stills in the airport train as you round a corner, already disoriented, frame after frame of her with blinding blond pigtails leaning against a mountain as the sounds of cowbells, mooing, and an a capella choir suddenly invade your ear; her picture takes over your retina and, you hope, not your dreams--would doubtless approve, and keep smiling her mysterious, satisfied smile.
Image: chacrebleu/flickr