More Thankfulness (Asian Beer Dept)
As attentive readers have noticed, I have complained
a few
million
times
about the crappiness of beer in Asia, where a whole lot of the world's beer is brewed and consumed. Previous essays on this theme
here
and
here
; full "beer" archives
here
.
But now from a reader in Beijing who is a beer-loving amateur pilot (and therefore my current nominee as ideal target reader of this site) comes this encouraging Thanksgiving-time news:
>>I just wanted to tip you off to a new, potentially groundbreaking development in the Beijing craft brewery scene (hitherto nonexistent?) with the opening of this small scale craft brewery in a hutong near Gulou. Just thought you might appreciate the existence of a spot that dares to challenge the total dominance of Yanjing and Qingdao on the domestic beer scene as much as I did.<<
More info on the Great Leap craft brewery from Beijing's City Weekend here and here, plus this picture of (I assume) co-owner Carl Setzer: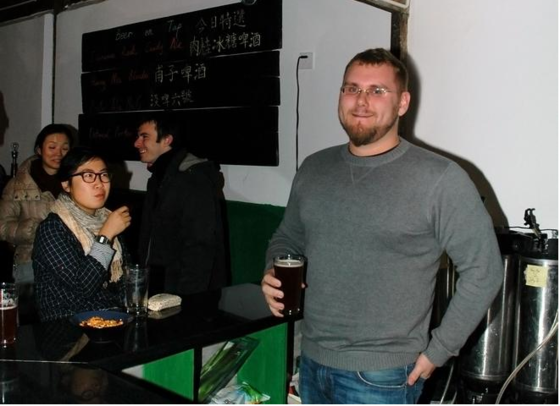 I'm on the next flight to check this out -- or, the next one I can manage. More on the science of real beer-making in China from the City Weekend interview with Setzer:
>>What are the biggest challenges to brewing in China?
One of biggest challenges is sourcing materials in China that are of consistent quality--malts, hops, yeasts. If you pattern your beers after European and American styles here, you'll find biggest obstacles is access to good quality materials. Fortunately, we have found domestic malt companies with good quality, and domestic hops are actually growing faster than the wine industry here. [Good news!]

Which of your brews is your favorite? Because we're sourcing almost all local ingredients, we have had to invent the recipes on our own.... The Pale Ale #6 (¥25/330ml glass) is simple and solid. More adventurous is the "honey ma" (honey and Sichuan peppercorn, ¥30/330ml glass). It has a lot of different flavors you don't get in the States. It's different and exciting.<<
"Sichuan peppercorn," in case you're not familiar with it, is the spice responsible for the famous "hot and numbing," 麻辣, ma la flavor of Sichuan food. With that in beer, I suppose I'll never again be able to complain about bland Chinese beers. The thankfulness rolls on.