Last Bites of 'Gourmet': 'The Gourmet Cookie Book'
A former Gourmet intern reviews a collection of the magazine's best cookie recipes from 1941 to 2009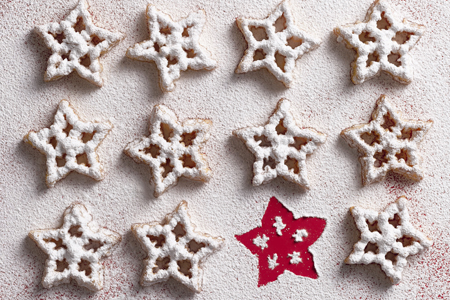 Romula Yanes, Copyright © 2010 by Conde Nast Publications
Editor's note: To try two recipes from The Gourmet Cookie Book, click here for Cajun Macaroons, first published in Gourmet in 1941, and here for Chocolate Meringue Biscuits, which appeared in 1982.
While Gourmet's kitchens were still stocked and writers still roamed the halls, before there was ever talk of a shutdown, its editors were working on a cookbook about cookies. But in true Gourmet fashion, much as that infamous August 2004 David Foster Wallace story about lobsters really wasn't about lobsters, this cookbook wasn't just going to be about cookies. No, it was going to be much more.
As a summer '09 intern under special projects editor Jacqueline Terrebonne, I remember eyeing trays and trays of cookies in the photo studio, all that glorious sugar and glaze bouncing natural light from the room's seemingly mile-high wall of windows off 42nd Street. Each tray held the weight of a generation like an old album. At its core, The Gourmet Cookie Book (Houghton Mifflin Harcourt, $18), released today, just in time for the holidays, presents a historical account of the ways Americans took their sweets over the years, featuring the best cookie recipe from each year of the magazine's existence. That's nearly seven decades of cookies from World War II to the era of molecular gastronomy. There's even one that would have appeared in the December 2009 issue, had the magazine not shut down that October. (Its final issue was November 2009.)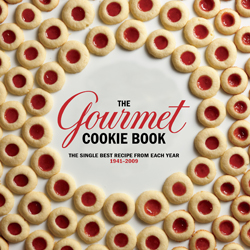 Courtesy of Houghton Mifflin Harcourt
1941 should have been the worst possible time to start a food magazine. America was on the brink of war; there was no room for butter. But Gourmet founder Earle R. MacAusland created a publication that would give people faith and direction, if only in the form of something good to put on their table. In a reprint of the very first Gourmet Cookbook, Volume I, MacAusland writes that his friends tried to discourage him, "saying there was not sufficient interest in this country to support such a publication." He responded, "If the interest was not there, we'd strive to bring it into being." In response to sugar rationing, in 1942 Gourmet published a series of sweets using honey, a viable confectionary replacement. So says the "Honey Refrigerator Cookies" recipe featured on page five of The Gourmet Cookie Book.
For those who knew Gourmet well, reading this book will feel like a proper goodbye. Open the coffee table-ready cover, graced with concentric circles of rouge-red strawberry jam cookies, and you'll find a directory by decade. Recipes, written as they originally appeared, are accompanied by descriptions of their historical significance from Gourmet's final staff, a single photo filling the right-hand page of each spread, a recipe and contextual notes on the left. And each 7 1/2- by 7 1/4-inch photograph is frame-worthy, as was everything else composed by then-staff photographer Romulo Yanes and creative director Richard Ferretti. They're responsible for all those covers you swore you could smell and just about sink a fork into.
Start with "Cajun Macaroons" (February 1941), chewy almond cookies that topped off the magazine's Mardi Gras-themed spread in its second issue. Flip on and find "Galettes de Noël," deep-fried wafers crafted by James Beard in the late '60s, after he had left the magazine and was reminiscing about his time in Provence. Note also new technologies: The '70s brought the food processor, and with it rich Portuguese cookies (August 1975), their centers filled with beaten eggs, and "Chocolate Meringue Biscuits" (October 1982), each made of two swirling, cloud-like cones of meringue sandwiched with chocolate cream, making for a macaron-like cookie that cracks and smooshes when you bite.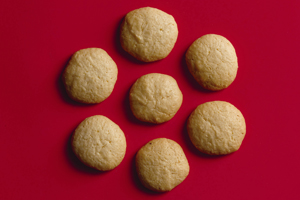 Romula Yanes, Copyright © 2010 by Conde Nast Publications
Most notable is the change in recipe lingo. More was expected of readers back then, so recipes were incredibly brief--simply noting to make firm dough, but not how to get it so; to place things in a hot oven with no indication of how hot the oven should be. As the decades passed, recipes included more precise measurements, alterations, and side notes. But no worries--old recipes have plenty of footnotes here.
Since 1941, the magazine was noted for excellence, but also, much less accurately, for pretension. I'll never forget my surprise when an editorial assistant clad in a Nirvana t-shirt greeted me at their offices in New York. The glass doors, followed by a deep purple, Gourmet-scripted façade, gave way to an office like some sort of cooperative, where staff worked like family, food held indescribable power, and you could never learn enough.
This made for memorable stories and recipes that will always be relevant. Past subscribers will likely hold onto their copies as if they were seasonal cookbooks, but for those with a sweet tooth, and without the budget to stock back issues through the '40s, The Gourmet Cookie Book is an easy addition. Sized like a platter, designed like a doily, this hardcover keepsake is smaller than most books published by the Gourmet empire. After you discover its nearly 200 pages of confectionary history, set it out on a counter to whatever year you'd like to enliven and whisk up a batch of one of the best cookies ever published. As Earle R. MacAusland once wrote, let this "be dedicated to the art of gastronomy and to the continued appreciation of good eating in America."