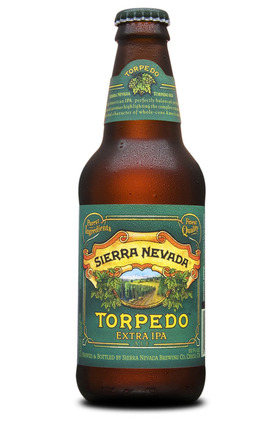 If I could drink only one kind of beer for the rest of my life -- well, I suppose I'd be grateful to have that one! Especially if it wasn't the worst beer I've ever tasted, Chinese-market Suntory, which makes Shanghai's own watery
REEB
seem like a rich double-strength porter and is the only beer I've ever spit out.
But I would move to a different level of gratitude if that one fated beer turned out to be this beer -- Sierra Nevada's "Torpedo Extra IPA." More about the beer, and the meaning of "torpedo," here, here, here, here, and here.
Significance: Sierra Nevada has become a big national company, and Torpedo has entered its array of year-around beers. There are special, local, and seasonal beers that deserve great devotion. (Eg: Three Floyd's Alpha King.) But for now Torpedo is my nominee for the title of "most impressive beer from a generally-available nationwide brand."
See for yourself. Beer-porn photo  courtesy of Sierra Nevada. Click for even more lovingly detailed view.