This is probably totally the wrong time of year to be writing anything about chocolate. But as hot as it's been outside, the truth is I've had Rogue chocolate bars in my mind all month and ... when your mind is in Rome, run with it, right? Or maybe it's Minneapolis. Chocolate making really is going off the mainstream stereotypical rails. France, New York, Switzerland, and San Francisco all at least sound like they "should" be capitals of chocolate making. But of late the energy seems to be flowing from the American Midwest—Askinosie and Patric in Missouri, and then Rogue in Minneapolis.
Which is fine with me. It's nice to break up the stereotypes. On top of which, if I'm going to buck the business world norm and weigh in on a chocolate in the height of summer, it might as well be one called Rogue. You can look up a lot of stuff about Colin Gasko and Rogue Chocolatier online pretty easily. Long story shortish ... Colin Gasko. Passionate. Focused. Quality-driven in the from-the-heart-and-head way we are (not the marketplace-is-looking-for-higher-quality kind of way). Young. Younger probably than Paul and I were when we opened the Deli, which, I think, is a good thing. No formal training. Out to do it his own way, which I also think is a good thing—some norms need to be busted—but also working hard to study the science and to watch every detail all the way through.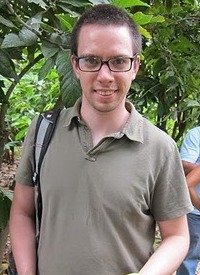 Courtesy of Colin Gasko
He's also working, like Shawn Askinosie and a handful of other Americans are doing, all the way through from buying cacao beans at the source to making bars on site. The main things are that he's working bean to bar, that he's working in small batches, and that although everyone says they're going after great flavor, he's one of the minority that I think actually is delivering on it at a very high level that I, at least, really like. Just be because something is bean to bar doesn't mean it necessarily tastes good, any more than "local," "organic," or "homemade" necessarily guarantee good flavor either.