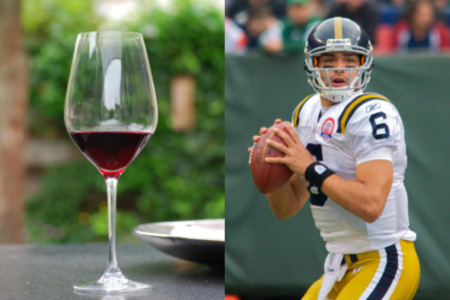 Joostje/flickr; Ed Yourdon/flickr
Not long ago, I went to dinner with Dick Vermeil, the former coach of the Philadelphia Eagles and St. Louis Rams, who has taken up wine-making in retirement and had brought along several recent vintages from his Napa vineyards. We were joined by a number of current and former NFL players, who turned out to be wine aficionados. A little while later, I learned that Drew Bledsoe, the former Patriots and Bills quarterback, was making wine in his native Washington. (Robert Parker of the Wine Advocate gave his Doubleback cabernet sauvignon an "outstanding" rating.) Quarterbacks Rick Mirer and Joe Montana are also wine-makers. So wine is clearly a pretty big deal in the NFL.
Now comes news that the (despicable) New York Jets will celebrate the inaugural season in their new stadium by releasing their own "commemorative" wine, Jets Uncorked Cabernet Sauvignon Napa Valley 2008. They're not Robert Parker, but the Jets themselves describe it as "bursting with ripe red and black fruit flavors and substantial but well integrated tannins."
Here's what's unfair, though. One of the league's leading vintners is Green Bay Packers cornerback Charles Woodson, who got serious about wine when he played for the Oakland Raiders not far from Napa Valley. Woodson started his own label, TwentyFour (his jersey number), a few years ago--and immediately got a citation from the NFL, which informed him that he was not allowed to promote it. Despite the fact that every professional football game is festooned with beer advertisements--and, if you happen to be at a Jets game, obnoxious drunkards as well--the commissioner, Roger Goodell, has piously forbidden players from endorsing alcoholic beverages.
For a league plagued by illegal dog-fighting, persistent strip-club shootings, and domestic violence, this strikes me as absurd and completely wrong-headed. Wine-making would confer some much-needed class and sophistication to a sport in very short supply. (Nobody got shot at Vermeil's dinner.) Until Goodell wises up, we all can all support Woodson by buying his wine here. I'm told his Stags Leap District Cabernet is especially good.