Fighting for Salmon
Salmon turf wars are as intense as swimming upstream. But when the fish are fresh—or cleaned by Michael Cimarusti—they're guaranteed to be worth it.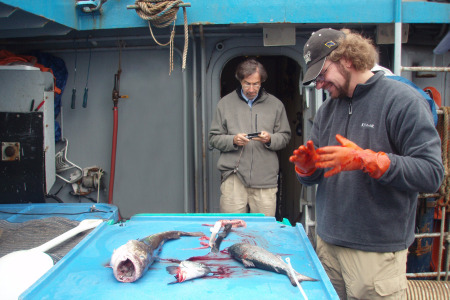 Alaska Seafood Marketing Institute
This piece is the second in a two-part series from Corby's tour of Alaska's salmon industry. To read part one, click here .
"Salmon politics," Marion Nestle calls the lobbying and jockeying for who gets to catch how many fish. It's pretty heated in Alaska. As with any contested resource—and as with any small town, which in essence Alaska is—one region and one interest group is constantly fighting with the other. Who gets to set the numbers and to draw the boundaries? The main authority is the Board of Fisheries, which holds hearings and meetings a full third of the year—much longer than fishery seasons—and comes out with new sets of rules every three years. Fishermen don't get much of a say in determining the allowable catch figures: that's a matter of long-term conservation. But they do get to fight over the actual allocation process once the figures are set. Those fights can be very noisy.
The fighting extends to every economically important fish—in Alaska, the principal ones are salmon, halibut, crab, and "groundfish" including cod, herring, and whitefish. Because of their spawning and migration patterns, salmon are a special case. Each salmon "run"—the annual return to their birthplace to spawn—in each river must be studied and managed separately. Because fish are caught after they've fattened themselves foraging in open seas and before their re-enter fresh water to spawn, the question of where they're from and where they're headed (the same thing, obviously) is particularly important.
Fish & Game area management biologists like Aaron Poetter, whom we met in Sand Point, keep daily "escapement" tallies, to be sure that a sufficient number of fish are "escaping" fishermen's nets and freely swimming to their spawning grounds. The very poignancy of the term "escapement" makes me root for the fish, though license holders don't see it that way. They contest Fish & Game's placement of weirs, the vertical walls of nets laid to measure escapement and determine openers. And they're unlikely to welcome the results of the department's efforts to determine genetically which fish are headed to which rivers—results that could change allowable catch figures. The department has collected 200,000 DNA samples, or SNPs, in what John Hilsinger, director of commercial fisheries for Fish & Game, told us in perhaps Alaskan-sized terms is "the largest genetic experiment ever." The department won't use any results to change any limits until at least 2013, Hilsinger told me in an email, because in analyzing any salmon run it waits until it can average three years of data.
The implications could be dramatic. Bristol Bay, which already has the world's largest catch of sockeye—"the money fish," Poetter calls it—disputes the right of Aleutian Island fishermen to catch any sockeye at all, saying they're not native to the area; Bristol Bay accounts for a third of the value of all fish taken in the state. But if the SNP results point to Russian or northern Asian origins for the salmon caught around Sand Point and in Bristol Bay, no Alaskans will be happy. (This isn't even to mention a current controversy over the building of an open-pit mine covering a vast area that could, salmon advocates say , threaten all the salmon in Bristol Bay.)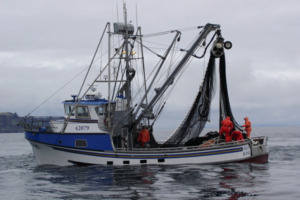 Alaska Seafood Marketing Institute
Locals I talked to in Sand Point didn't miss a chance to beat up on Bristol Bay salmon. "I've tendered all over," Bob Barnett, a fisherman who came with us on a day in the water, told me when we rode in a tender, a boat that meets up with fishing boats and transfers their catch to refrigerated sea water and then delivers them to a processing plant. "These cape fish are pristine." Bristol Bay salmon "doesn't compare," he said: its flavor is "tainted by a taste of the fresh water where they're headed." It's true that as salmon return to fresh water, using its saved stores of fat its color changes from a bright to a dull silver and then to green; the flesh goes a dull grayish pink and eventually starts to decompose (salmon die after they spawn). The warmer waters of Bristol Bay—in the 60s, one fisherman who works both areas told me, whereas water in the Aleutians seldom gets above 50 F—make for "muddy" fish, he said.
NEXT :
PAGES :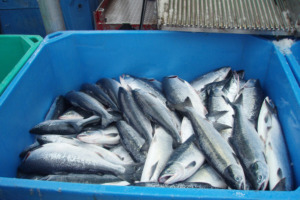 Alaska Seafood Marketing Institute
Certainly, the fish we saw on the tender were a brilliant, gleaming silver. The tender was operated by John and Melanie Roder; it was Melanie who described to Marion the cold welcome of locals like her family at the Trident processing plant we'd toured. Cannery work by women was often what made the difference to getting by, she said. "They paid quite a bit an hour," she said. "We'd be very excited to work at the plant. Then Trident, which bought the plant in 1986, lowered wages to minimum and, she said, discouraged locals from working there. Instead seasonal workers, many from Eastern Europe (as I'd seen in Cordova) and the Phillipines, work 12-hour shifts. Roder talked of the shrimp and crab of her youth, which had replaced the codfish that vanished; now the shrimp and crab are mostly gone, too, and so are the caribou, hunted out or prey to wolves. "I hated eating that then," she said wistfully. "I miss them now."
But the locals work endless hours during fishing season, too: that's how it is. Austin Roof, who works in quality control for Aleutia, the nonprofit consortium of fishing families who get a higher price for carefully treated fish, walked with us on the processing line at Trident, watching the handling of fish that Aleutia would buy. Like Marion, I was astonished by the amount of hand-cutting, "candling" the filleted fish to check for worms with light tables from below, and general care by workers that goes into fish that will be sold at chains like Costco—all the fish we saw, not just fish for Aleutia.
As it happened, I'd just met Roof at the local (and only) coffee shop and general meeting place, Cut'r Loose, asking when it would open the next morning; he and his new wife, Cheryl, who also works for Aleutia, took over the shop last year, when they moved to Sand Point. The next morning I did get to the shop at seven, still on East Coast time. Roof turned up at eight. A boat had come in at three, he said, and he got the call to come in. Now he would put in a full day at the shop, which serves exceptionally good coffee: Roof worked at a California coffee roaster near the Oregon border, and is a tea enthusiast too. Then he would go back to the plant for the evening's fish landings.
In the boat, it was easy to see why quality-control inspectors like the Roofs would be necessary. Purse seine nets, the kind we saw, collect fish in a ball-shaped mass when fishermen mechanically hoist them into their boats. Fish will inevitably be bruised and worse. Gill or "setnets," which catch fish by the snout, usually result in less damage, because the fishermen take them out one by one, but they also require more work. In tenders and at delivery, the fish can be thrown into tubs and on scales (we saw both), further damaging them. Aleutia rejects bruised fish and fish with broken bones, and ones with too few scales; its quality-control workers take the internal temperature of the flesh, to be sure that the refrigerated sea water was cold enough to keep it around 44 F. Aleutia requires fishermen to "pull"—tear out—the gills as soon as fish are hauled up, for quick bleeding. (We asked how long it otherwise took fish to die, of asphyxiation. No one on the boat, including several fishermen, could answer, but they all grimaced.) When we visited, the going rate for sockeye was $1.00 to $1.10 a pound; Aleutia guaranteed fishermen $1.18.
Bycatch—the other kinds of fish that turn up in nets—suffers a worse fate: it's thrown back, as we saw happen with cod as the tender made its rounds picking up salmon from various boats. And, oddly to us, we were the recipients of numerous gorgeous king salmon, which the fishing boats didn't want to bother bringing to the plant: they were too small for the usual market but too big for the processing plants, which are geared in both human and mechanical labor to bone and cut the smaller sockeye. "In Cordova they pay five to six dollars a pound for king," Barnett said. "Here they pay like a dollar."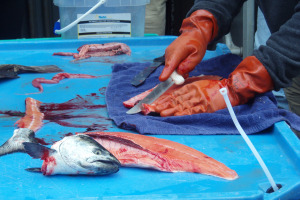 Alaska Seafood Marketing Institute
The gorgeous kings did not go to waste. Hardly! (And fishermen usually take them home and freeze them for the winter.) The high point of a glorious waterborne day was watching the joy, energy, and expertise Michael Cimarusti brought to cutting one fish after another. We'd all gotten a sense of this when we visited the Trident plant and watched him come alive, caressing the fish with an appraising hand and then drawing his forefinger and thumb to his nose to smell the bouquet as if it were a wine someone had brought him from Italy. He guided my hand along the backbone of a majestic halibut, telling me to admire its firm muscularity.
On the tender, Cimarusti set to "H- and G-ing" salmon after salmon, as everyone refers to head and gutting, even if it saves no syllables. Working on a dirty towel he kept rinsing in sea water, he cut with the precision of a surgeon and the enthusiasm of a keen sport fisherman—which he is. A fresh college grad was also helping out, and Cimarusti initiated him into a Californian custom after a first-timer lands a fish (in California, usually a yellowtail, in this case a halibut): take out the beating heart and swallow it whole. This the young man gamely did.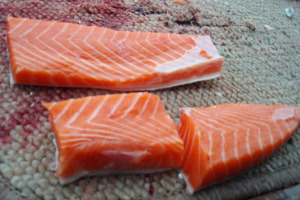 Alaska Seafood Marketing Institute
As Cimarusti progressed, he trimmed the belly—the prize part, for its fattiness, the foie gras of salmon, and to our shock the part that got thrown out at the Trident plant, as most customers don't want it—into rectangles, rhombuses, and trapezoids, which he said best allowed the fat to cook as he wanted to, which is to say barely; he revealed his secret to a crisp skin and barely melting belly fat to his young fishing compatriot. But what he loved most was breaking down the fish: gutting it, taking out the main bloodline and equivalent of spinal cord, dividing by section while keeping flesh and skin intact and clean.
He was a master in his element, and he continued at the barbecue that night—the festive finale I missed, because I was off to the first of three flights home. Thank goodness he's written about it! I dream of the hand-cut, hand-grilled king salmon and halibut. But I'll long dream, too, of those pans of Carl and Elma Dirker's welcoming sockeye.
PAGES :