Gulf Report: Good Times, Great Food. Come Visit.
A daughter of Louisiana and Mississippi hopes for healing, not anger, in the Gulf. Don't stay away. Eat its seafood.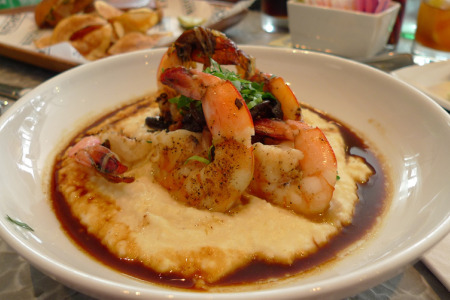 SanFranAnnie/flickr
These words do not come easy. When I began to write these words about the most incredible whole red snapper—still on the bone, grilled with island spices with the oily skin crisped by the coals, worth the boat ride over to a little island called Prickly Pear in the British West Indies not far from Anguilla—I could not help but feel a deep sadness that was brewing underneath as I walked those pristine white beaches and ate the food that was freshly caught from those clean aqua waters. As I return to my home in Mississippi, the sadness is gaining strength over me. As our Mississippi coast has been showing true signs of recovery after Katrina, now the oil spill.
The same sadness exists when I think fondly of Louisiana, which is much like home to me. The Gulf Coast of Florida, where I walked white beaches and ate fresh fish not so long ago, which is already feeling the absence of June visitors. However, I do not want my sadness to turn to anger. I am personally so opposed to "the blame game." As horrific as this oil spill is, I know we will survive it. Somehow, I hope we will be better for it. I do not want to hear about class-action lawsuits, I do not want to hear about how horrible BP is, I want to hear that progress is being made and that the clean-up effort is gaining momentum. I also don't want potential visitors to these Gulf areas to have the wrong perception and not visit. The lack of visitors can be as caustic to this area as the spill itself.
Here are a few things to reflect upon:
    • I have not heard anyone talking about the manmade "dead zones" in the Gulf caused by a flood of nutrients, such as agricultural fertilizers, which boost algae production. These growths consume huge amounts of oxygen, creating a "marine desert" nearly devoid of sea life. There was much talk about this in the late '90s when it was over 7,000 square miles—that's probably the size of one of our Gulf states.
    • What happens when the amount of corn-based biofuels produced in the U.S. goes from 15 billion gallons to 36 billion by 2022, with the amount of pollution in the Mississippi projected to increase by 19 percent at the same time?
    • People are worried about the contamination of Gulf seafood when the FDA has repeatedly issued import alerts or bans against several species of Asian and South American farmed seafood because of contamination with drugs and food additives. Most were filed against imports from massive fish and shellfish farms in China, Thailand, and Indonesia. The contaminants—some of which were listed as carcinogenic—included a number of antimicrobial agents, disinfectants, and drugs to combat diseases and parasites in heavily overcrowded fish pens. Now restaurants are talking about using these imports because they fear seafood from the Gulf?
    • As of this week, there is still plenty of tested, safe seafood from the Gulf. I know there is a chance this may change, but if they are selling it you can trust that it is safe.
I asked Liz Williams, president of the Southern Food and Beverage Museum (SoFAB) in New Orleans, what her thoughts were and what she would encourage people to do. She said, "By continuing to visit the affected locations, everyone continues to support these economies. If you decide that they are spoiled—which they are not—you are just adding to the harm."
There is still so much to appreciate, such good food to eat, fun things to do. Visitors can be amateur anthropologists, gathering interviews, photos, and artifacts of their visit. SoFAB will be happy to post these findings. Taken together, they will make a great statement all along the Gulf Coast. The SoFAB's website is www.southernfood.org .
NEXT :
PAGES :
Times-Picayune had a great map in the paper recently tracking the oil, showing the areas with the worst of it and those that are barely affected, if at all, which includes most of Mississippi. I just got back from driving four houseguests to the airport and we spent the whole weekend in New Orleans eating and drinking and having a rocking great time. The writer and humorist Roy Blount, Jr. and my good friend the artist Bill Dunlap put on a great show at the Ogden Museum of Southern Art on Saturday night and then we all repaired to the brilliant Donald Link's Calcasieu, his private dining space above two of his other fabulous properties, Cochon and Butcher. We feasted on Early Girl tomatoes with basil and sinfully creamy burrata cheese from the wonderful St. James Cheese Company, one of the many new restaurants and food emporiums that have so enriched the culinary scene in New Orleans post-Katrina. We then moved on to shrimp with chanterelles over grits (the shrimp are still plentiful and Donald had foraged the chanterelles himself), followed by the most meltingly delicious roasted goat I've ever had in my life.
Yesterday at lunch at Chef Donald Link's flagship Herbsaint, the drum, a local game fish, was fresh and amazing. We may run out of oysters in the short term and my heart aches for Felix's and P&J;, but Lord, the food in this city is astonishing still. Last night at Cochon (I told you we'd been having a veritable festival of eating and drinking) we had shrimp and deviled egg gumbo, rabbit with dumplings, paneed pork cheeks, smothered summer squash and okra, and many other sophisticated takes on Cajun cuisine that left everyone in awe. As Roy said when we sat down: "I love being in a place where before I even order I know that everything that is going to come to the table will be among the best things I've ever had." Last night—the whole weekend—was just like that. So I really urge people come to town—catch the music at the Ogden every Thursday night. Look out over this resilient city from the museum's roof terrace with a mojito in hand.
I had a positive conversation with Richard Forester, the executive director of the Mississippi Gulf Coast Convention and Visitors Bureau. Like everyone down here, he is more worried about the perception potential visitors have than the actual pending damage. Cancellations for visitors have already resulted in a 15 percent decrease in restaurant sales and room rates are down 15 to 20 percent. It is estimated this could cost the state 5 percent of its tourism revenues. We have to beat the perception, as all of the beaches are open on the Mississippi Gulf Coast and shrimping is in full swing in uncontaminated water and charters are catching their limits. Richard said, "Last night I had delicious fresh oysters at a local restaurant. I did not ask where they were from, all I know is they were clean, fresh, and delicious." You can guarantee that any Gulf seafood you are eating is as good and safe as it can be, as it has never been under so much scrutiny. It is so important for people to come and visit Mississippi. They will not be disappointed, instead overwhelmingly surprised at how beautiful and fun it can be.
We all have had a hand in polluting our land, water, and bodies for years. I do not know the answer. Personally, I will not boycott and have more jobs be lost to innocent people. Let's be realistic here, who can honestly say, "I will live without using oil"? I will try to keep up on the testing of Gulf seafood and trust when they say it is okay to eat it, and I will support the fishermen and buy it and serve it. I will try to walk to get coffee every morning, and when I drive I will try to park my car five blocks from where I am going each day to save on my personal consumption of fuel. I will go to New Orleans and dine in its fabulous restaurants and trust that they will continue to produce meals that they are famous for. I will try to get to Alabama, Florida, and my Mississippi Gulf Coast this year and dine out and stay in their hotels and visit their art galleries and shops.
At a time like this I do not want to hear about blame. I want a positive voice of hope. That is what the South has always meant to me: a positive, hopeful group of people who love their land and water and show their visitors a good time. I am hopeful the next time I have grilled red snapper still on the bone it will be in Alabama, Florida, or Mississippi, and it will be soon.
PAGES :