Goat, Three Ways: A Video Guide to Goat Meat
Footage from a farm, a gourmet shop, and a South Asian grocery can teach you all you know to get—and cook—your goat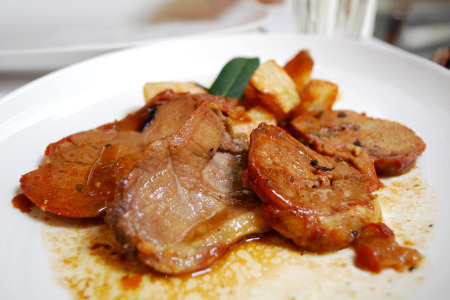 avlxyz/flickr
If you're anything like me, you've eagerly devoured the recent spate of goat-forward articles but found yourself strangely frustrated afterwards. The course is clear for the dirty-dishes-avoiding, college-fund-raiding diner-outers: grilled at Berkeley's Café Rouge , spit-roasted at Washington, D.C.'s Komi , tacos at New York City's Cabrito , or (write in local favorite here). But the trendlet spells nothing but trouble for home cooks—because most of us don't know a thing about goat meat.
There are so many burning questions. Where do you buy this caprid flesh? Which body parts are the tastiest? Should you grill, broil, roast, sauté, or braise? And then there are the nagging doubts. Goats have a reputation for, well, stinking. Is there any truth to that? Or perhaps you're still recovering from a traumatic encounter with a mouthful of gristle.
On your behalf, I've thrown myself into this breach. The three videos below chronicle my quest to learn to buy goat meat like a pro. Each shows a different kind of merchant and some topics to master before your shopping expedition. On a family farm, we get schooled in goat background checks. In the kitchen of a gourmet store, we help a chef butcher a shiny, red specimen. The final piece, a trip to an ethnic grocery—burn rate: one or two horned beasts per week—explains halal meat.
We started our journey at Chestnut Farm in Hardwick, Massachusetts, which raises a handful of goats for the enjoyment of its CSA shareholders, of which I happen to be one.
My first goat kiss! A couple of other things I learned at the farm:
Like another species I can think of, goat gets a lot less pleasant after puberty. So stick to juveniles—five months or younger—for a milder flavor and more tender meat.
Meat goats (Boer and, much less commonly, the heritage Spanish and Tennessee Fainting breeds) are preferred by goat meat farmers because they bulk up, not because they taste better. In other words, you can eat that dairy goat with impunity.
NEXT :
PAGES :
Formaggio Kitchen
, famous for its cheese cave and exquisitely curated artisanal foods, where the staff had ordered us a kid from Pennsylvania's Amish country. Chef Jason Lord whittled down the carcass in five minutes flat while explaining the different cuts and best ways to cook them.
Got that? In case you missed anything, here's a handy outline:
Foreleg:
Braise, stew (bone in for flavor!)
Chops:
Quick grill, broil, sauté (carefully remove all connective tissue first)
Ribs:
Slow grill or smoke
Hindleg:
Roast
Neck:
Braise, stew
Head:
Do you really want to know?
A word from the wise: goats evolved in hot, hilly places, which means they tend to be lean and sinewy. For melt-in-your-mouth succulence, add fat, remove larger pieces of gristle, and dissolve smaller pieces of connective tissue with low, slow cooking.
Our final stop—and by far the most economical one (think four dollars per pound or less)—was Foodland, a South Asian grocery, also in Cambridge. The place was thronged by women in saris and hijab who shouted their orders over the screeching backdrop of a basement table saw.
When we finished filming at 7:00 pm, I was so excited by everything I'd learned that I raced home to make my favorite goat recipe,
seco de chivo
, Ecuador's answer to beef bourguignon. Foodland had cut my goat leg into small disks, and after several hours in my antique Dutch oven, the meat and marrow melded into something ineffable. Something soft and rich, with a faint flavor of grass. Goat.
Film crew:
Catherine Giarrusso, Ana Traynin, Benjamin Reichman, Bryan Margaca
Goat recipes from Formaggio Kitchen:
Jamaican Jerk Braised Goat
Goat Kofte
Spit-Roasted Goat
PAGES
: