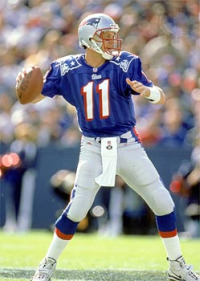 Not long ago, I went to dinner with former NFL coach Dick Vermeil to sample his new wines--Vermeil has established a post-football career as a wine maker in Napa Valley. (His wines are excellent, by the way.) Turns out Vermeil is not the only NFL veteran to become a wine maker. As my part-time employer The Boston Globe reports today, former slow-footed Patriots quarterback Drew Bledsoe is also making wine is his native Washington:

Bledsoe is back in Massachusetts this week for the first time in several years to promote the inaugural vintage of his Doubleback winery cabernet sauvignon. ..

He is off to a good start. Famed critic Robert Parker of The Wine Advocate gave Doubleback a rating of 91-94, which is "outstanding'' on the newsletter's scale. Ever the competitor, Bledsoe said somewhat under his breath that his group believes the rating was a bit low.
Maybe I can persuade the Atlantic's Food Channel to host an NFL wine tasting.
(Aside for Boston sports fans: think David Ortiz could be convinced to go into the wine-making business, like, now?)