Lebanon's Unlikely Microbrewed Beers
How did a bumbling beer enthusiast with no brewing experience bring stout and red ales to the Middle East?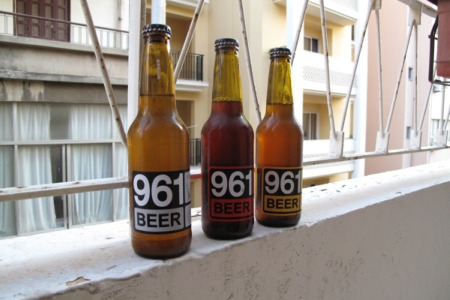 Joshua Hersh
When it arrived in Mazen Hajjar's inbox in early 2007, the email from the CEO of the Canadian manufacturer of industrial beer machinery was not encouraging. DO NOT ATTEMPT TO BREW WITH THIS EQUIPMENT! it warned in big letters. RISK OF EXPLOSION!
By then, Hajjar had already painstakingly constructed a 15-foot grain mill and mash fermenter and produced their first batch of what would become 961, Lebanon's first microbrew. (961 is the country code for Lebanon.)
The brewing company, though, had good reason to be concerned. For weeks, Hajjar had been staring at a shipping container's worth of steel parts with not the faintest idea of how to put them together. Slowly, laboriously, and without written instructions, he had managed to turn an empty warehouse, with peeling paint and a water leak from the tenant next door, into a functional brewery. But it took him three months of working 12-hour shifts and firing off enough emails to the manufacturer, filled with boneheaded questions, to raise eyebrows back in Canada. This was clearly not a professional operation.
"We had no idea what we were doing," Hajjar boasted one day not too long ago. It was a supernaturally hot afternoon, and Hajjar had invited me to visit his now-churning brewery, in an industrial park just outside of Beirut. In a back room, a grain mill was loudly processing several bags worth of Weyermann pilsner malt for a batch of 961's best-seller, the Traditional Lager, which was destined for sale in London. The entire space smelled strongly of a barn.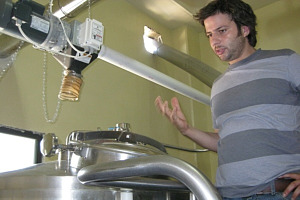 Joshua Hersh
In some ways, this is the story of 961 Beer: the triumph of stubborn determination over skill.
Four years ago, when Hajjar finally decided to manufacture his own beer, he had to realize how difficult the going would be. For one thing, he had absolutely no experience in the craft of brewing. Through the 1990s, Hajjar, who was born in Lebanon, worked as a photojournalist for British newspapers, covering the conflict in Bosnia, but he found the work unfulfilling. Beer, on the other hand—in a manner typical of both students and journalists—held an abiding interest. What Hajjar did understand about it came from his university days in London, at the student bar at the University of London's School of Oriental and African Studies, and from drinking Almaza, then the only beer produced in Lebanon, and for which Hajjar spares no scorn. He says, "All I knew was that I was fed up with Almaza."
Hajjar started keeping tabs on the beers he'd tasted, and read books and watched online videos—the Basic Brewery podcast, out of Portland, Oregon, was a favorite—about others he wished he could sample. With a girlfriend, he traveled to Belgium and tasted the dark, alcohol-laden brews of Trappist monks. On another trip, to Denver to attend the Great American Beer Festival, he tried 500 different kinds of beer.
One of the books Hajjar read, in the summer of 2006, was Beer School , an autobiography by Steve Hindy, the co-founder of Brooklyn Brewery. In the early 1980s, Hindy was a correspondent for the AP in Beirut, covering the civil war in Lebanon. (He later moved to Cairo, where he first encountered homebrewing, before graduating to the real thing back in New York.) More than anything, it was Hindy's improbable tale, Hajjar says, that convinced him to try his hand at a homebrew. When he went to the States for the beer festival, Hajjar also scheduled a stop in Brooklyn, where he met his unwitting mentor.
NEXT :
PAGES :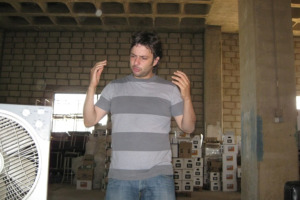 Joshua Hersh
All told, 961 makes four kinds of beer: a gentle, slightly sweet red ale; a doughy wittbier; a coffee-infused stout; and the lager, which is crisp and mildly bitter. At some point this summer, after his brewery completes a scheduled renovation and upgrade, Hajjar intends to produce some new options, including a porter, an IPA, and a selection of seasonal brews.
"Thriving" would not be quite the right word—Hajjar acknowledges that, infrastructure costs aside, the company is still struggling to reach the break-even point—but there are promising signs. In the summer of 2008, the first real year of production, 961 shipped about 200 cases of beer per month. This summer, they expect to move 18,000, and the brightly-colored labels of 961 are slowly starting to encroach on the fridge space of Almaza, in mini-marts and bars across Beirut. At the newly opened Four Seasons Hotel, at the downtown waterfront, 961 was the only beer approved by the visiting corporate sommelier.
There have been significant stumbles, too. For a time, Hajjar and his partner couldn't figure out how to work the bottle-capping machine, and all of the caps rusted. Last year, Hajjar witnessed the closure of his 961-branded restaurant, in a bar district in east Beirut, after a year and a half of operation. Among its several fatal flaws, the restaurant had trouble concocting an appetizing menu, was designed to look a little bit like a prison (red metal bars crisscrossed all the windows), and rarely had a full selection of 961 beers on tap.
The fact that Hajjar has so far weathered this adversity may be the most promising indication yet. After all, as Hajjar is acutely aware, Lebanon is not exactly a beer country. The total consumption of beer in Lebanon, Hajjar says, is about equal to 10 days worth of Oktoberfest. He can't resist adding: "Although, you can't blame them, because for 75 years they only had Almaza." Almaza's hegemony, though, is no joke in a country where you might be told that the Arabic word for "beer" is almaza . There is also the matter of taste, or lack thereof: Almaza, like Budweiser or Coors Light, emphasizes extreme coldness in its marketing materials, and recommends that it be served at negative two degrees C. At temperatures that low, it's hard to discern any flavors at all, and, in Lebanon at least, this has resulted in a hardened sensibility about the entire category. (Lebanese who drink tend to prefer wine and cocktails.) "Americans like [961] because it reminds them of their microbrews," the owner of a Beirut liquor store that has carried 961 since almost the beginning told me. "I'd say 10 percent of Europeans like it, and 90 percent of Lebanese hate it."
In recognition of this reality, two of the new beers Hajjar plans to offer are an "easy drinking" lager and a 961 Light, although you can practically here him gritting his teeth as he says it. Hajjar, convert-like, is something of a hard-line beer purist—he believes beer should be imbibed from a wide-mouthed glass, like wine, and advocates the pairing of beers with food. (He begrudgingly calls the easy-drinking lager "a competitor to Almaza, but brewed much better.") After all, it's just business.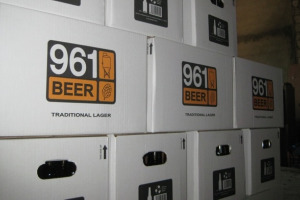 Joshua Hersh
Still, it's clear where Hajjar's passion lies. As he jogged around the various churning machines in his warehouse, Hajjar stopped to give a vat of the lager a quick stir. "The lager is close to my heart," he said. "It's the first lager brewed from Lebanese hops." (Almaza is owned by the Dutch brewery Heineken, and the raw materials for it are imported from Holland .) Another time, Hajjar told me, "I love my lager. I think it's a fucking great lager." He has a sharp tongue, and a malty sense of humor ("What do sex in a canoe and American beer have in common? They're both fucking close to water"), but he saves his most effusive language for his true love. "The wittbier is a killer—it's a beautiful, beautiful brew," he said as we passed a tank of the stuff just a few days away from bottling. "But my favorite is the red ale. That rocks. Literally, it's one of the best red ales I've ever tasted in my life."
The big question, of course, is whether Hajjar can translate his raw enthusiasm into something palatable to the average Lebanese. Steve Hindy, who still occasionally offers Hajjar encouragement and advice, told me that when he first started producing his now-omnipresent beer, in New York, in 1987, he faced a similar challenge. "When I came out with Brooklyn Lager people tasted it and were kind of repulsed. They said, 'Geez, why don't you make something like Heineken?' What they didn't understand was the point was to make flavor in beer. That is what craft brewing is all about, about turning people on to flavor in beer and the tremendous range of flavors that you can achieve in beers." He added, "It was an uphill battle here, and I told [Mazen] it would be even more there."
Kamal Mouzawak, a friend of Hajjar and the proprietor of a popular market and restaurant in Beirut, where he has sold the Lebanese on the benefits of healthy eating and buying local, thinks Hajjar's personality makes him well-suited to the challenge. He said, "How do you get people to eat organic? How do you get them to stop throwing tissues out of the window of their cars? It just takes time. And you have to be stubborn and focused." These are traits, everyone agrees, Hajjar has in abundance.
"Almaza? Nobody really minds it," Hajjar told me while we made our way around his brewery. "Some people love my beer, some people hate my beer, but at least they're opinionated about my beer."
PAGES :