A Southern Writer's Poetic Potato Salad
Eudora Welty also wrote about food. Here's her recipe for a "wickedly hot" dish with all the "mystique" of mayonnaise.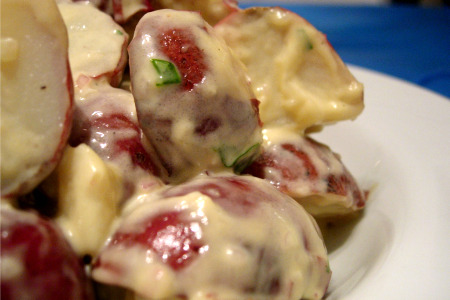 wEnDaLicious/flickr
I really don't know why this potato salad has been on my mind for months now. I actually keep putting off writing about it because it seems mundane and because it doesn't really fit any of the seasonal produce stuff that's always high on my list of culinary priorities. I still haven't really been able to find out much about it. But despite my efforts to put it out of my mind, it won't go away. I've made it four or five times in the last few months, and it is really good. So ... figuring that in these last few weeks before the new season's produce starts to really show up in markets one needs some things to make for dinner that are a bit out of the ordinary, I figured I'd stick it in here now.
Vickburg Potato Salad wedged its way into the already odd mosaic of my mind when I first read about it in The Food of a Younger Land , a WPA-sponsored compilation of writings about American cuisine edited a few years ago by Mark Kurlansky. The work, which dates to the 1930s, was originally a project called America Eats and included some of the country's great writers—Zora Neale Hurston, Nelson Algren, and Eudora Welty to name just a few—sharing thoughts on regional American eating back in the dark days of the Depression. Being fascinated with food history, I loved reading it: there's a wealth of weird, unedited stuff. It's sort of like listening to outtakes from recording sessions that included a few players who went on to be really famous later in their lives. A glimpse into the world of unedited, unpolished food writing that's actually just as telling as something far fancier. Kudos to Mark Kurlansky for putting it all together!
The potato salad popped up in Eudora Welty's section on Mississippi. In case you don't know her and her writing, she was born in Jackson, Mississippi in 1909, was awarded the Pulitzer Prize in fiction and a Presidential Medal of Freedom, and passed away in 2001. She was modern enough for sure that a host of folks I know have small stories of seeing her or of friends who knew her. Although her name is now about as well known as one gets in the world of American literature, when she wrote for the WPA Ms. Welty seemingly had no real recognition for her writing. The piece was part of a pamphlet that was originally distributed on mimeographed sheets, probably the Depression-era equivalent of blogging. You don't need me to get into the section in depth—the Kurlansky book is readily available—so I'll just say here that she writes about a dozen different dishes, including stuffed eggs, seafood gumbo, and beaten biscuits. For whatever reason, though, the potato salad is what stuck in my mind.
I think what really got me was actually Ms. Welty's statement that "Yankees are welcome to make these dishes." I guess I took this "permission slip" personally. If she said we could make 'em, I figured I should take her up on it. Growing up in Chicago as I did, Mississippi honestly—in a good way, really—was like a foreign country, so having Ms. Welty give me some sort of literary visa to make Vicksburg Potato Salad seemed sort of fitting. I went a lot of places growing up, but Mississippi wasn't one of 'em. Knew very little about it, the language was hard to understand, and the culture was definitely different. Even though theoretically I grew up in the same country as any kid from Mississippi did, I don't think I had really much clue until more recently what Southern life was all about. I was way more interested in Moscow and Milan than I ever was in what men and women were doing in the Delta.
In the introduction to the Southern Foodways Alliance 's Coleslaw and Potato Salad Invitational, Elizabeth Karmel wrote that "Coleslaw and Potato Salad are as common to Southerners as blue laws on Sunday." Which puts things in perspective. Nobody in my immediate family even made much potato salad, let alone a "wickedly hot" one the way Ms. Welty describes this stuff. Nor did my family eat catfish, because it isn't kosher. So maybe mundane as this America Eats menu seems, this potato salad, with its Eudora Welty and Mississippi roots, in many ways as commonplace as could be, actually seems exceptionally exotic to me.
Although I've now been to Mississippi a fair few times, I've still not made it down to Vicksburg. I checked in with Southern studies expert Bill Ferris about the potato salad. Since he was born there, I figured he would be the person to start with. (His new book about the blues, Give My Poor Heart Ease , is beautiful.) "The Vicksburg Hotel no longer exists," he explained. "It was located on Clay Street, and I remember going there as a child when my father got his hair cut. They had a large barbershop on the street level with five or six chairs where men sat while they had their hair cut. They could also get shaved and have their fingers manicured while in the chairs. The barbers were men, and the manicures were done by women. It was a magical place for a young child."His story about the hotel got me all the more interested but unfortunately that's where it ended—pomade and nail polish are all well and culturally interesting, but neither has anything to do with potato salad. He checked in with his mother but she doesn't recall anything either. And although I'm sure there are folks out there—maybe you know them?—who ate this potato salad in situ, I've yet to find any. It does make me want to make a trip down there to check it out. And to read more of Eudora Welty's work.
While I'm working on all that you can make the actual salad. It's super easy and I'm probably making way more out of it than its simplicity deserves. But I guess it's a bit of a historical mystery for me now, plus it is really good. I made it first last fall with Tantre Farm's blue potatoes, which I'm sure helped its flavor, but I've done it again with Yukon Golds from the supermarket that were also good. Soon there'll be new potatoes starting to show up, and one could certainly start with those as well.
NEXT :
PAGES :
Raye's from Maine hot yellow mustard that I like a lot, although it's not on the Deli shelves right now). Then you cook a bunch of bacon (six strips, she says) until it's crisp and chop it and sprinkle it on top. I like a bigger smoky bacon for this dish—Broadbent's, Benton's ... Burgers' smoked pork jowl would be good. Any bacon of course would be just fine. I also used the bacon fat left in the pan to fry catfish (after rolling it in Anson Mills' really amazingly good cornmeal).
But before I get too totally easy with this, the truth is that in Ms. Welty's world the mayonnaise she'd have used certainly wasn't store-bought. Hellman's and Duke's were modern convenience foods back then. As she wrote in the forward to the Jackson Cookbook , published in 1971, "Mayonnaise had a mystique ."Between that and the "wickedly hot" thing, she certainly had my attention. "Little girls," she went on, "were initiated into it by being allowed to stand at the kitchen table and help make it, for making mayonnaise takes three hands. While the main two hands keep up the uninterrupted beat in the bowl, the smaller hand is allowed to slowly add the olive oil, drop-by-counted-drop. The solemn fact was that sometimes mayonnaise didn't make. Only the sudden dash of the red pepper onto the brimming, smooth-as-cream bowlful told you it was finished and a triumph." And to put it fully in context, she concluded, "Of course you couldn't buy mayonnaise, and if you could, you wouldn't. For the generation bringing my generation up, everything made in the kitchen started from scratch, too."
Damn, the woman made potato salad seem to me like some sort of powerful aphrodisiac, not just something they sell in the deli department at the grocery store. There is, of course, an awful lot to be said for making this dish with homemade mayonnaise if you're willing to make time for it. There's a recipe for it in Zingerman's Guide to Good Eating and I'm sure about 10,000 more will come up on Google. Interesting to note, I say, that Ms. Welty wrote about using olive oil, an ingredient I'd not have associated with home cooking in Jackson, Mississippi a century or so ago. Shows you what I know.
This homemade mayonnaise issue is not something to take lightly. Marcie Ferris, Bill's wife and, as an Arkansas native, probably a veritable Yankee by Mississippi standards, told me that "Bill's mom told me that a true southern woman ALWAYS has HOMEMADE mayonnaise and homemade sweet pickles in the refrigerator (and a tin of beaten biscuits in the pantry ... just in case guests arrive—to serve with stiff drinks of bourbon, and a slice of country ham or pimento cheese!"
So there you go ... It's just potato salad, but clearly it's so much more. As always, for me, the story behind the food is essential, and I'm only a bit of a ways into this whole thing. I still have to go to Vicksburg. Hoping Le Anne or Bill or others will meet me there to show me round the way Majid Mahjoub toured me through Tunisia two years ago. In the meantime, pick up some catfish to fry. Find a kid in your family and initiate him or her into mayonnaise making. Make some potato salad with local eggs, good potatoes, and a great bacon. Make it wickedly, seriously, hot, I hope. And get a copy of Ms. Welty's work and do some reading while the potatoes are cooking.
PAGES :