Dick Vermeil: Football Legend, and Winemaker?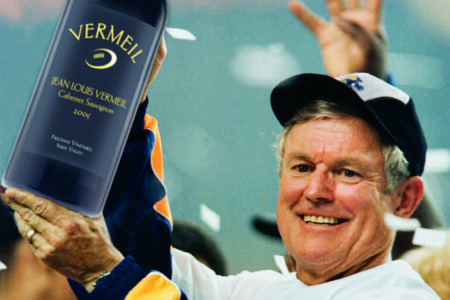 Vermeil Wines
Recently, my favorite Washington DC restaurant, BlackSalt, invited patrons to a dinner hosted by Dick Vermeil, the legendary football coach. The occasion was designed to introduce people to Dick Vermeil's wines. I was not aware that Dick Vermeil had become a winemaker, and the news struck me as hilariously incongruous. It's not that it's unusual for a pro football coach to have a second career in the world of food and beverages. Don Shula owns a steakhouse. Mike Ditka owns a steakhouse. John Madden may or may not own Outback Steakhouse, but he's on TV a lot talking about it. The point is, wine-making seemed a daring break from form. Since the evening combined three of my great pleasures—football, BlackSalt, and wine—I enlisted a pair of like-minded friends and RSVP'ed.
When we arrived at BlackSalt two nights ago, locating the Vermeil party wasn't difficult. What gave it away were the hulking NFL players crowded around "Coach Vermeil," as he is affectionately known. They turned out to be Chris Samuels, London Fletcher, and Shawn Springs, and all were wine aficionados—a revelation soon followed by others that swiftly disabused me of several enduring stereotypes. (Not one of them owns a steakhouse.) Over a glass of Vermeil Wines 2005 Zinfandel, Fletcher, who led the Washington Redskins in tackles last year, told me that Vermeil had taught him about wine. "He used to take groups of us out for wine dinners back in 1998 when I was a rookie and he was coaching the Rams," Fletcher said. Fletcher now boasts a substantial wine cellar, and was thinking of purchasing several cases from his old coach.
I was curious how Vermeil became interested in wine. He explained that he'd been raised in Calistoga, the northernmost town in Napa Valley. His great grandfather on his mother's side, Garibaldi Iaccheri, had owned a large vineyard. His paternal great grandfather, Jean Louis Vermeil, made the family wine. "It never had a label," Vermeil said, "but the new vintage debuted every Thanksgiving and it was a big family tradition." Vermeil took up wine-making as a hobby in 1999, using grapes grown on the land that his great-grandfather once owned, which has passed to the Frediani family. The first vintage of Jean Louis Vermeil Cabernet Sauvignon was corked shortly before the Rams won the Super Bowl. Vermeil's success in the NFL kept wine-making a hobby. But two years ago, after he retired from football, Vermeil and wine maker Paul Smith of Frediani Vineyard (who he has dubbed his "offensive coordinator") decided to upgrade wine-making from hobby to business. Vermeil Wines bottled 1,900 cases in 2008, and 5,000 cases last year.

Dinner at BlackSalt featured Vermeil Wines with a five-course tasting menu from Executive Chef Richard Cook. Standouts at our table were a pan-roasted Atlantic tuna belly paired with a 2004 Frediani Vineyard Syrah, and a citrus-cured Arctic char with bacon, capers, red onion that was paired with a rare 2005 Charbone. Given the oppressive mid-Atlantic heat, I especially enjoyed Vermeil's 2008 Sauvignon Blanc—enough that I may test the limits of the Atlantic's expense account to acquire more of it. But don't take my word for it. Real critics like Vermeil's wines, too. "His initial dive into the wine world is impressive," Robert Parker wrote in The Wine Advocate.

During dinner, Coach Vermeil stood up and made a toast. The intimate setting, the proximity of pro football players, and Vermeil's impassioned way of speaking—Rick Reilly of Sports Illustrated once quipped that Vermeil will bawl at the retirement of a blocking sled—made me feel, for a split second, like I was in the locker room at halftime of the Super Bowl. Or maybe it was the wine. Anyway, given Vermeil's proclivity for tears, and his Italian heritage, one of my friends got the idea that Vermeil simply had to name one of his wines after Lacryma Christi, the Italian wine made from grapes grown on the slopes of Mount Vesuvius that translates to "tears of Christ." Legend has it that when Lucifer was cast out of Heaven, he caused Vesuvius to erupt; Christ saw it and cried. The grapes that make Lacryma Christi are grown in an area made fertile by his tears. So why not Lacryma Vermeil, with grapes ripened by the tears of an emotional coach? Vermeil seemed open to the idea. Or maybe it was the wine.


Vermeil stopped by to explain that his coaching philosophy was not limited to the gridiron. "Rookie night at our house always included sharing a glass of wine together," Vermeil told me. "I've really enjoyed teaching kids how to drink wine." It turns out the NFL has a thriving wine subculture, one powerful enough to transcend the bitterest rivalries. Vermeil revealed to us that when he was coach of the Philadelphia Eagles he would leave cases of wine in the locker room for his nemesis, the legendary Pittsburgh Steelers coach Chuck Knoll, who shared his passion for grapes.