Cookery Books: Britain's Gift to America
English cookbooks are better than ours, and not only because of spotted dick. A culinary bibliophile's guide to London.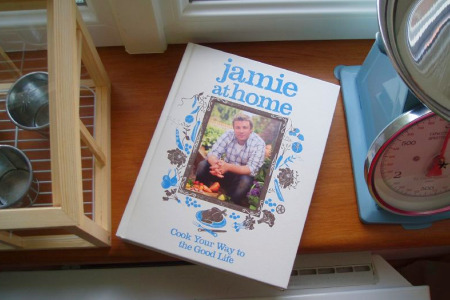 homard.net/flickr
London is, after all, one of the great cities for a bibliophile to stretch her legs, as well as test her credit limit, but it's a surprise to some that the city is ripe with cookbooks—or as the British say, cookery books. Perhaps this is because quips about British cooking are as old as Hadrian's Wall, even though the British food scene has gotten a facelift in recent years thanks to the chefs, farmers, writers, and food artisans who've shown the world that a roasted bone marrow and parsley salad is no laughing matter. To wit, good luck landing a reservation to eat it at Fergus Henderson's St. John Restaurant. Now, British cookbooks are also getting some fresh respect.
Every time I disembark at Heathrow with an empty suitcase to fill with the dozen or so cookbooks I'll bring back to Boston, I picture myself as the writer and heroine of 84 Charing Cross Road: a 21st-century Helene Hanff, with more domestic yet equally voracious book-acquisition tastes. I dream about sleuthing around the city for a 19th century edition of Eliza Acton's Modern Cookery for Private Families, instructing shop owners, "I'll take it at any cost!" Fantasy life aside, I can at least snag Nigella Lawson's latest, which won't be republished for American audiences for another year, or stalk down the last remaining Jane Grigson titles I don't own. Of course, I could stay home and order Lawson's book through amazon.co.uk and easily locate Grigson's backlist through eBay, but where's the fun in that?
My love of British cookbooks is rooted in nostalgia for the foods I read about in classic English children's literature—the hot currant buns Sara Crewe longed for during her stint as a scullery maid, Enid Blyton's "lashings of boiled eggs"—but the nostalgia is tempered with practicality. British cookbooks tend to give weight measurements for ingredients, which is precisely why I go out of my way to purchase the British versions of British cookbooks rather than waiting for the inaccurate cups-and-teaspoons translations for Americans. My success rate with recipes, especially baked goods, is much higher when I can measure ingredients by pounds or grams on an inexpensive digital kitchen scale. Nonetheless, American cookbook publishers are loath to accept that a growing number of American home cooks actually prefer weight measures to volume measures. Fine. This Yank will buy Brit.
British cookbooks also blend the familiar with the exotic. Newer ones aren't all filled with recipes for steak-and-kidney pie and raunchy-sounding spotted dick, although there are plenty of new releases that celebrate these British classics. (I admit, I'm always game for a fresh twist on sticky toffee pudding ... who isn't?) But I like that modern British cooking feels more adventurous than a lot of American cooking. The British eat more lamb and aren't afraid to forage the hedgerows, while most Americans seem to me to prefer lambs in petting zoos and restrict their foraging to the aisles of Whole Foods. I like that they call their zucchinis "courgettes," that seeds are "pips," and that a cake can be baked in a "slow" oven. (Kitchen Arts & Letters in New York City sells a helpful pamphlet called All You Need to Know About the British Kitchen that deciphers cooking terminology for Americans.) On the familiar side of the equation, of course, British celebrity chefs and their cookbooks are as popular here as they are over there. Even my eight-year-old knows it's time to leave the room when he spots Gordon Ramsay's craggy face on BBC America.
London, with its labyrinthine neighborhoods, can be overwhelming for the uninitiated cookbook fancier, so here are my favorite haunts.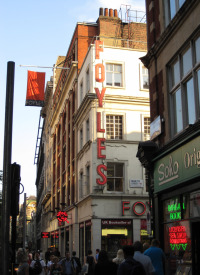 Karl-Martin Skontorp/flickr
My first stop for cookbook shopping is always Books for Cooks in Notting Hill (4 Blenheim Crescent, Ladbroke Grove tube station), a surprisingly small shop considering it stocks roughly 8,000 books. Every available inch of space is crammed with cookbooks, many of which you'll never have seen stateside. During my last trip to the shop, I snatched up titles like The English Summer Cookbook and Lindsey Bareham's Pasties, with recipes that riff on the traditional Cornish variety. I actually squealed, much to the cashier's amusement, when I spotted the second volume of recipes from Ireland's famed Avoca Café. There's a kitchen/café at the back of the shop where personnel test recipes on customers; the best end up in Books for Cooks's semi-annual self-published recipe collections. To date, the shop has produced eight volumes, all worth purchasing.
Across town, in Bloomsbury, Persephone Books (59 Lamb's Conduit Street, Russell Square tube station) reprints "20th century classics by (mostly) women." Both publishing headquarters and retail store, it's where you'll find unsung titles like Good Food on the Aga by Ambrose Heath and Good Things in England, a collection of regional British recipes written by England's first freelance food journalist, Florence White, in 1932. The shop's books all look similar, with restrained gray covers, but each title gets its own artfully designed William Morris-inspired endpaper and matching bookmark. A couple of blocks away, the London Review Bookshop (14 Bury Place) has a small but well-curated food writing section, but equally important is its tiny attached café, which serves a tasty blueberry tea cake, the perfect pick-me-up while book shopping.
Charing Cross Road, with its mix of chain and used bookstores, is where all bibliophilic tourists end up in London. You could count Foyles (113-119 Charing Cross Rd, Tottenham Court Road station) as a chain, with its four locations throughout London, but it's over 100 years old and still family-owned. You'll often find signed copies of bestselling cookbooks in their huge cookery section at their flagship store. Second-hand shops worth checking for out-of-print cookbooks include Any Amount of Books (56 Charing Cross Rd), which has a downloadable catalog on its website, and Henry Pordes Books Ltd. (58-60 Charing Cross Rd).
Last time I was in London, I also discovered The Cookbook Café (1 Hamilton Place, Hyde Park tube station), a casual restaurant housed in the InterContinental Park Lane in Mayfair where, yes, reading at the table is acceptable and even encouraged. There are more than 200 cookbooks on display throughout the light-filled space. (They're not for sale, but for savoring.) A highlight of the restaurant is a market table where the best of England's seasonal foods are served buffet style, and the menu changes frequently, based on recipes provided by visiting chefs and celebrity cooks.
And no luck landing the reservation at St. John? You find the recipe for roast bone marrow and parsley salad in Fergus Henderson's The Whole Beast: Nose to Tail Eating.