Why Big Ag Won't Feed the World
According to the author, as populations explode, chemicals and GMOs aren't the answer.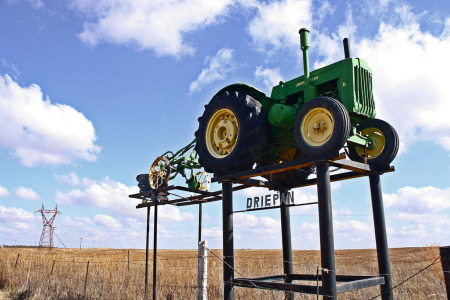 Photo by Nozee Le Snoop/FlickrCC
A year ago I sat in a room at the Earth Institute at Columbia surrounded by executives from big food companies. One of them, I believe from Unilever, clicked to a slide that read "The solution to global hunger is to turn malnutrition into a market opportunity." The audience—global development practitioners and academics and other executives—nodded and dutifully wrote it down in their notebooks; I shuddered. The experience stayed with me and I haven't gotten over it. Last month, I had a flashback.
On a Tuesday evening I sat in a room on the 44th floor of a building in the financial district of lower Manhattan with representatives from General Mills, Monsanto, Dean Foods, Deutsche Bank, and the Rainforest Alliance. We were there to speak to institutional investors—the hedge fund managers, bankers, and others who invest in big food companies—about sustainability and food. In particular, we were there to talk about how sustainability and hunger issues may give these companies both exposure to risk and access to opportunity.
It was not your average sustainable food panel discussion. Reflecting back on it, three things jump out at me. The first was a false premise that is taken for fact. The false premise:
Both Deutsche Bank and Monsanto made it clear that they are basing their business strategy on answering a simple question: How will we feed the world in 2050, when the population reaches over 9 billion and global warming puts massive strains on our resources? The answer for Deutsche Bank: increase yields by investing in industrial agriculture in the developing world, with an emphasis on technology; put lots of capital into rural land to shift subsistence and local market agricultures to commodity export agriculture. The answer for Monsanto: increase yields by decreasing resource dependence using genetically modified crops.
At first glance, these answers make both Monsanto and Deutsche Bank look virtuous. But they rest on a false premise: "There will be over 9 billion people by 2050. We have less than 7 billion today, and people go hungry. We need to increase food production if we are going to feed them." Indeed, there will be over 9 billion people by 2050, and indeed, with less than 7 billion today, people still go hungry. But we don't need to increase crop yields to feed these people. In 2008, globally, we grew enough food to feed over 11 billion people. We grew 4,000 calories per day per person—roughly twice what people need to eat.
Eric Holt Gimenez, of Food First (The Institute for Food and Development Policy) put it eloquently in a conversation earlier last year: "In 2008 more food was grown than ever before in history. In 2008 more people were obese than ever before in history. In 2008 more profit was made by food companies than ever before in history. And in 2008 more people went hungry than ever before in history."
Hunger is not a global production problem. It is a global justice problem. We need to increase global equity, not global yields. There may be profit to be made in exporting our high-tech, input-reliant, greenhouse-gas-emitting agricultural systems to the developing world. But let us not pretend it will solve global hunger or address climate change. After all, high-tech, input-reliant, commodity agricultural is a major cause of global hunger and climate change.
NEXT :
PAGES :
So what changes are necessary for us to feed the world? In 2005, the World Bank, the FAO and the UNDP brought together 400 leading natural and social scientists, representatives from government (including the U.S.), private sector and non-governmental organizations to ask how we would feed the world in 2050. It's called the IAASTD report, and it just came out last year.The scientists concluded that genetically modified crops and chemical agriculture had failed to show much promise in feeding the world. They won't be a big part of the solution. Instead, tomorrow's agriculture will need to be much more regionally controlled and locally adapted, and will need a diversity of approaches to meet the challenges of climate change and resource scarcity. The result is a farming system that uses water frugally, sequesters carbon, and doesn't require external inputs.
A study by the Union of Concerned Scientists called Failure to Yield found that genetically modified crops have not delivered on increased yields. In fact, nearly all of the gains in yields over the last two decades can be attributed to other practices. Vast tracts of rainforest are indeed being cut down to plant commodity crops, particularly soy. This deforestation isn't happening because the varieties are old, unimproved, and not intensive. These are acres of chemically farmed, genetically modified crops.
The IAASTD concluded that if we want to feed the world, we need regional ownership and control, locally adapted varieties and practices, and farmers to grow for subsistence and local markets—and we don't need export commodities.
"So," I said to the institutional investors, "I've got good news, and I've got bad news." The good news is that feeding the world in 2050 is completely possible; these solutions are within reach. The bad news is that there isn't a ton of money to be made by a small number of companies in doing it. You can make money investing in technology and putting great gobs of capital into rural land that currently doesn't have it, but you will likely be exacerbating climate change and global hunger, not fixing it."
This, of course, gets to the heart of what it means to help.
When I was a little boy, my dad was building a tool shed in our back yard. It looked like fun, and I had always wanted to use a hammer. I wandered out to help him as he sawed a two-by-four. I picked up a hammer and some nails and started pounding them, without any particular plan, into a piece of wood. My dad looked over at me and said, "Josh. Tell me, what are you doing?" "I'm helping." I responded, completely sincerely. He gently explained to me that if you want to help, first you have to ask the people you want to help what they need. In this case, he told me, he could really use someone to sit on the sawhorse to hold down the piece of wood he was trying to saw, so it didn't bounce all over the place. When I protested that that wasn't nearly as fun as pounding nails, he agreed with me.
"You are welcome to pound nails into that board," he explained. "Just don't pretend you are helping me build this shed." Yes, global hunger is a market opportunity; some corporations will make money treating it as such. But it in so doing they are about as likely to end hunger as seven-year-old me was to build a shed by pounding nails into a piece of plywood.
PAGES :