6 Australian Foods Worth Trying
From curries to olive oil to biscuits, this list represents the range of culinary options the country has to offer.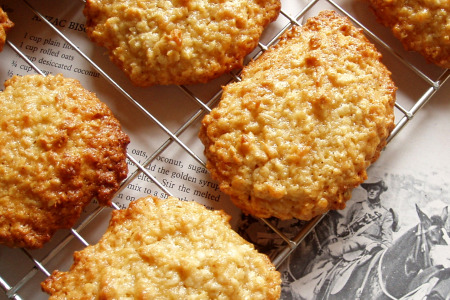 Photo by amandabhslater/Flickr CC
Australia today is a pretty happening place, but that's really a pretty recent phenomenon; in the 1950s the now massively hip-hopping city of Sydney had only 800 total hotel rooms (by comparison, Ann Arbor--hardly a world capital--has 4,000!). Culturally, Australia's got this really weird mix of totally middle class solidity with kind of wild, whacked-out, slightly California-esque aggressiveness. Australians certainly do their fair share of partying; and yet people are so modest that not all that many years ago someone climbed up to paint a bathing suit onto the partially-exposed rear end of the little girl on the Coppertone billboard. And, to this day, no one seems to find it odd that cocktail sausages are sold in nearly every shop under the name "little boys."
Australian food is really up and coming in the last few years, and it's just going to get better. So much of it is tied up in the peculiar cultural conditions of the island (which, really, is the case with any region's food ways). Right now, what's really exciting is the variety of foods in Australia. It reflects the diversity of its land and the country's innovative chefs that have cultivated fresh and flavorful regional cuisines. Of course, the story of Australian food would not be complete without mention of the tremendous contribution made by other cultures such as the German, Italian, Greek, Asian, and South African immigrant communities, bringing both recipes and plant stock to their new home.
To my take, Australian food is very much where California food was 20 years ago. We've been getting more and more interesting and really flavorful Australian food into the Deli over the last couple of years, and last year the Bakehouse started making really delicious versions of the traditional Anzac biscuits. So, with the staff at the Deli showing such a passion for these foods, here's what they have to say about their favorite foods from Down Under:
1.) Charmaine Solomon's Curries
Somewhere within me, not very far below the surface from the intellectual realization that many cultures and nations have incredibly excellent preserved foods, lies an instinctive distrust for foods that come in jars and cans. It was created and nurtured in me as a child of the tropics (I grew up in India) whose mother cooked dinner from scratch every night. When it comes to foods that one can actually make from scratch, the distrust veers dangerously close to disdain.
As a food professional, I try to overcome this prejudice by studying the cultures and traditions of preservation. And tasting. Piquillo peppers. Sour cherries in syrup. Tomatoes. Sun-dried tomato paste. Preserved beets. Green Beans. Pickles. And slowly but surely, it has started to make sense and I have developed an appreciation for these foods.
But the prejudices all came roaring back when Ari brought jars of curry pastes on his return from a trip to Australia. He asked me whether I would taste them as the resident "curry" expert. Hah, I thought. Never. Piquillo peppers, I understand. Pasta sauces. Tomatoes. Yes. Curries. Never.
And yet, I did. Out of respect for Charmaine and Rueben Solomon, who make the curry pastes in question. The stories Ari told of them from his visit to Australia were intriguing and charming and so I agreed to take the curreis home and cook with them. (For more on Charmaine and Rueben's story, click here .)
Boy, did I have a prejudice turned on its head. They were fantastic. My entire kitchen was infused with smells from my home in India, my mind teeming with nostalgia. This was the real thing. And it came out of a jar. I almost did not want to believe it. I was so reluctant to let go of this prejudice, that I actually wrote to Charmaine with my skepticism. Here is her response:

Dear Gauri, I am delighted to have your comments on our curry pastes and marinades. Thank you so much for your enthusiastic approval. I, too, used to think that no good thing could come out of a jar, and to me it was so easy to make a delicious curry from scratch that I could not imagine why anyone would want to use a bottled curry paste.

One day, about 12 years ago, when I was teaching a class of about 60 people, they were raving about the flavors and asked why their curries did not taste like that. At that time we were not producing the spice blends. I did try my best to enthuse people to cook with natural ingredients and achieve beautiful flavors. It turned out that in spite of my having written so many books, people were not using the whole recipes. They would skip the first, all important part of making their own spice blends because they felt it was too much like hard work, and instead go and buy a bottled paste. When I asked which brand they used, they couldn't even tell me. So I decided to try various leading brands, and when I found which ones were good, I would recommend them. To my surprise I could not find a single one which tasted like it should.

There was nothing for me to do but to make my own range. I worked with a food scientist to find out how to give my products a shelf life. I told them I didn't want to add preservatives, MSG and other questionable ingredients. I especially didn't like the taste of acetic acid, which is what most commercial curry pastes use. We use citric acid, which is a much more natural flavor. I think that covers the answer to your question about why my pastes are so much better than other brands.
We carry several different flavors of Charmaine's sauces at the Deli, in an effort to thoughtfully represent Charmaine's range and her skillful representation of the foods of the Indian subcontinent and the Far East. They're all distinct in their spicing and they all have different levels of heat.
If you'd like to find the traditional recipes for all of these, check out Charmaine's website . There are also recipe suggestions on the jars and they work really well. But most importantly, just pick one you like. We'd be happy to give you a taste. And then use it as you like. Cook it with some boiled potatoes. Or use it as a marinade. Or put a tablespoon in a soup or stew to add a nice level of complexity and heat. They're really good. And that's what counts.
-Gauri Thergaonkar, Retail Manager
NEXT :
PAGES :
Out of the 50 or so honeys that line the dry-goods shelves at Zingerman's, the Tasmanian Leatherwood honey sticks out as one of my favorites. The paint-can shaped container pops open releasing heavy floral aromas, and revealing a golden viscous treat. Prior to working at Zingerman's, I got my honey in plastic bear-shaped bottles. I have since been spoiled. The once-delightful bears now appear oafish, and I have contemplated carrying a can in my purse so that I never have to sweeten my tea or cover my toast with anything inferior.
The story of the Leatherwood honey is nothing short of a fairytale. On the remote island of Tasmania, ancient rainforests full of Leatherwood trees grow. Great southern ocean winds bring near constant warm rains, lending a hand to the January blooming. The massive trees erupt with white and maroon speckled flowers, causing workers bees to feverishly collect nectar. Inside the bees' stomachs, the nectar's molecular structure changes, becoming honey, and then is stored throughout the hive. The Leatherwood honey is gently harvested from inside these hives. In order to preserve its delicate crystalline structure and spicy floral flavor, the honey is not heated at high temperatures, making it a perfect spoon-or-spread treat (I recommend trying it by the spoonful.)
- Whitney
3.) Anzac Biscuits
These are like Australian Girl Scout Cookies. Only don't call them cookies. These sweet little morsels come from a World War I Australian recipe that people on the home front used to make snacks to send off with their soldiers. They developed a formula that didn't need eggs--too scarce--and used golden syrup to keep the oats held together and preserved for the long ship out to Europe. Named after the Australian and New Zealand Army Corps, the recipe probably derives from Scottish oatcakes. Here in America you can call them cookies if you want, but in Australia they take their anzac biscuits seriously and laws frown on marketing them as cookies--it would be akin to marketing wine as grape juice in France.
I don't have much of a sweet tooth, and these biscuits are prefect in the morning with my tea. Just sweet enough and full of oaty goodness.
- JD
"From the south of Australia... A bottle of liquid gold." The New York Times
From a small estate in the Yellingbo Conservation Nature Reserve, located in southeastern Australia, the Meltzer family has created a wonderful and unique addition to our olive oil stable. Using an interesting mix of varietals for their oil, they've created a robust blend just for us! The Yellingbo oil is very small-production stuff. The Meltzers have only about 2,500 trees on the farm, and they're not really interested in getting a whole lot bigger. The year before last they produced about 3,000 liters...very small compared to much of what's being produced out there.
They have their own press on the farm and press the olives in less than six hours from the time they're picked--that's exceptionally fast and helps protect the quality of the oil (24 hours is considered to be very good). Most of the harvest work is still done by the family and some friends.
Because the Meltzers press each of their seven varietals of olives separately then mix them from there, they were able to do a special blend for us consisting of manzanilla, frantoio, picual , and corregiola olives. That means the Yellingbo bottle we sell is going to taste a bit different--better, we think--than what's available elsewhere. Bold and unfiltered, fruity and nutty undertones with a mild peppery finish, this oil is delectable in pastas, risotto and for finishing meats and seafood. Rich, creamy and nutty, this is an oil to be savored. And the bird that graces the label? It's the endangered Helmeted Honeyeater, which feels right at home gliding through the Meltzers orchards with beaks full of olives. But the Meltzers don't mind sharing the Gold.
- Jonathan
You don't have to dig very far to find the romance in Joseph La Casetta Aged Vinegar. It could be the open-air fires in the South Australian plains where the fresh grape must (juice) is reduced to half its volume, the five years of careful aging in old wine casks, or the tribute to maker Joe Grilli's grandfather who first pioneered the recipe on the family's Italian estate--this small-batch brew is as rich in history as it is in flavor.
The result of this labor of love from the Primo Estate winery leaves little to be desired. Smoky, caramel-y, and just a tiny bit sweet, it's reminiscent of sherry or even a single malt Scotch. Yet it's smooth enough to sip on its own.
But why stop there? Joseph's uncommon flavor will bring a new edge to all sorts of dishes. Try it as a dressing on bitter greens, brush some on bruschetta, or pick up a bottle just in time for grilling season and add a little Outback to your asparagus or red peppers.
- Gillian
I compel you to go green, and I think it is okay to start with Moutere Grove. I was first introduced to this exotic oil at my very first tasting. Solomon, one of the Deli's olive oil experts, can be a bit intimidating with all his knowledge, and I squirmed in my seat the whole time. I was eager to learn as we went through all the oils and then towards the end he spoke of Austrailian and New Zealand oils. The minute I tried this unfamiliar oil I was in love. Even though I ended up behind the cheese counter, I still find myself sneaking over to dry goods to snatch a taste. I later found out that the rich emerald-toned olive oil is from New Zealand's south island region and it is named for the Moutere Valley. This valley is home of rich clay soils that produce beautiful fruit and delicious wines. This strong oil, with deep green and grassy flavors, will make you take a double look at the label. It has won many international awards and comes from a single estate. It is even certified organic. You may never go back to any other oil. Go ahead be adventurous, ask for a taste.
- Rebecca
PAGES :