The Rise of BYOB
As they try to attract the budget-conscious, more restaurants let customers bring wine from the outside. Will it last past the recession?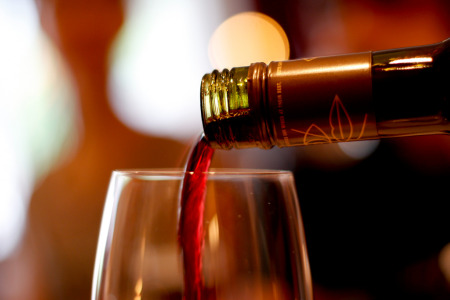 Photo by tobiastoft/Flickr CC
On most summer nights a long line of dinner goers can be found on the corner of West 11th and West 4th Streets, waiting for an open table at Tartine, a petit café in Manhattan's West Village. The restaurant, which opened in 1989, can accurately be described as either cozy or cramped, and the food--standard French bistro fare--is nothing special. Why then the crowds? I offer my own reason for returning and the hunch that it's also what brings everyone else: Diners are allowed to bring their own booze, free of charge.
For my money, there's not a more savory initialism in the culinary lexicon than BYOB--Bring Your Own Bottle--and it's a pity that more restaurants don't adopt the policy. But then why would they? Price gauging on booze is the industry standard, and an easy way to drive the bottom line. It's why, for instance, The Spotted Pig, another West Village restaurant (which I like), charges $75 for a half-bottle of 2005 Chateau Gloria, a red Bordeaux which retails for $40 per full bottle.
That's nearly a 300 percent markup--more if you consider restaurants don't pay retail prices--and it's no anomaly. (To those, typically on the restaurant side, who justify such markups for storage, care, stemware and sommeliers, I can only say, Phooey! And yes, there are markups on beer and liquor, too, but wine, which typically is more expensive, introduces different price sensitivities.)
There are 35 BYOB restaurants in New York City listed in the 2009 Zagat Guide. They tend to be small, ethnic and unambitious. And while there are a few upscale exceptions--Apiary and Tribecca Grill offer BYOB on Monday nights, and Alto has waived its $60 corkage fee until September, with a limit of one outside bottle per table--these restaurants are only making temporary concessions during a time of economic distress, doing what they can to lure budget-conscious diners.
But most restaurants have maintained corkage fees to discourage diners from bringing their own wine. And some ban outside wine altogether: According to The New York Times , only wine critic Robert Parker is allowed to bring his own bottles to Daniel, a Michelin two-star French restaurant on the Upper East Side. More ominously, the New York State Liquor Authority recently announced that many of the state's BYOBs are operating without the proper licenses, risking fines or closure. (Thankfully, there seems to have been little subsequent enforcement of these codes.)
Fortunately, it's only a two-hour drive south to the nation's BYOB Mecca--Philadelphia. When I lived there, for a year in the late 90's, there were a handful. Now, there are more than 200, a fact touted in the Greater Tourism Philadelphia Market Corporation's brochures: "Welcome to Philadelphia, the place to b.y.o.be !"
NEXT :
PAGES :
For this, we can thank a long tradition of Quaker teetotalism and its post-Prohibition institutionalization in the form of the Pennsylvania Liquor Control Board. More specifically, there's Philadelphia's cap on liquor licenses and their high cost: $60,000. (Liquor licenses cost $4,500 in New York.) For serious BYOBers, the only problem with this arrangement is that they're better off purchasing their wine in another state. The PLCB maintains a monopoly on wine and liquor distribution, and the state-operated stores offer the diversity and inspired choices you'd expect of a Harrisburg-based bureaucracy.
Is there hope for BYOB's rise outside Pennsylvania? Perhaps.
Eight years after Thierry Rochard launched Tartine, he opened a bigger, more ambitious restaurant down the block. Titou had a liquor license and sold its own wine. Both restaurants were doing well, but then came 9/11, which pummeled the city's restaurant and hotel industries. Titou limped along for a few more years before shuttering in 2004. Meanwhile, Tartine continued to thrive.
Tartine had been around longer and had a more loyal following, Rochard told me not long after Titou closed. He also acknowledged that Tartine's BYOB policy, which appeals to cost-conscious diners, might have had something to do with it. I'd go further and say it had everything to do with it.
But it's not only in recessionary times like these that BYOBs can thrive. On a recent Friday afternoon, I dropped by the BYOB restaurant closest to my Upper East Side apartment. I spoke with Izmir Rouzyi, who along with his older brother, Mohammad, owns four Afghan restaurants in New York. The one nearest me has been open for more than 20 years and had never sold alcohol. "At this restaurant everyone brings wine with them, but the one [in the Theater District] gets more of an Indian and Pakistani clientele and they don't bring alcohol," he said. "We just concentrate on the food."
I found myself smiling; this was music to my ears. More than 20 years, in good times and bad, I nodded to myself. Here was the proof I needed.
Still, it was my journalistic duty to press my BYOB ally, so I did.
"But wouldn't you like to have a liquor license here, to make money on the wine?" I asked.
"We have a liquor license," he said.
What?! I was floored.
"We inherited it from the restaurant we took over, and I've renewed it every year," Rouzyi said. "It only costs $500."
It turns out he'd very much like to sell booze at the restaurant. But his older brother, a more conservative Muslim, forbids it.
I retreated to my apartment, wondering if I should re-examine my BYOB advocacy, which places me on the side of draconian government agencies and religious conservatives. Then I poured myself a glass of wine and took solace in the fact that great efforts often require unexpected alliances.
PAGES :