In Kansas City, The Smoke Stays With You
A month into our food tour, and at last we were in Kansas City, where barbecue was most definitely on the menu. In preparation, I dug out my special barbecue t-shirt, an old and torn black jersey from some fifteen years ago that is perfect for hiding the inevitable stains the come from the devouring of ribs, brisket, and pulled pork.
Preparing for a renowned barbecue city like Kansas City also meant trying to fast from meat for a few meals beforehand, not something easily done on a food tour. For when the 'cue is right, it's near impossible to pay attention to sides, however good they may be, and one can end up consuming close to a pound of beef or more. It also pays to plan ahead and be the first in line, because the restaurant may run out of brisket or pulled pork, and it could be another 18 hours before the next batch is ready.
Without saying anything, we knew we were having the same thought: yes, it was worth the trip.
Fortunately, despite arriving late in the day at Arthur Bryant's, Kansas City's barbecue landmark, they were not out of "burnt ends," the chopped-up leftover tips of beef brisket that are a staple of local 'cue. The ends, while technically not "burnt," do have more of a char on them than your typical barbecue, and are mixed up with a slightly sweet (and quite tangy) Kansas City barbecue sauce and unceremoniously piled on top of a few slices of wonder bread: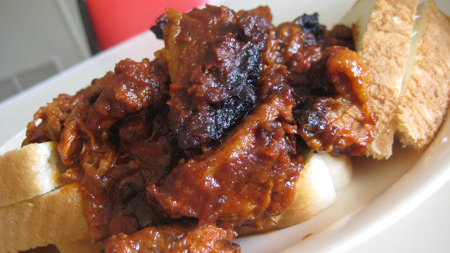 Burnt Ends at Arthur Bryant's in Kansas City
It's an awful lot of sauce. Too much, perhaps, bringing the dish dangerously close to something resembling a stew or curry. But while it's not how I would have my barbecue every time, the meal was still rewarding. The char flavor on the skin, the smoke in the meat, and the bright sauce made for an invigorating combination. Soon I found myself ignoring my fork altogether and dipping my fingers straight into the smoky red sea of barbecue.
I could see why Bryant's was the winner of our poll on the best barbecue in Kansas City. But before long we had to have the burnt ends wrapped in butcher paper to save for later. It was time to visit the second-place winner, Oklahoma Joe's.
Oklahoma Joe's Kansas City Barbecue is on the other side of town, and seems to occupy a different world. (Why an "Oklahoma Joe's" in Kansas? You can read the history here.) Joe's is a small a diner inside a corner gas station, easy to miss from the road (just look for the filling station with a full parking lot and long lines).
On our visit most everyone seemed to be getting ribs, so we did, too. These are not the simple Texas-style barbecue beef ribs, however, where the smoke is the star--these ribs are thin racks of pork, adorned with both a rub and a sauce.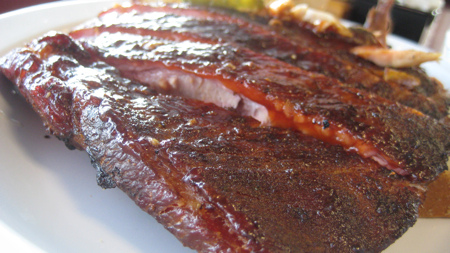 Pork Ribs at Oklahoma Joe's in Kansas City
Smoky, tender, and with that signature tanginess of KC barbecue sauce, it was immediately clear what all the fuss was about. After the first bite, one of those moments that has come to define our culinary tour: a quick glance over at my wife, who's smiling wide like me, giddy at the tastiness before us. Without saying anything, we knew we were having the same thought: yes, it was worth the trip.
The day after our barbecue tour of Kansas City, I woke up and noticed the distinct smell of smoke. A quick survey of our hotel room convinced me nothing was on fire, and I realized that it was my hands--the many handfuls of burnt ends, ribs, and pulled pork had left a residual aroma of smoke. Strangers passing us on the highway must wonder why I kept smelling my hands on the way to Denver. Truckers must have looked down from their cabs, curious as to why I eyed my like tiny racks of ribs. They've probably taken to calling me Edward BBQ-hands by now. Well, blame Kansas City.
Next stop on the tour: Colorado. Click here to help Terrence decide which craft brewery to visit.