An Ice Cream Surprise in Columbus
If you've ever had the blessing (or curse, depending on your way of looking at things) of having mint attempt to take over your backyard, then you know the unique pleasures of the herb when it is allowed to run wild. Unfettered mint seems to possess a stronger scent, brighter flavor, and greater intensity than its cultivated counterpart. It will stop you in your tracks, enticing you to snap off a sprig--you'll find yourself rubbing the leaves between your thumb and forefinger, wafting them under your nose and popping a taste in your mouth before you can get back to the kitchen.
Now imagine the pleasures of that mint from your backyard in ice cream form. Think of a dessert whose flavor perfectly mimics its wild, intense essence. Well, that ice cream exists (it's called "Backyard Mint," naturally) and is found at Jeni's Splendid Ice Creams in unassuming Columbus, Ohio.
Jeni's features unorthodox but delicious flavor combinations, all of them following the company mantra of "Less Sweet and More Flavorful." Take the Bourbon Buttered Pecan, which is made with Maker's Mark, and is an ideal marriage of whiskey, toasted pecans, and cream (think of it as the older, drunker cousin of Rum Raisin). Another is Goat Cheese with Roasted Red Cherries, a tart, tangy delight, with a deep, toasty sweetness from the cherries. One of the most unique is Thai Chili, which can best be described as pad thai scooped into a cone. It's spicy, yet subtly sweet, and full of peanut flavor. (The heat comes from cayenne, not sriracha, but I still couldn't help but wonder what it would be like with a little rooster sauce on top.)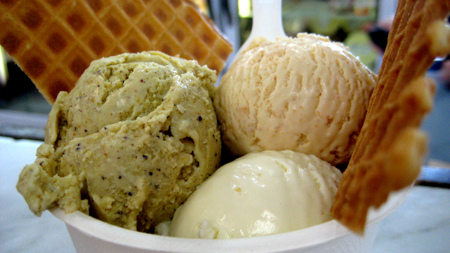 Triple Scoop at Jeni's Splendid Ice Creams in Columbus, Ohio
Along with the ingenuity of their flavors comes an impeccability in sourcing. Jeni's uses organic milk and cream from grass-fed cows, all sourced from small dairy farmers. The goat cheese is from Blue Jacket Dairy, which sources their goat milk from nearby Amish farms; the peanut butter and pecans come from the Krema Nut Company; and that "backyard" mint, while not actually from a backyard, certainly tastes as thought it does. It's no surprise to find it comes from a small organic outfit just on the outskirts of Columbus, Jorgensen Farms.
Jeni's flavors are not successful simply because they are irreverent and ground-breaking. They work because a great deal of effort has gone into their crafting--what at first glance seems whimsical, upon first bite is proven artisanal.
Perhaps the best example of this is the Sweet Corn and Black Raspberry flavor. Sweet Ohio corn, true to its name, has been found in desserts before, but never have I encountered something like this, which tastes as if it had been churned in the husk. Nutty, sweet, summery corn reduced to its essence and counter-balanced with a tart, bright black raspberry sauce (handmade, of course, and helped in the tart department by the addition of black currants).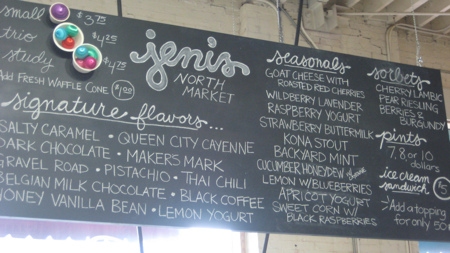 Chalkboard Menu at Jeni's at North Market
Columbus wasn't even a planned stop on our food tour, but what a fortunate diversion, and after our visit I would declare it a must for any serious lover of ice cream.
Jeni's Splendid Ice Creams
Pints $7-10; Three scoops for $4.25
Five locations in and around Columbus, Ohio
Shipping available, with a minimum order of six pints