Photo by Terrence Henry
Are the best restaurants in New York finally within reach of the common man? Thomas Keller's Per Se, home of the $275 tasting menu (with supplemental charges if you're in the mood for foie gras or truffles, not to mention wine), recently added an a la carte option to its lounge, so now you can enjoy two ounces of his butter-poached lobster at the bargain price of 40 dollars.
Tom Colicchio, Top Chef sensei and the man behind countless restaurants that start with the word "Craft," recently transformed the private dining room of his steak restaurant (it's called Craftsteak!) into "Halfsteak," where nothing costs more than $16. Many others in the city have taken similar leaps into affordable fine dining.
In December, Chef Jean Georges Vongerichten, "America's answer to nouvelle cuisine," sent a letter to his followers:
...I do want to help make the best of this crisis. Here in New York, you can feel the anxiety in the air. While a good meal isn't going to solve the current problems, it certainly makes you feel better. I sincerely believe that great food lifts your spirits, that a beautiful restaurant serves as an escape.
In the letter, Chef Vongerichten announced that all of his restaurants would offer $24 prix fixe lunches and $35 prix fixe dinners, including his flagship Jean Georges in the Trump International. New York magazine, when including Jean Georges in its extremely helpful guide to recession specials in the city, asked, "Is this the best deal in town?"
After our lunch yesterday, I'd hazard the answer is yes. For just under $30 ($29, to be exact), one has the chance to dine at a three-starred Michelin restaurant; a place that received last year's James Beard award for Outstanding Restaurant of the Year and four stars from the New York Times. And if you're lucky, you might witness some star power during your lunch (all we got was David Cassidy). But enough accolades, let's eat!
Trio of Amuse Bouche at Jean Georges
It may not surprise you that the $29 two-course menu at Jean Georges is more than two courses. (In fact, if you counted each single dish, you're looking at an eight-course tasting menu.) The meal starts of with a trio of amuse, meant to be consumed counter-clockwise: first, a cube of "concentrated watermelon," topped with a shiso vinaigrette; to its right, a poached quail egg with bacon and salsa verde; and at the top, a shot of corn chowder with keffir and lemongrass.
The watermelon tasted, at first, like...well, an intense cube of watermelon. But then the slight note of shiso hits, and the watermelon is all of the sudden playing with a slightly-spicy mint flavor, and you have a perfect bite of summer. The other two were just as clean, with three notes each, pairings that at first glance seem unusual, but upon tasting make perfect sense: egg, bacon, and salsa verde; corn, keffir lime, and lemongrass.
The prix fixe lunch menu gives you a choice of any two courses, which are arranged on the menu in order of size and heft: the lighter, greener courses at the top (sashimis, salads); the heavier, more meat-oriented at the bottom (roast veal, chicken leg confit). Towards the middle, a course neither me or my wife could resist:
Foie Gras and Strawberry Brulee at Jean Georges
Again, three notes, which harmonize wonderfully: foie gras (savor), strawberry (sweetness), and balsamic (acidity). Flavors that pair fairly often in other places (we've all seen strawberry+balasamic or foie+balsamic before), but here made all the more powerful as a trinity. The small cylinder of foie gras, which has roasted strawberries throughout is topped with a crackling crust that bubbles and breaks like the best creme brulee should. The top moment of our meal.
But then, with the entrees, a less stellar turn. (Why does it seem to be that universally, starters and first courses outshine entrees and mains?) For my companion, poached skate wing: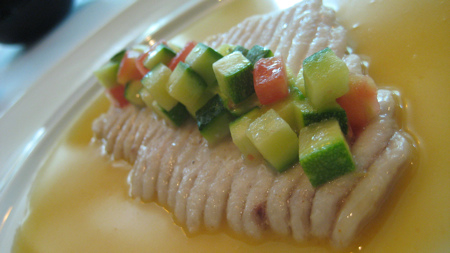 Poached Skate Wing with Chateau Chalon Sauce at Jean Georges
Before tasting a bite, I wondered, isn't it still a little early for those tomatoes? The answer, sadly, is yes. But it's not too early for the zucchini, and the skate itself was nicely done, with the sauce retaining a welcome amount of its white wine origins. Although it didn't wow like the first two courses of our lunch, it still impressed--rich, without being heavy; a wintry dish refashioned for a hot summer day.
Roasted Sweetbreads with Pickled Peaches and Wild Arugula at Jean Georges
My main dish, roasted sweetbreads, was a change of pace. For one, those peaches are pickled with lychee, and combined with the arugula provide a biting counterpoint to the rich, creamy sweetbreads. I'm used to having my thymus glands with some sort of cream sauce, so this was an unexpected (and welcome) change. Again, three notes, in harmony: sweetness, savor, and acidity.
As one should expect from a restaurant with three Michelin restaurants, Jean Georges takes service seriously. But it does so without being too serious. Servers are approachable and helpful; the timing of course is swift without being rushed; and dishes are served at the table simultaneously, one of those fine dining perks I still take delight in. (It's been awhile since we've sat down for a proper "white tablecloth" meal, as we usually choose to sit in the bar wherever we go.)
We opted to skip dessert, and were glad for doing so, as lunch at Jean Georges includes a selection of complimentary petit fours, beginning with a trio of miniature macaroons:
On the left, caramel; on the right, apricot. And in the middle, by far our favorite, is the peanut butter and jelly. These are followed by four chocolates (pictured at the top of this post), which also has one entry in the PB+J category (a chocolate-covered peanut-butter-and-Concord-grape bonbon). To finish it all off, a large jar of multi-colored marshmallow ribbons is brought to the table, and a server cuts a piece of each with scissors. Then you are handed a plate with ginger, vanilla, and rose water marshmallows:
Trio of Marshmallows at Jean Georges
It's a nice way to end the meal on a sweet note without having to make a lot of room for dessert, and most importantly, it's fun. White tablecloths and a jacket policy (at dinner only) don't mean you can't have a little exuberance and playfulness.
There are many other great deals to be found during New York's ongoing restaurant week (which is running for two weeks this summer) and ongoing recession specials, but if you can, a moment of escape at Jean Georges is a must.