The Evolution of Cruise Ship Cuisine
From beef Wellington to soba noodles, onboard dining has changed a lot in the past 30 years.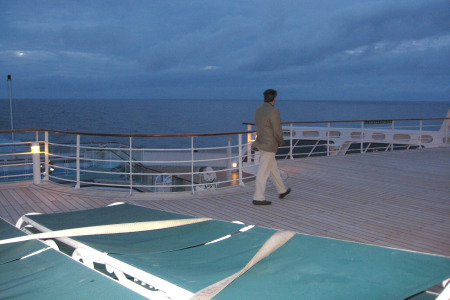 Photo by Wendy Littlefield
Last week I found a menu in a file I'd saved from our first trans-Atlantic trip together, on the Queen Elizabeth 2 . It was pure serendipity that it turned up on the eve of our trip. Since we are moving from a big house to a pied a terre I have been obliged to go through boxes and boxes and boxes of stuff in the attic to winnow down to the bare essentials. The Cunard file (including the pictures of us on our QE 2 trip) was in the absolute last box I vowed to go through before chucking out the rest unexamined.
I showed the QM 2 chef Karl Winkler the menu. The executive chef at the time was J.M. Bainbridge. Karl and Chef Bainbridge were good friends. Karl took over when Bainbridge retired.
Though the restaurant we dined in on the QE 2 was called "Tables of the World," the fare was far more classically English (think beef Wellington) than the food today. Here's a look at how the menu has changed over time:
Dinner at Tables of the World Restaurant on the Queen Elizabeth 2
Monday, 27 August 1979
Tempting Starters
:
Chilled pineapple or Tomato Juice
Selected smoked salmon with capers
Chilled honeydew melon
Sliced Bismarck Herrings with Onions
From the Cauldrons
:
Chicken Gombo [spelled that way]
Creole (clear chicken garnished with peppers, rice, tomatoes, and okra)
Brandied bisque of King Crab
Iced beef bouillon
From Sea or River
:
Fillets of Plaice, Meuniere
Farinaceous
Macaroni au Gratin
The Main Fare
:
Escalope of Calf's Sweetbreads, Demidoff (sautéed in butter and cooked in a sherry flavored sauce with sliced vegetables)
Roast sirloin of beef, Yorkshire Pudding, Horseradish Cream
From the Grill
:
Split spring chicken with Saratogas (potatoes)
The accompaniments: Green peas, Eggplant Provencale, Boiled and Roast Potatoes
The Cold Table
:
Roast Chicken
Roast Sirloin of Beef
Sugar Baked Ham
Corned Brisket of Beef
Fresh Brawn [what is that?]
Crisp and Fresh
:
Mixed Green or Florida Salads with French Mayonnaise, Roquefort, Thousand Island Dressings
Sweet Revelations
:
Blackberry coupe
Chantilly
Bavarian Cream Pie
Vanilla and Raspberry Ice Creams
Blackcurrant Sherbet
Fresh fruit from the salver
A Selection of British North American and Continental cheeses served with crackers
Drink of the day: Bali Hi $1.95 (dark rum, orange curacao, pineapple, lemon, and orange juice, soda added over the rocks)
Red and White wine
vin ordinaire
: Carafe $5.40; Half carafe $2.70; By the glass 90 cents [this has gone up!]
NEXT :
PAGES :
Dinner at the Britannia Restaurant on the Queen Mary 2
Monday, 6th July 2009
Canyon Ranch Spa Selections :
Appetizer: Arugula salad with roasted tomatoes & parmesan cheese Calories: 110 / Fat grams: 4 / Fiber grams: 5 (Vegetarian)
Entrée: Honey balsamic glazed chicken 380/13/7
Dessert: Linzer cake 115/4/2
Appetizers and Soups :
River Trout Mousse, Waldorf salad, and chive crème fraiche
Buffalo mozzarella, plum tomatoes, and grilled asparagus (V)
Sauteed chicken livers, warm poached egg, and madeira jus
Cream of Mixed mushrooms parmesan croutons
Chicken consommé with herbed Quenelles
Salads :
Oak leaf and Boston Salad, Sherry vinaigrette (V)
Soba Noodle Salad, Sesame Soy dressing (V)
Entrees :
Spaghetti a la Marinara with tomato sauce, garlic onions, and anchovies
Pan seared haddock, buttered snow peas, herbed new potato, smoked bacon sauce
Rack of Pork, wild mushroom ragout, truffle mash, and calvados sauce
Grilled sliced double sirloin steak, stilton and onion tarte tatin , burgundy glaze
Stuffed portabello mushroom with provencale vegetables and mozzarella
[Extra steamed cauliflower, carrots, and asparagus were offered tableside in addition.]
Desserts :
Chocolate marquise with bitter orange coulis
Orange crème brulee
Warm apple strudel with brandy sauce
Sugar-free plum crumble with vanilla sauce
Cookies and cream, vanilla ice cream with chocolate frozen yogurt, cherry sauce
Almond walnut cake
Oatmeal cookies with dried cranberries
Fresh raspberries, blueberries, and blackberries
Cheese selection with Danish blue, Grubbeen, Camembert, Dutch Edam
So, 30 years after I first made this voyage with my young husband I feel awfully lucky to be able to repeat the journey--not so young, footloose, and fancy free but the wiser and more grateful in many ways: for the gift of a witty and loyal partner, our health, our great children, kind family, our independence, and the friends on both sides of the Atlantic. To the crew from 56 countries who made the voyage such a joy we send our warm regards and thanks.
We enjoyed the trip so much we would travel back to the States by the same means if we could. The westbound voyage in mid August is sold out. We highly recommend the trip. It is a terrific value. Judging from the general mood onboard, the other passengers were in agreement.
Spend as much time as you can on the deck or the bridge. Marvel at the beauty, the immensity and the power of the ocean. The sighting of dolphins and whales evokes a sense of joy.
PAGES :