Six American Gins Worth Tasting
Britain doesn't have a monopoly on gin: American distillers are catching up with refreshing, affordable varieties.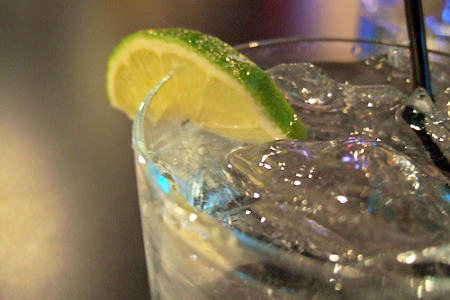 Photo by the prodigal untitled13/FlickrCC
Ah, summer. Ah, gin. The keystone in everything from backyard gin and tonics to downtown martinis. So how is it that we know so very little about such a vital part of our drinking culture? And why do we assume the good stuff has to come from England? Sure, the British make Beefeater's, that steely stalwart, and Tanqueray, with its proliferating exoticisms--Rangpur, No. 10, Sterling--and Bombay Sapphire, whose exotic name was the result of a not-so-exotic Madison Avenue naming war. And of course Hendrick's, of the New Yorker ads and the cucumber infusion, is all the rage.
But while the guards in the furry hats might be loath to admit it, Americans also make some pretty decent gins these days. They're distinct, inexpensive, and, as Alex Trebek might say, potently potable. My tasting buddy Jeff Lewandowski and I pulled up a few chairs the other night and gave six of them a test run. We sipped them straight first, then ran through them again in G&Ts.
Jeff and I both preferred the Blue Coat Dry Gin, but overall we were pretty impressed with each of them. Each stood up to the best of the British gins; surprisingly, most of them were pretty decent straight, too. All are reasonably priced, and aside from the Leopold's and the Dogfish Head, all are widely distributed.
1.) Seagram's Extra Dry (80 proof; 750 ml, $19.95) Seagram's is not a craft gin by any means. Initially we picked it purely as a control--figuring that, as a mass-market product, it would have the least distinction. But instead we found it to be easily the most drinkable as a straight sip, with a floral taste up front, then licorice and pine (that's the juniper talking), with a light, developing burn that dances on your tongue and fades out in a long spicy finish. The nose was stronger and sweeter than the others. Given my choice, I'd rather drink Seagram's straight or in a martini than with tonic water, whose effervescence and acidity destroyed the complexity of the gin's flavors.
2.) Junipero (98.6 proof; 750 ml, $31.99) Made by the good folks at San Francisco's Anchor Distilling Co., the sister company to Anchor Brewing, Junipero is the granddaddy of American craft gins (Anchor also makes Genevieve gin; sadly, it's impossible to find here on the East Coast). It is the only gin in our sampling that claims to be pot-stilled, which would presumably help give each batch a distinct flavor profile.
This bottle, at least, had a sharper and less pronounced nose than the Seagram's; Jeff detected mint. The higher than average proof was immediately clear; this liquor packs a wallop. I found it pleasantly bitter, with a short and not too spicy finish; there was also a lot more juniper than some of the others. Both Jeff and I found it undistinguished, in a good way--no tricks or fancy flavor profiles, just a good, direct gin.
3.) New Amsterdam Straight (80 proof; 750 ml, $16.95) Despite its Big Apple marketing--the website even claims that "Our sleek bottle echoes the gleaming skyscrapers of Manhattan"--New Amsterdam is made in Modesto, Calif., a fact that immediately put me off. If a California micro-distillery decides to hide its West Coast roots, what else is it covering up?
New Amsterdam hasn't been getting a lot of love from reviewers, but Jeff and I thought it kept up with the other gins in our sample. Despite having less juniper than others, New Amsterdam carries it heavily on the nose, along with orange and lime. The taste starts cool and minty, then moves to a sweet orange kick. We thought the finish was a little weak, ending curtly on more orange and juniper notes. The distillery claims that new Amsterdam is smooth enough to drink straight; at the very least, it's better straight than in a G&T, where, Jeff says, it is "somewhat flat and lacking character."
NEXT :
PAGES :
Blue Coat (94 proof; 750 ml, $21.99) What? A gin made in Philly? Yes, my friend, and it is good--Jeff and I agreed it was the best of the lot. Most gin clocks in at 80 proof, so at 94 proof we expected an alcohol bomb. Instead, we found it powerful but complex, with a cool, sweet nose with a hint of fruit (I also detected a touch of movie popcorn, strangely). It has a crisp and spicy taste that dances on your tongue like pop rocks; Jeff says it reminded him of Blenheim Ginger Ale. I tasted wood and bitter notes, with a crisp and pronounced finish. The gin has backbone, too, which keeps it present but not overbearing in a G&T.; If I were stocking a bar for a summer party, this would be my weapon of choice.
5.) Leopold's (80 proof; 750 ml, $31) Leopold's is one of the more recent entrants to the domestic gin horse race, and along with the Dogfish Head, much more of a craft product than the others. Made in the craft-distillery megalopolis of Denver, Leopold's is "hand" everything: hand-crafted, hand-bottled, hand-labeled; if Leopold's told me they hand-blew their own glass, I might believe them.
Leopold's makes mostly flavored whiskeys and liqueurs, so it's not surprising to find their gin packed full of interesting tastes: There's almost no nose to speak of, but once in your mouth it explodes with grapefruit and citrus, pickle brine, vinegar, and bitters, with a licorice finish. It starts out smooth, but then builds to a spicy finish--too spicy, for us. Strangely, in a G&T; the flavors, particularly the pickle brine, are much more pronounced.
6.) Dogfish Head Jin (80 proof; 750 ml, $25) Best known for its beers, Dogfish Head has been unleashing small-batch liquors for several years, sold almost exclusively at their alehouses and a couple of stores around Delaware--along with gin (or, um, "Jin"), they make a few rums and a vodka. Like Leopold's, Dogfish Head does it all by hand, but unlike most distillers, they are explicit about which botanicals they put in the mix--pineapple mint, juniper berry, green peppercorn, and rosemary. They're all there in the nose, though I thought the rosemary dominated. The peppercorn and grapefruit take lead on your tongue, with the juniper playing a steady baseline in the background.
This is easily the most complex and best-crafted gin we sampled, and it makes a knock-out G&T.; Like Dogfish Head's beer, its gin manages to be unique and interesting, but also broad-ranging enough to offer something for everyone.
PAGES :