POLL RESULTS: The Best Bagel in Montreal
The results of our bagel poll were so close that I had to try both St-Viateur Bagel (which won 46% of the votes) and Fairmount Bagel Bakery (44%) while here in Montreal.
First, thanks to reader Squeezebottle for this suggestion: "Montreal bagels are best eaten fresh from the oven or warmed up a bit before eating. They go stale very quickly so time is of the essence." Without this advice, I might have waited until we got back to our apartment before trying them--in both cases, the bagels were best enjoyed right outside the store.I made sure to visit the original St Viateur location and Fairmount within minutes of each other, in each case sampling a sesame bagel both with and without cream cheese. While both Fairmount and St Viatuer have several varieties, like chocolate chip, multi-grain, cinnamon raisin, etc., I found it best to stick to the bagels that were coming down the long metal chute next to the oven (at both shops, these were sesame):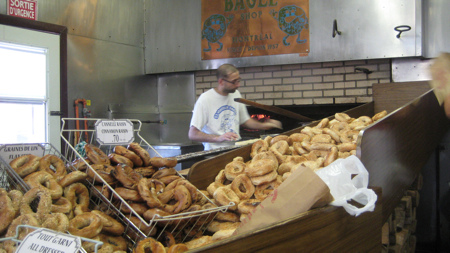 The Wood-burning Oven and Bagel Chute at St Viateur
In both instances, the bagels reminded me of the light, oblong variety I used to enjoy when I lived in Jerusalem some years back. Flatter and less dense than the New York bagel, and as noted below, with a bit of sweetness. As reader Heavy D noted, and I have to agree, this means that the bagel is the destination itself, not simply a vehicle for toppings: "A fresh Montreal bagel... when piping hot right out of the oven, does not need a single condiment. It's simply delicious, and not too big to be devoured as a snack." Like a good pizza crust, it can (and from time to time should) be enjoyed on its own.
The Sesame Bagels at Fairmount
While St Viateur had a slight advantage in our poll, for me the clear winner was Fairmount. In my sampling, I found that Fairmount's bagel was lighter, a little thinner, and not as big as St Viateur's, which I found preferable. What really put Fairmount over the top for me (and for my three traveling companions this week, who also joined in the tasting contest) was the smokiness. While both shops use wood-burning ovens, Fairmount's actually tasted like it did: there was a slight hint of smokey flavor throughout the bagel, and after we were done eating we could still smell the smoke on our hands. (You can smell the oven from a block or two away, which is a wonderful way of finding the shop for the first time.)

I've been back to Fairmount each day for more, while I can't say the same for St Viateur. Not that St Viateur's bagels were bad, but they simply weren't as ephemeral as the goods at Fairmount. For instance, just while writing this post I have put down two of Fairmount's sesame bagels (washed down with some french press coffee with beans from Toi Moi Cafe, many thanks to reader Phillipe-A for that tip).

The Montreal bagel is very different from its New York counterpart, as many readers pointed out, like Peter: "Montreal bagels are smaller, crunchier, sweeter (bit of honey in the dough) and with far fewer toppings (pretty much poppyseed, sesame, or plain) than NY bagels."Overall, I think I may prefer the Montreal variety, but I'll get back to you on that after we get to New York next week.

Many thanks for the votes and suggestions, up next will be the results of our poutine poll.

Fairmount Bagel Bakery
74 avenue Fairmount Ouest, Montreal
(514) 272-0667
(Bagels available at several stores and shops, and they will ship outside Montreal)

St-Viateur Bagel
263 rue Saint-Viateur Ouest, Montréal (514) 276-8044
(Other locations in Montreal, and their bagels are available in other cities in Canada and now the U.S., you can order them online at their website).