How a Cruise Ship Feeds 4,000
The Queen Mary 2 uses 11,000 bottles of wine and a staff of hundreds as it crosses the Atlantic.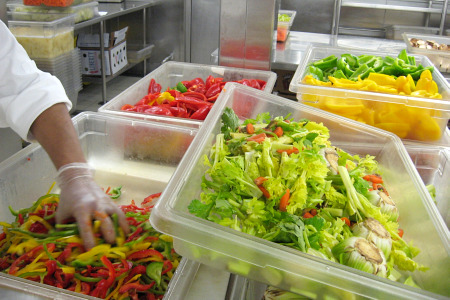 Photo by Wendy Littlefield


I write this midway on our crossing from the beautiful library where there are roughly 10,000 volumes--not that many fewer than there are bottles of wine on board (11,000). People are working at computer stations, reading, a few snoozing. Frieda, the librarian sort of like Miss Moneypenny in her all-knowingness.

The crew is wonderful: amiable, patient, professional, and genuinely happy. A real United Nations at sea. They come from 52 countries, with the Philippines taking the lead at 682 crew members; Eastern European countries, Asia, India, and the Balkans are also well represented. Both the executive chef and the food and beverage manager recommend that anyone interested in hospitality do a stint on board a cruise ship: if you can handle this, you can handle anything on land. Positions on the Queen Mary are highly coveted. People can wait up to two years to get posted to the ship.
Hardly anyone expects to stay for long. Many do. Romance is in the air. This past month several crew couples married.
The only grumps we have run into are passengers. In this crossing the passengers represent 30 nations, about 4,000 people all told. Luminaries on board include John Maxtone Graham, one of the world's leading nautical historians, who gives a talk everyday, and Amy Bloom, the author and Yale professor.
Yesterday with the help of Gun, the social director for the ship, I obtained an interview with executive chef, Karl Winkler, a 30-year-plus vet of Cunard who was already a chef on the QE2 when Don and I sailed in the summer of 1979, and the food and beverage director, Stefan Engel. Both are from Austria--though Stefan calls Thailand home and Karl lives in England.
Here are some of the things I learned while talking to Stefan and Karl:
    • The QM 2 uses 400 lbs of veal & beef bones per day to make stock.
    • There are 230 employees in the galley under Karl's direction.
    • Stefan has 680 people reporting to him in F&B. This includes the wait staff, bar crew, maitre d's, and Karl's team in the kitchen.
    • The crew alone goes through 400 pounds of rice per day.
    • On a given day 1,300 might dine in the Brittania restaurant at one seating at dinner alone. The standard of the food is excellent, especially when you consider the size of the crowd.
    • Between 14,000 and 16,000 meals are served per day. Whereas the predecessor Queen Elizabeth 2 had three dining venues, on the Queen Mary 2, there are 10. More than 30 different menus are printed per day.
    • The Queen Mary 2 is known as the "green ship." It has its own desalination plant; all glass is recycled and cans crushed; food waste is dehydrated and burned aboard ship. The ash is brought on shore for disposal. This is a far cry from the old days when trash was thrown overboard.
NEXT :
PAGES :
To read the first post in this series, click here .
• 230,000 bottles of wine, plus 1.5 million other drinks
• 55,000 pounds of coffee
• 7,000 boxes of strawberries (and I don't mean pints)
• 38,000 pounds of smoked salmon
• 198,000 pounds of pineapples
• Enough beef to supply the city of Southampton (UK) for one year
And did you know that during a 2005 transatlantic crossing, the Queen Mary 2 carried in a locked steamer trunk the first U.S. copy of J.K. Rowling's book Harry Potter and the Half-Blood Prince , autographed by the author? Or that by custom every shipyard employed a dwarf because in photos the smaller the man the larger the engine looked? Or that the most dangerous voyage of any ship is from land to sea?
Stefan says it would be boring to go back to working at a land-based hotel after his experience on the Queen Mary. Everyday brings a new challenge and requires you to be proactive and resourceful. For example: A few years ago departure was delayed by five hours because the truck transporting the beef and lobster tails to the ship was in an accident. The passengers were very understanding. Three weeks ago, two hours before sailing the ship had no milk, due to an ordering error. Stefan organized an emergency last-minute delivery of 1,200 gallons.
Even though the ship is very large and the passengers number over 2,700, the waitstaff, maitre d's, and wine stewards seem to recognize everyone and recall preferences and prior conversations. They are eager to please without being in the least obsequious. Quite the opposite of Bemelmans' Mespoulets, one of my favorite fictional characters from one of my favorite (Belgo-Austrian) writers.
I have resolved to find a copy of Hotel Splendide to send to Karl and Stefan, both Austrians who have spent time in the kitchen of grand hotels. [Curator's note: Hotel Splendide is required reading for anyone interested in food and restaurants and general Mitteleuropa naughtiness, and a complete must for a summer porch or hammock.] Traveling in the company of such kind, attentive people makes you want to sail more often.
PAGES :