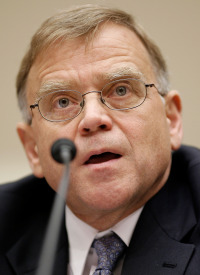 Photo by Chip Somodevilla/Getty Images
On Monday this week, Michael Taylor began his new job as special assistant to the FDA Commissioner for food safety. He will be in charge of implementing whatever food safety laws Congress finally decides to pass.
I know that what I am about to say will surprise, if not shock, many of you, but I think he's an excellent choice for this job. Yes, I know he worked for Monsanto, not only once (indirectly) but twice (directly). And yes, he's the first person whose name is mentioned when anyone talks about the "revolving door" between the food industry and government. And yes, he signed off on the FDA's consumer-unfriendly policies on labeling genetically modified foods.
But before you decide that I must have drunk the Kool Aid on this one, hear me out. He really is a good choice for this job. Why? Because he managed to get USDA to institute HACCP (science-based food safety regulations) for meat and poultry against the full opposition of the meat industry--a truly heroic accomplishment. His position on food safety has been strong and consistent for years. He favors a single food agency, HACCP for all foods, and accountability and enforcement. We need this for FDA-regulated foods (we also need enforcement for USDA-regulated foods, but he won't be able to touch that unless Congress says so). So he's the person most likely to be able to get decent regulations in place and get them enforced.