Eel: Japan's Beat-The-Heat Secret
Forget air conditioning. Eating eel is the way to stay cool this summer, according to Japanese tradition.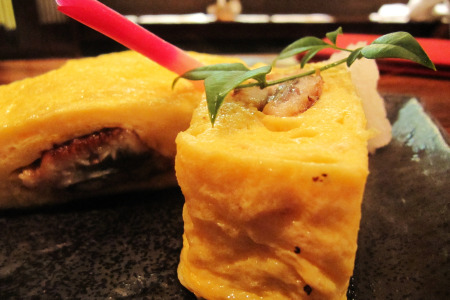 Photo by David Nakamura
Living in Japan during the summer reminds me of sitting in the steam room at the gym after a workout. My native Washington is muggy, but Tokyo has me sweating at a whole other level. For my 10-minute bike ride to work, I pack an extra undershirt and, when I arrive at the office, head immediately for the bathroom to towel off and change.
But that doesn't stop the perspiration. Many Japanese companies, mine included, operate under something called "Cool Biz," a misnamed campaign in which the thermostat is set at 82 degrees to reduce carbon output through air conditioning.
It's no wonder that there is a special Japanese word for heat fatigue: natsubate . "It's where you feel like doing nothing," Juro Osawa, a Japanese reporter friend, explained this week.
Fortunately, Juro had a cure that the Japanese swear by: eating eel, known here as unagi , a nutritious food that is thought to provide stamina through the dog days of summer. The custom is so ingrained in the culture that there are special eel-eating holidays (July 19 and 31 this year) called Doyo No Ushi No Hi .
The tradition began centuries ago and has its origins in a convoluted theory involving the signs of the Chinese zodiac, in which the Ox is the symbol for the coldest winter month. In Japanese, the Ox is usually called ushi , or cow, and so any foods beginning with the syllable "u"--including unagi--is thought to bring a cool feeling with it. ( Ume --salty plums--also are often eaten during summer, but unagi is most popular.)
I'm not going to lie: When I first heard about this tradition, I privately vowed to take a pass. Eel has never been particularly appealing to me, not because of the taste, but because I find it so hideous-looking, swimming around an aquarium tank and slithering snake-like out of a muddy hole.
But I knew such thinking was illogical, especially since, on a few occasions, I had eaten barbequed eel on sushi and actually enjoyed the rich, meaty texture and flavor. Besides, after a few weeks battling the Tokyo heat and humidity, my undershirts and I were desperate to try pretty much anything.
Juro and my friend Tomoko Hosaka, who explore Tokyo every summer for an eel feast, led the way to Ichinoya, an upscale restaurant on the outskirts of Shibuya with traditional wooden tables and bamboo walls. A large mirror and paper placemats inscribed with cartoon eel drawings gave a sense of comic relief to the refined setting. So eager to get started, I mistakenly forgot to remove my shoes, drawing a sharp admonishment from the waitress, who instructed me to put them in a small locker.
NEXT :
PAGES :
Barbequed eel filet with a sweet soy sauce over rice--known as kabayaki --is the most common way the meal is prepared, but Juro and Tomoko ordered a sampling of dishes to initiate me. Up first: fried eel bones.
I never thought eel even had bones, which shows the depths of my ignorance, nor did I ever expect to actually like eating them. But I did. Thin and delicate, they were crispy and had the salty, seafood flavor of shrimp chips. I could almost--but not quite--envision opening a bag of them on a football Sunday in the fall while setting in to watch my beloved Redskins.
Next up was pickled eel with vegetables, which brought forth that rich texture that I recalled from the sushi. But the real treats were the next two dishes: barbequed eel wedged into a rectangle of tamago (a sweet egg omelet) and eel and vegetables wrapped with tofu skin and deep fried.
Juro could hardly contain his enthusiasm. I'm not sure how to express the sounds of someone moaning in contentedness; "mmm, mmm" doesn't quite do it justice. Though he grew up in Japan, Juro said he never liked unagi as a kid - and neither did Tomoko, whose parents owned a restaurant.
"I didn't like it until I was about 18--got my driver's license and started eating eel," Juro said.
The Japanese can be very particular about the quality of their eel, he explained. In past summers, including last year, there have been national scandals in which companies import eel from--gasp!--China, then try to pass it off as a home-grown product. Some restaurants sign private distribution deals with renowned Japanese eel farms--the most famous is Hamamatsu--which raise freshwater eel. (There is also saltwater eel called anago , but that is less popular).
Last year, a company marketed an eel drink , but Tomoko said people in her office weren't impressed after they were sent a sample pack.
Finally, we were served a finishing course of sweet kabayaki , as well as shirayaki , a filet which is dipped in soy sauce with freshly grated wasabi . Eel done right can be pricey, and the meal, along with a couple drinks apiece, cost each of us about $63.
I was more than a little surprised that I had eaten so much unagi--and enjoyed it as much as I did. As we left the restaurant and made our way back into the heart of Shibuya, the sun had set and a breeze had cooled the evening. Whether it was the power of the eel or plain old Mother Nature, I couldn't be sure.
Ichinoya is at 20-22 Shinsen-cho, Shibuya-ku, Tokyo 150-0045. Phone: 03-5459-6862
PAGES :