Doctor's Orders: Eat More Chocolate
After getting instructions to increase his chocolate consumption, the author tries five varieties.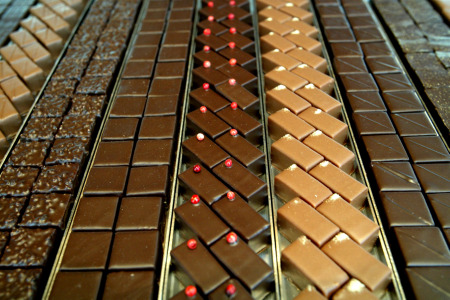 Photo by Koichi Kamoshida/Getty Images
I know it's not really the height of chocolate season right now, but I've nevertheless had highly heightened chocolate awareness and increased consumption of late. Interestingly, my increased consumption didn't actually didn't originate in the food world. Turns out when I went to my doctor for my annual check up he recommended that to help keep my blood pressure from getting too high I should eat an average two ounces of dark chocolate a day.
You did read that right.
Not being the hugest chocolate fanatic that was a nice recommendation, but it didn't quite get me as excited as it would many people. That said, it didn't exactly bum me out either. I mean, given how much great dark chocolate we sell, what could be bad about that prescription? I figured that since that this was going to be the most benign--if not downright enjoyable--medical recommendation I was likely to ever get, I should jump on it.
Not really thinking it through I assumed that "two ounces" would be two of those little squares and the bars I bought would last me for a while. Turns out, when I actually re-read the label and re-realized what I've always known: A whole bar of good chocolate is actually a bit under four ounces. Which means that the doctor's recommendation is to actually eat a bit over half a bar. Every day!
That might be enough to make a chocolate fanatic wish for higher blood pressure just to get this same prescription. But I think in this case you don't actually have to a problem to take the prescription; you could probably just increase your cacao consumption as preventative maintenance.
Anyways, I was at the Deli the next day and thought I'd buy a few bars and try this thing out. Figured five was a good start. Grabbed a few of Shawn Askinosie's cause I know I've been very high on those. Also the Cluizel bar from the Dominican Republic, which I love because it has that strange to say, but definitely there anyways, hint of good green olives in the flavor. And I picked up one of those Cuban chocolate from Pralus because I've always found its flavor intriguing.
That left me one more to try. In hindsight maybe it was the Cuba thing that started the intrigue--I think that technically we're not really supposed to be selling it because it's from Cuba, but somehow the customs folks seem to keep missing it, probably because it's chocolate not cigars and it comes in from France--that karmically led to the craziness that seems to surround Amedei .
I liked all of the bars, and because I knew the Amedei least it caught my attention enough to want to write it up here.
Duff, our chocolate expert, was particularly excited when this one came in a few months ago. "Low and lean. Meaty. Thicker texture. Not for the sweet of heart," is what I think she wrote at the time. But in honesty I have to admit to being a bit underwhelmed by it when I first got home and tried it--the first few times I ate it, it seemed almost dryish and not totally all that exciting. I actually ate most of the other four bars that I'd bought and without really thinking about it left half of this one laying round while I went on to replenish my supplies after a week or so (like I said, two ounces a day is a lot of chocolate!).
NEXT :
PAGES :
But in talking this seemingly inexplicable shift through with Duff, she pointed out that, although few consumers realize it, the temperature at which we eat a chocolate has a big impact on how we experience it. In hindsight of course this totally makes sense. I've been saying the same thing incessantly about good cheese and cured ham, etc. for decades. Eat 'em straight from the fridge and you miss at least half the flavor.
While I don't keep chocolate in the cooler, sure enough when I first started tasting this stuff the weather was much colder. And lo and behold he day I started to like it a lot better the weather had turned and we'd hit the way warmer temperatures of mid-to-late May.
Once I unwittingly got the temperature thing in alignment (or as a friend of mine's four-year-old has taken to saying,, "in awinement") I can honestly speak to how much I like the Amedei. It's got a lot more balance than I first thought, meaning that a lot of good things come up but none take over and none really hit the ball out of the park on their own.
I'd say it's buttery but not really unctuous or anything extreme like that. It's meaty but still really very mellow. Kind of coffee-ish but really only slightly so. It's got a little bit of fruit in the flavor but nowhere near the way a lot of the great Valrhona chocolate hit those cherry high notes. I'd say it's got a pinch of maybe fresh pear, a hint of a toasted hazelnut.
Duff added in "a lot of coconut." I'd say it's got a pretty nice, big creamy mouthfeel that lingers really, really long. Without getting overly romantic about it, "caress" would be a good word to use to describe that it seems to do on the tongue. Of course, Duff did say she's in love. Me, I think I'm just appreciating and giving newly double meaning to the phrase "going over to the dark side."
Much to Duff's delight, I've started buying chocolate bars in bunches. Half a bar a day adds up, and it's not cheap, but it's generally less than the cost of smoking half a pack a day and in this case seems to enhance your health, not make more trouble than any of us needs. The good news then is that I've gotten a lot closer to our chocolates than I've ever been, and that Duff can add about $40 a week to (less my discount, I guess) to her chocolate sales line.
Who knows what will come of all this dabbling on the dark side, Amedei or otherwise. I will say that my blood pressure is a bit lower than it's really ever been in my adult life.
PAGES :