Canada's Take on Cheese Fries
I was skeptical of Poutine. At first glance, it seemed like an overkill twist on cheese fries, the kind of dish that belongs on thisiswhyyourefat.com, like the bacon log.
My skepticism was unnecessary, because in spite of its ingredients (fries, cheese curds, gravy) and appearance (this is going to hurt), poutine is a dish that doesn't have to be over the top or lacking in nuance. When the fries are done right, the gravy good, and the curds fresh, it can be a delightful dish that doesn't feel like it's going to kill you. Over the last week, we got to try three poutines, each of them at a place where they are renowned to be done right. I visited the top three from our poutine poll: La Banquise (29 percent of the votes), Au Pied de Cochon (19 percent), and Patati Patata (16 percent).
I tried Patati Patata's first, so let's begin there. It's a small corner place with an open kitchen in the Plateau neighborhood, not too far down the street from the
smoked meat
at Schwartz's. There are only about 20 seats, about half a dozen at the counter and the rest at high tables along the wall. (They do take-out if you're not up for waiting for a seat.) It reminded me of a tapas bar in Spain: just a few gents behind the bar, working with little more than a flat-top and a fryer, and turning out stellar (and affordable) food.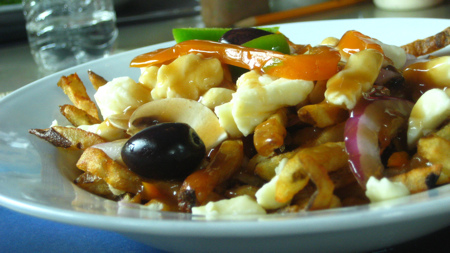 The "Patatine" poutine at Patati Patata
The chef/waiter behind the counter recommended the patatine, which takes the basic poutine and adds olives, onions, mushrooms, and a few peppers. My traveling companions sampled the basic poutine, so I was able to try both.
The fries are twice-fried, which I always appreciate, and hold their texture surprisingly well under the gravy, which doubles as the dish's seasoning of salt (it's made from chicken stock, and it's delicious). The curds add a cheese flavor without making the fries soggy, which strikes me as an evolutionary step for cheese fries. While the basic poutine was great, I was grateful for the recommendation of the patatine variation with the vegetables, which not only took some of the guilt away but also added some brightness to the dish.
The next poutine really worried me, the
foie gras
version at Au Pied de Cochon:
Foie Gras Poutine at Au Pied de Cochon
How do you take a dish of fries, curds, and gravy, and add seared foie gras to it without it becoming a gloppy, unctuous mess? I'm not sure you do. I had to embrace the mess, and I'm glad I did. Cochon's gravy is a winner, made with both chicken and beef stock, and the fries (as you can see in the photo) were that perfect golden brown. If you want the basic poutine, that's on the menu as well, or you can get just the fries. But this is not a restaurant that encourages moderation, and you may find it difficult (as I did) to say no to the foie gras poutine. (And thanks to reader
dustographic
for
urging
me to try it.)
La Banquise, the winner of the poll, was a lot of fun: a 24-hour poutine destination, with over two dozen different variations of poutine. We had the Galvaude--shredded chicken and peas in addition to the standard gravy and curds (thanks to readers
david
and
squeezebottle
for
recommending
it)--and the Matty, which was adorned with bacon, peppers, mushrooms and sauteed onions. (It was too dark for my pictures to come out, unfortunately.) Both were good poutines, and would make for an ideal meal right after the bars close.
So which did I think was best? For me, they were all winners. I liked the gravy best at Patati Patata, I liked the fries best at Au Pied de Cochon, and I liked the variety best at La Banquise.
Many thanks for participating, and stay tuned for a results from the "Montreal Bistros on a Budget"
poll
.
Next up: Terrence travels to Boston for one night only. Vote on where he should eat dinner and breakfast while he's there, and check back for a poll on the best food New York City.
4177 Boulevard Saint-Laurent, Montreal
514-844-0216
Open 7 days a week, 11-11
994, Rachel East, Montreal
514-525-2415
Open 24-7
536 Duluth East, Montréal 
514-281-1114 
Open Tuesday-Sunday, 5-12