An Ideal Food Day in Montreal
To read more about Terrence's American Food Tour, click here.
After a few too many hours in the car on Sunday (nine, to be exact) we arrived safely in Montreal and set out for what may well be a perfect first 24 hours of eating and drinking in Canada's cultural capital.
First, a late dinner at
L'Express
, a traditionally-styled bistro in the Plateau neighborhood. Fatigue caused me to forget my camera, but I'll have a hard time forgetting my onglet topped with shallot butter, cooked to a perfect medium rare and served with fries and mayonnaise (made with olive oil, which added a hint of delicacy to an otherwise-heavy side). A young Bourdeaux, a hearty country vegetable soup, and plenty of cracking baguette and tart cornichons between courses made this an ideal introduction to Montreal, and the perfect way to start recovering from a little too much time on the road.
The morning began with an excursion to
Cafe Olimpico
, in the Mile End neighborhood, which struck me as the anti-Starbucks: one barista, who also works the register; no milk-bomb lattes or frappes; not even any drip coffee -- just espresso, cappuccino, and cafe au lait. Skim milk? Not here -- it's whole or nothing. Outside, a welcoming coffee version of the beer garden, with a lively social scene. I was a bit put off by the pre-packaged croissants at the counter, but apparently you're allowed to bring in outside food, and there are numerous tempting
patisseries
nearby.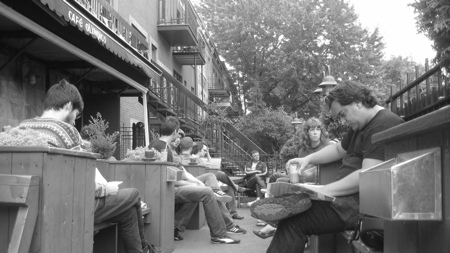 The coffee garden at Cafe Olimpico
"Smoked Meat Sandwich" at Schwartz's Hebrew Delicatessen
This was a knockout. Tender brisket, not too salty or smoky, with a full beefy flavor. A nice bit of mustard to cut into the fat, and a soft white bread to keep it all together. The brisket is smoked daily, and in the front window of the main cafe you can see a number of them piled on top of each other, waiting to be your next sandwich (which sells for $5.50 Canadian, or about $4.75 US). There is one huge problem at Schwartz's, however -- the line:
The Lunch Line at Schwartz's Montreal Hebrew Delicatessen
This was taken at the height of the lunch rush, shortly before 1 p.m., so I can only hope that the line gets shorter in the off-peak hours. But I doubt it -- this place is justifiably famous, and I won't be surprised if I stop by sometime this week after midnight and find an even bigger crowd.
We opted instead for the take-out/eat-in counter next door, which serves the same sandwich, but without the line (at least at the time of our visit). I have a feeling we'll be getting more of Schwartz's brisket to go when we leave Montreal later this week, for some killer sandwiches on the road.
But how do you follow a lunch like this? By following something old-school with a modern dessert, Cayenne Hot Chocolate at
Suite 88 Chocolatier
:
Cayenne Drinking Chocolate at Suite 88 Chocolatier
I know it doesn't make much sense to get hot cocoa mid-summer, but for much of today there was a light chill, and I am a sucker for anything where spicy meets sweet. This hot chocolate was made with a bar of dark chocolate, some steamed milk, and a healthy dose of cayenne mixed in at the end. Nothing terribly original, but certainly terribly delicious. For something more summery, there are numerous truffles, chocolate-covered pretzels, and marshmallow lollipops with a chocolate coating.
Next was a refueling stop at
Bieres Et Compaigne
, a short walk from Suite 88 (Dieu du Ciel will have to wait til tomorrow, as it was closed today). Pints of Unibroue beers were on special for about $3.50 US -- I opted for the Maudite, a Belgian dark ale, while my better half went for the fruity (and more seasonally-apt) Ephemere Blackcurrant. I don't normally go for fruit beers, but this was a welcome surprise, with a nice undertone of blackcurrant that didn't overwhelm, and wasn't too perfume-y or sweet: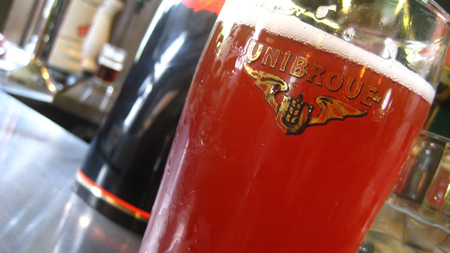 Unibroue Ephemere Blackcurrant
For dinner? Since Monday seems to be a sleepy day here, we made a trip to Jean Talon Market for provisioning, picking up four cornish hens, some raw milk goat cheese, haricot verts, and a few bulbs of fresh garlic. We also grabbed some strawberries and blueberries for breakfast tomorrow (which we'll have with
bagels
, of course):
Life in Montreal is good.