American Mozzarella's Evolution
American food has come a long way since the 1950s. Mozzarella cheese is no exception.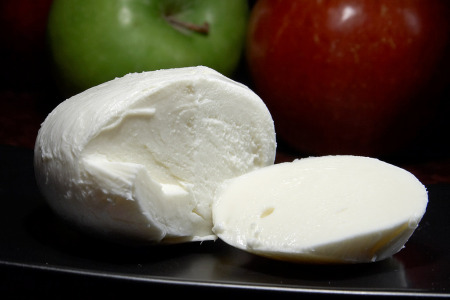 Photo by Jon Sullivan/Wikimedia
I was born in 1956, smack in the middle of a pretty unpleasant era for American eating. There are a thousand examples of where things went awry. Some are incredibly sad--loss of family farms, steady disappearance of wild stocks of seafood, strangely unhealthy school lunch programs, super-sizing, and all that other stuff we're all too familiar with. Others examples are, by now, just sort of silly: I grew up thinking Tang was pretty much the same as orange juice, Space Sticks were a very special snack (eat like an astronaut, baby) and Pop Tarts pulled from the box were one of our top choices for breakfast pastry (cinnamon frosted were my favorite).
Somewhere back in the '70s, the American culinary tide started to turn. Chez Panisse had popped up in Berkeley all the way back in 1971--more power to Alice Waters for being willing to take a stand for cooking with great ingredients long before any other restaurant I know about had put such significant emphasis on it. A few years later, Bill Niman began selling his naturally raised beef from his Point Reyes ranch north of San Francisco. One of his first customers was...Chez Panisse.
Back in the Midwest Justin Rashid founded American Spoon Foods up in Petoskey in 1981, foraging for wild berries, tree ripened stem fruit and other hard to find specialties and turning then into jams and jellies. That same year, right here in town, Monique Deschaines started producing handmade egg pasta at Al Dente. Tom Isaia began roasting coffee locally in 1982, the same year we started up the Deli. Looking at things more widely, Neal's Yard Dairy in London had started up in 1979.
There are of course dozens of other people who were starting to do similar things at the same time. Take note this was not a "trend" identified by some high powered research institute that got Alice, Bill and the rest of them to do what they did. All were, I'd venture to guess, driven by an internal passion for producing something special and not by an external reaction to "market opportunity." I know that's what got me going back then. Amazingly, every single one of them is still doing the same work now, with ever greater skill, working as hard as they've ever worked to make a difference, to make something special happen, to turn tomorrow into an even better world than the one they live in now.
What I'm thinking of right now is mozzarella. Today, fresh, flavorful mozzarella is something we all get excited about and maybe even take for granted, especially when tomatoes are in season, but think back a few years and you realize it wasn't always that way.
In places like New York City, New Jersey, Philadelphia and San Francisco, fresh mozzarella had been handmade ever since large numbers of immigrants arrived from Italy at the turn of the 20th century. Since the traditional Neapolitan water buffalo milk wasn't available, people had long since switched to cow's milk. Places like Joe's Dairy and Alleva Dairy in New York City are still at it today; great (by my standards) little shops that were known only to their own community and to a few very savvy food-oriented outsiders.
Older Italian-Americans I know still tell stories of going shopping with their parents and grandparents to pick up freshly made balls of mozzarella to take home to eat and enjoy. Milky, mild, delicate, delicious. Many of these shops are still making their cheese by hand and selling loads of it today.
For the rest of us, mozzarella was much more mundane. Pizza is what made the name mozzarella--and the rubbery American factory version thereof--famous. Ed Levine, one of the country's most interesting food writers, has written extensively about this in his highly recommended A Slice of Heaven: A History of Pizza in America .
You might well have heard the story--it's a classic of modern American food history. Soldiers coming back from World War II brought their taste for Italian food back to the U.S. The first pizzerias likely either made their own mozzarella or bought it from local suppliers. Most of the other ingredients were made in-house as well. You can mark the end of that handmade mode and the fresh mozzarella with these key dates in the late fifties: Pizza Hut put out its first store in Wichita in 1958. Little Caesar's started up in Michigan in 1959. Right here in Ann Arbor, Tom Monaghan got Domino's going in 1960.
NEXT :
PAGES :
Not surprisingly, the way mozzarella was made shifted from a fresh, short shelf life product to a long-lived, rather rubbery textured "cheese" that was made for quick shredding and consistent melting. It's really not even remotely like the "real thing". But it's most definitely what I knew when I grew up.
On a personal level I can still remember my shock twenty years ago at learning that the stuff I'd always been told was mozzarella, basically, wasn't. I'd already been cooking for a living when I went to Italy for the first time--somewhere in the mid-'80s, if I remember right--and saw these soft white balls of what they were calling mozzarella floating in milky liquid.
I really didn't know what to make of it. But it only took one trip to realize that the cheese I'd grown up with, the one we'd shred up to toss onto pizzas (or one of my childhood favorites, English Muffin pizzas), had little to do with what the Italians called "mozzarella."
Mozzarella in Italy is a cheese that you eat within a day or so of manufacture. When you cut it the cheese should ooze milky white liquid. Eat it drizzled with the best olive oil, then sprinkled with little more than sea salt, and freshly ground black pepper and laid next to roasted peppers or of course really good tomatoes from the market.
I used to go to Europe looking forward to eating exceptionally well for a week or however long I was going to be there. While I still love to go and always look forward to finding unique local specialties the truth is that I actually have access to amazingly good food every single day right here in Ann Arbor.
By the end of a week overseas, I'm almost always happy now to come home to (this time of year) local summer greens, great bread from the Bakehouse, olive oils, cheeses, olives, and (this time of year) local produce from the farmer's market. And soon, a plate of sliced fresh heirloom tomatoes and fresh mozzarella.
PAGES :