A Trans Prom on the Capitol Lawn
A rite of passage, and an act of protest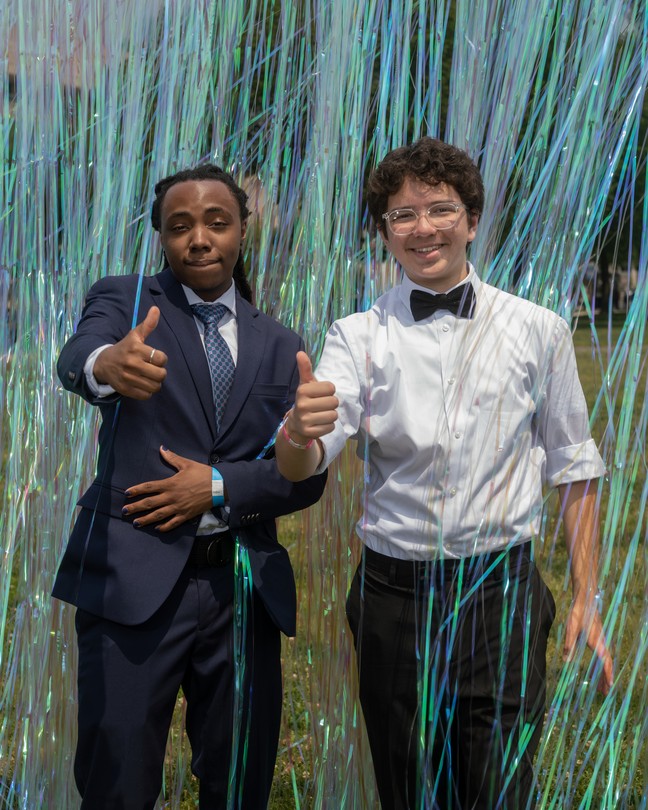 Landon was supposed to be at her high-school graduation on Saturday. Instead, she was preparing to travel to Washington, D.C. By Monday, the 17-year-old from Gulfport, Mississippi, was wearing a long, sleek blue dress and dancing in front of the U.S. Capitol with about 100 of her transgender peers at the Trans Youth Prom.
Landon's plans changed earlier this month after Harrison County School District Superintendent Mitchell King informed her that she needed to dress as a boy during the graduation ceremony, and not in a dress and heels as she'd planned. (Landon's parents requested that she be identified by her first name only to protect her privacy.) After a federal judge on Friday denied a motion filed by the American Civil Liberties Union on her behalf demanding that she be allowed to wear her dress, she decided not to attend.
Landon had been out as a trans girl at her high school for four years and told me her classmates were in her corner. But ultimately she decided not to walk, because she did not want to attend an event that "does not support me," she said. "There was no care; there was no compassion. It felt disrespectful," she said.
But at the Capitol, there was no shortage of love and support. This prom was created by four kids—Daniel Trujillo, 15; Libby Gonzales, 13; Grayson McFerrin, 12; and Hobbes Chukumba, 16—with the help of some adult organizers as a way of celebrating being trans.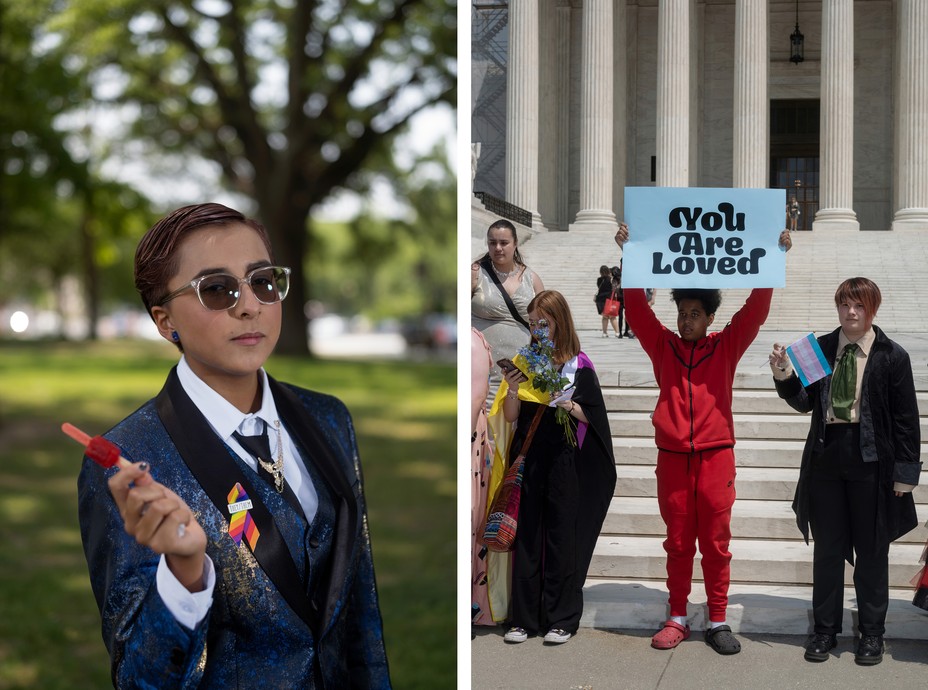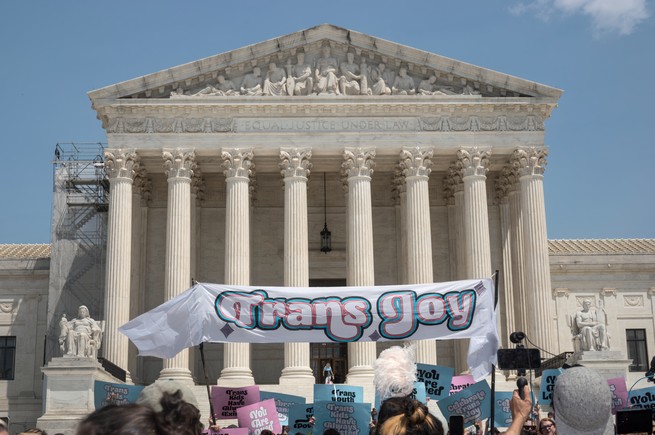 After exiting a bus in front of the Capitol Reflecting Pool, the kids and teens marched in their formal wear down a grassy runway flanked by cheering organizers, parents, and supporters who held up trans and gender-nonbinary flags and signs that read Trans kids have always existed, Trans youth are powerful, and Celebrate trans joy. The youth entered the party, dance music already blasting, through a large arch made of color-changing glass topped with the words You are loved.
Unlike a typical high-school prom, the event also included teens that had already completed high school. Alongside the drag queen Stormie Daie—the event's emcee—they took turns showing off their moves inside a dance circle to hits by Lizzo, Lil Nas X, Madonna, and others. Occasionally, they would duck into the shade of nearby trees or chat and take pictures with family and friends.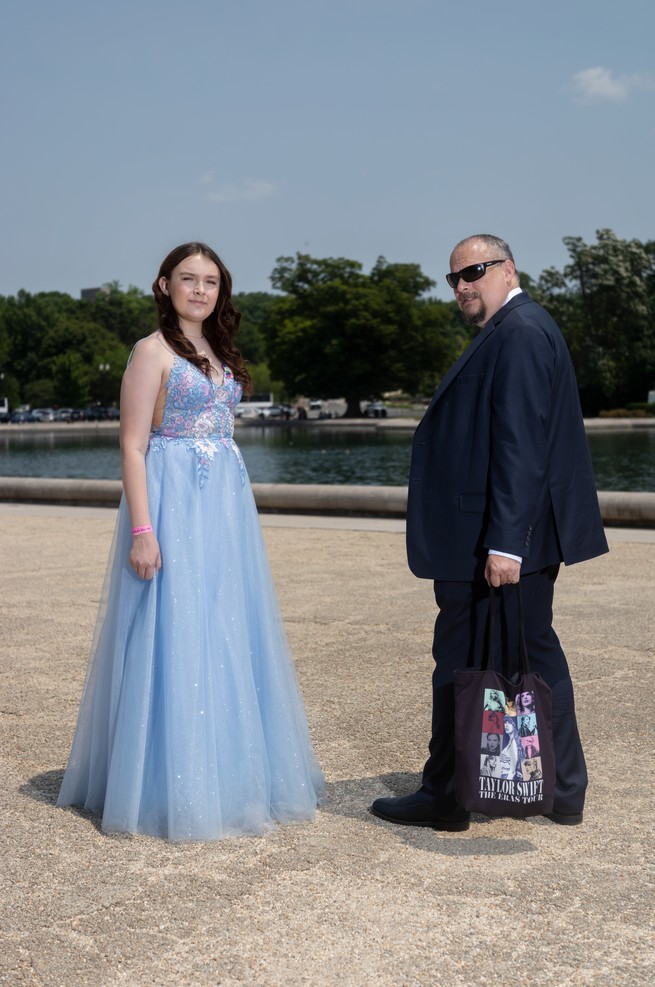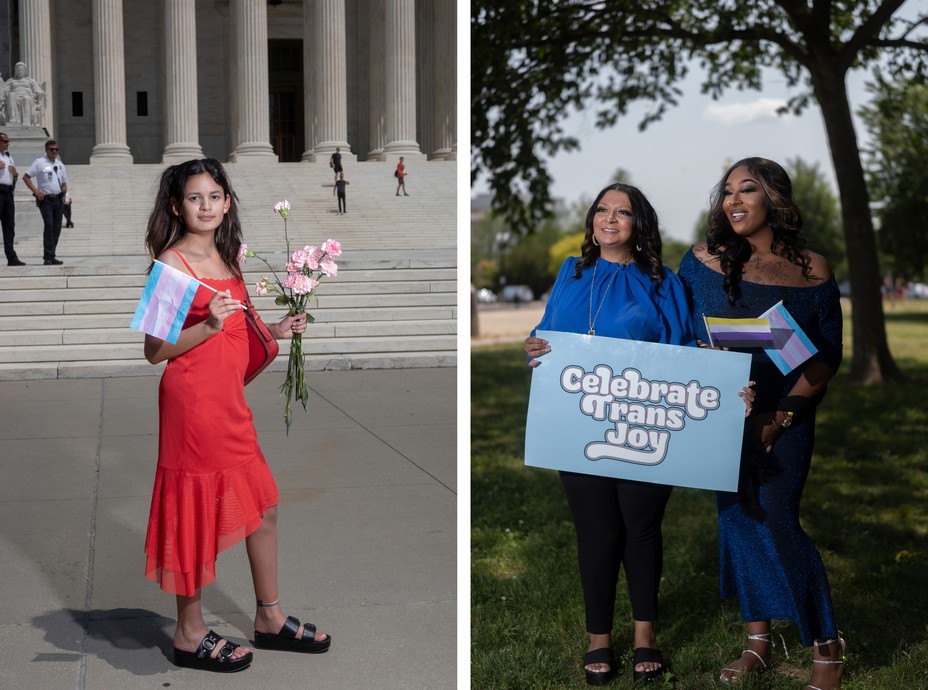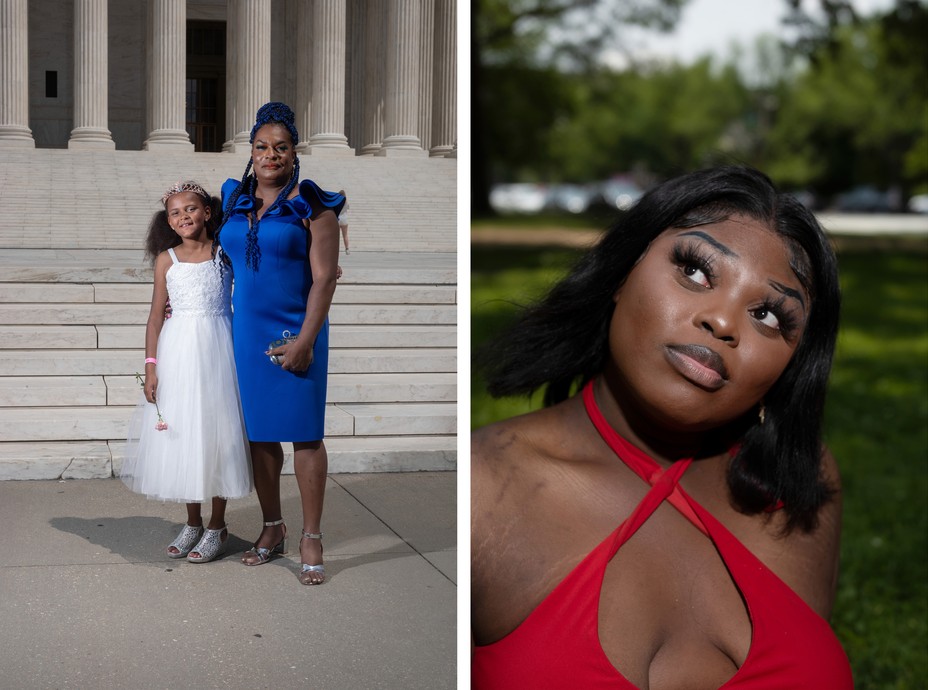 Many of the youths who attended had traveled with their parents from hometowns where their gender identity is affirmed and embraced. Some came from states where politicians have been debating and legislating the details of their life—whether they can receive transition-related medical care, for example, or compete on sports teams that match their gender identity. In 2023 alone, more than 500 bills that would restrict the rights of transgender people have been introduced. (More than 70 of them have passed so far.)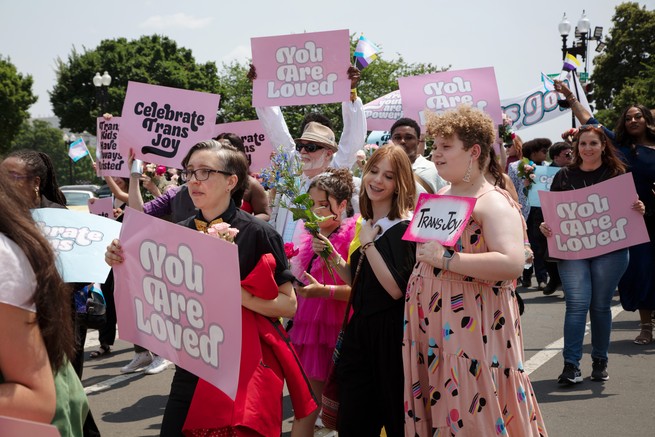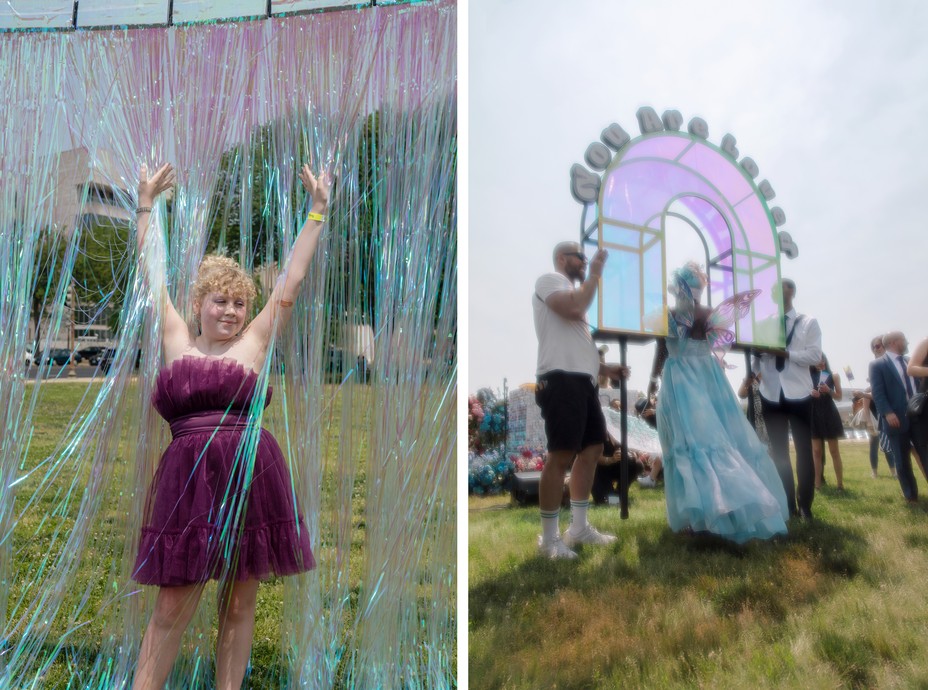 Michelle Callahan-DuMont and her husband, Andy DuMont, flew with their 9-year-old daughter, Violet, from Tucson, Arizona, to D.C. for the prom. Violet wore a sequined gold-and-blue dress that she told me she'd bought at Dillard's. Her favorite music to dance to is techno, she said. As Michelle told me, "We're always talking about the sad things; we're always talking about the scary things, talking about maybe having to move out of state. And so for this weekend, we're just having fun." She said that during a dinner for the event the night before, Violet had told her parents: "This is the best day of my life."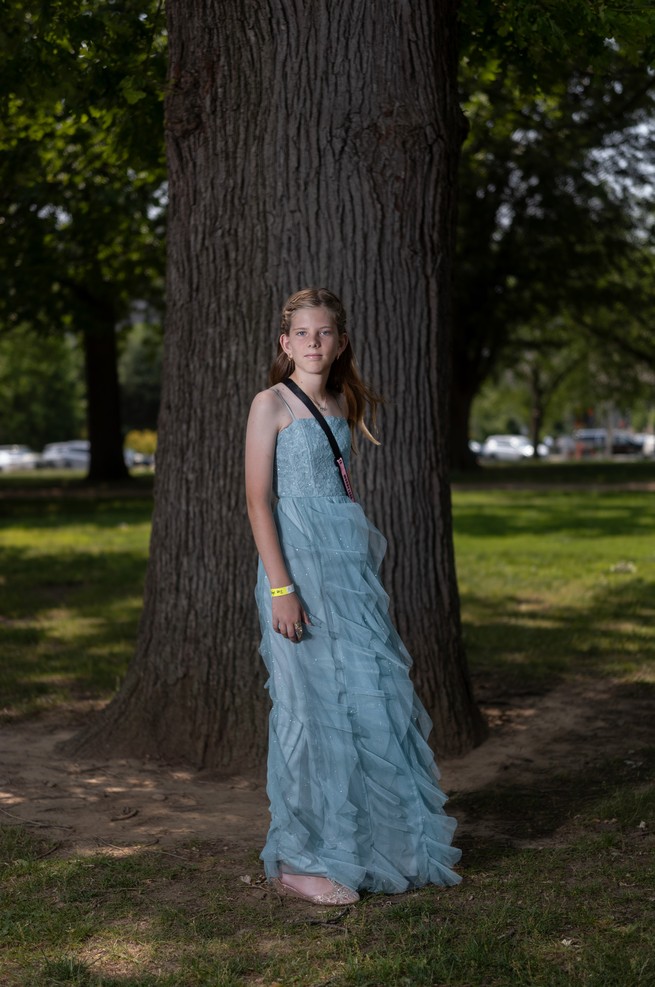 The choice of prom, a quintessential coming-of-age milestone for American kids, was deliberate: a message that lawmakers can't take away people's childhoods, Chase Strangio, one of the event's adult organizers and the deputy director for transgender justice at the ACLU, told me. "This is trans people defining their joy on their own terms, coming together to say, 'Enough. We don't need you to debate us any longer. We know exactly who we are.'"
After the speeches and dancing, about 200 people in attendance marched down Constitution Avenue, chanting and cheering to music, before stopping at the steps of the Supreme Court. Underneath the words Equal Justice Under Law etched on the front of the high court, they chanted: "Trans rights are human rights!"